12 reasons to study Media at Wrexham University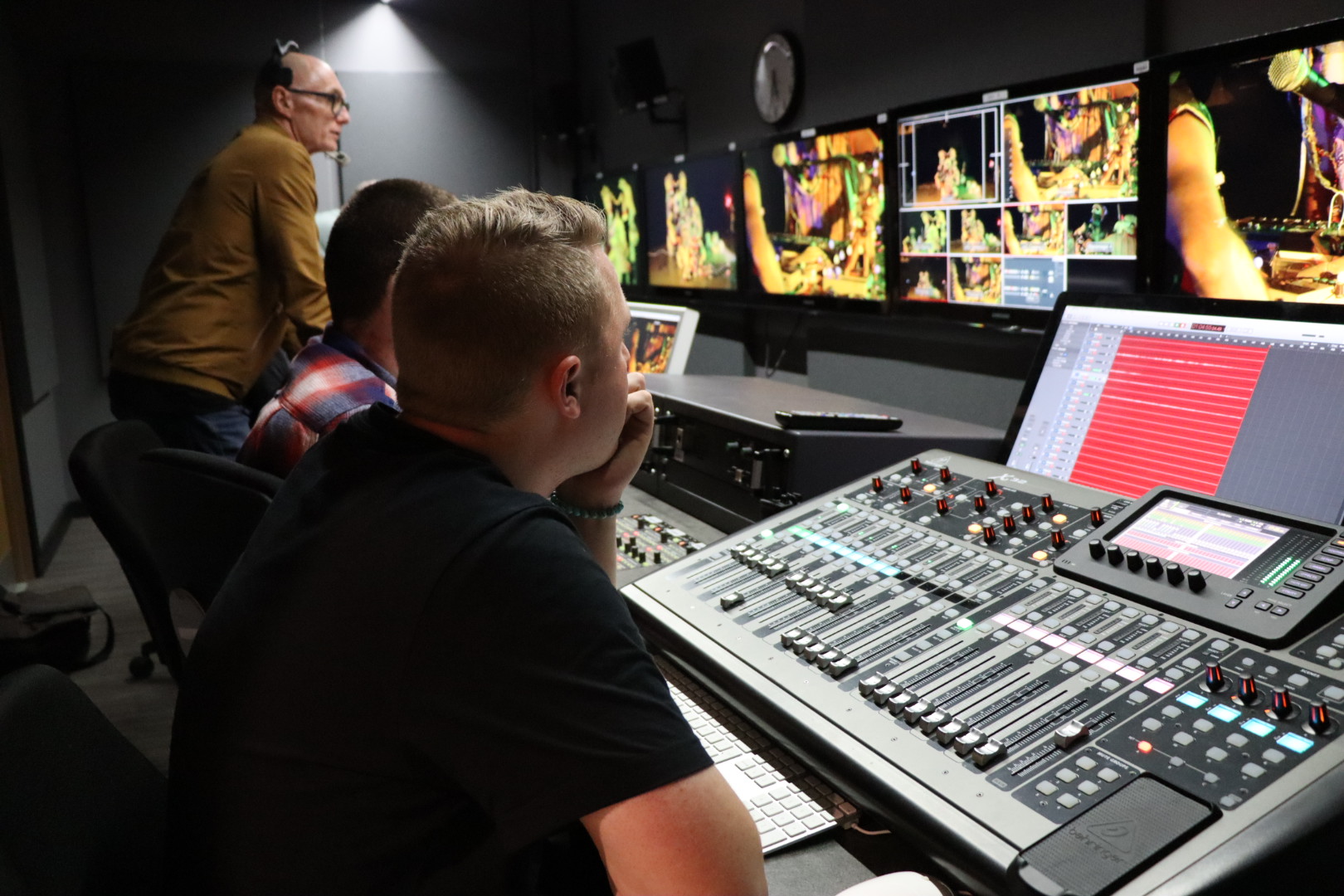 Our Media Production degree combines creative opportunities with practical experience to equip you for your future career in Media.
We have highlighted the enormous opportunities available to you at Wrexham with some of the reasons why you should choose to study with us:
1. Hands-on learning
This degree will provide you with the opportunity to engage in practical, hands-on learning. You will apply your knowledge in real-world settings, rather than purely studying theory in a classroom. Your implementation of practical skills in the field of work will help you better understand and retain the concepts taught in the classroom by putting your learning to the test.
2. Creativity and innovation
We encourage you to think creatively and develop your innovative ideas through your learning. Whether it's producing a film, creating a podcast, or designing a website, you will have the freedom to express your own interests and explore new ways of storytelling and communication.
3. Problem-solving skills
Overcoming challenging obstacles is an everyday aspect to the process of media production. Through this degree, you will learn how to problem-solve, adapt, and find the path to solutions on the spot. Evaluative thinking and problem-solving are not only useful in the world of media but they are also valuable skills that you can harness in many other areas of life and work.
4. Teamwork and collaboration
Collaboration is a core requirement in team media projects. You will learn how to work effectively with others, as well as how to communicate your ideas and contribute to a shared vision. These teamwork skills will be invaluable for you during your degree and in the professional world.
5. Technical skills
You will learn technically advanced ways of using tools and technologies like cameras, editing software, audio equipment, and more. You will gain proficiency in these technical skills to apply them not only in Media but in whatever career you choose.
6. Communication Skills
You will improve on your communication skills both in terms of conveying messages effectively through media, and in interpersonal interactions with team members and clients.
7. Digital Literacy
Being media savvy is an invaluable skill in this digital age. This degree will enhance your digital literacy and make you more adept at navigating and creating content in digital environments.
8. Portfolio Development
You will build a portfolio of your own work as you make your way through media projects during your degree. This portfolio will be a powerful tool as an example of your work when you apply for internships, jobs, or for admission into further education programmes. We currently offer a Masters in Media Production, if further study sounds like something you would be interested in pursuing in the future.
9. Networking Opportunities
You will have the chance to collaborate with industry professionals, attend events, and make connections in the field of your choosing. These networking opportunities will open doors for your future career possibilities.
10. Understanding Media Influence
You will gain a deeper understanding of how media shapes public opinion, influences society, and conveys messages by actively creating informed media content. This critical perspective is an essential skill you will learn to employ in the current, media-saturated world.
11. Career Opportunities
This degree provides you with a foundation of skills which are relevant to a diverse range of career paths. Media Production will come in handy whether your interest lies in filmmaking, journalism, advertising, public relations, or marketing. Having experience in media production will be a valuable asset when pursuing these career pathways.
12. Personal Growth
Beyond professional benefits, the Media Production degree at Wrexham will foster your own personal growth. This degree will boost your self-confidence, encourage you to take risks, and help you discover their passions and interests.
In summary, media production will offer you a rich and multifaceted learning experience that goes beyond traditional classroom education. It will equip you with a range of practical skills whilst you develop your creativity. Your degree in Media Production will prepare you for your future career and allow your personal interest to flourish at Wrexham.
Check out our Media Production Degree for more information on how you can apply and be part of learning at Wrexham University.
Written by Peter Davies, Technician Demonstrator in Media Production