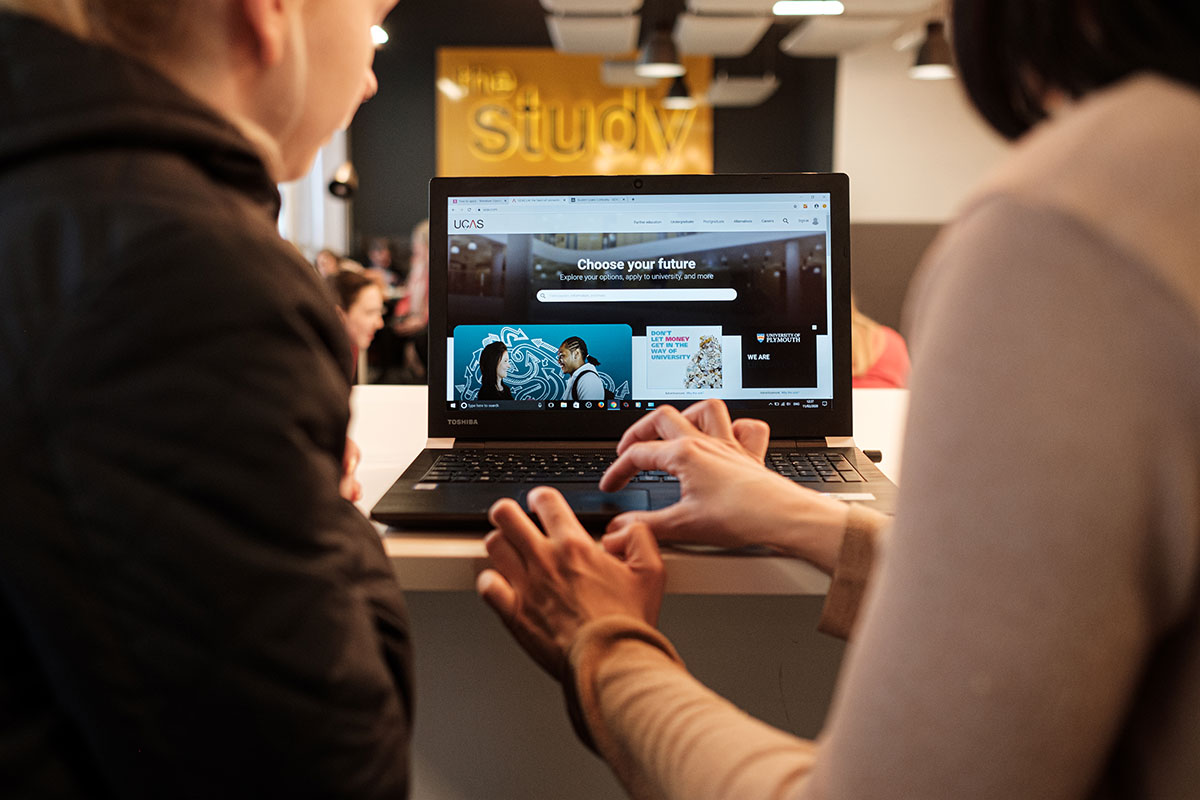 Apply
Applying through UCAS

For the majority of undergraduate courses, you'll need to apply through UCAS. Once you've decided on which courses you wish to apply for, then you'll need to register at UCAS.com to start your application.
If you are currently at school or college, you may be given a 'buzzword' to use when you register – this will help distinguish where you are applying from. Those who wish to apply independently will not need a buzzword, but will still need to use the UCAS system to apply.
Applying
directly

to us

If you're applying directly to us via our paper-based Direct Application for Admission or our online application form, you should aim to fill in every section of the form as fully as possible, so that we have enough information from you to enable us to make a decision. If we need further information from you after we receive the form, we will get in touch with you directly. However, please bear in mind that this may delay your decision a little.
UCAS Extra

UCAS Extra is for applicants who are already in the UCAS system and who have not received any offer from their original choices, or have declined any offers they have had. UCAS Extra is available online from February 25 to July 4.
If we have vacancies on your chosen course, then we will consider your application and hopefully make you an offer so that you can add us as your Extra choice. We will advise on your individual circumstances when you contact us, but in order for us to consider a decision as soon as possible, we ask that within your UCAS Track you go to the 'view your application' section, copy it and send us a copy of your application via email.
For more information on UCAS Extra, visit the UCAS website.
Clearing
If you apply through UCAS after June 30, your application will not be sent to us. Instead, you will receive details about Clearing.
Clearing is a process that is available between July and September for those who are applying late, have already applied and haven't received a place, or have declined all of their offers. For more information please visit our Clearing section.
Completing

your application
The online application system opens in September for entry to the University in the following year. You do not have to complete your application all in one go – the system will allow you to complete it in stages.
Your application will need to include the following information:
Your personal details – remember your name needs to be stated as shown on your official documents, such as your birth certificate or passport.
Your qualifications – be sure to enter all of your qualifications and any pending qualifications that you are awaiting results for. If you encounter any problems, get in touch with UCAS or our admissions team.
A reference – ideally this should be from a teacher or a professional who knows you well and can verify your suitability for higher education.
A personal statement – this is one of the most important parts of your application as a well-written and thoughtful personal statement can really make you stand out from the crowd. A poor one could undermine an otherwise good application.
There is no definitive way of writing a personal statement which will guarantee acceptance onto your chosen course, however there are guidelines that will help you to focus on what you should and shouldn't include. Why not read our blog on how to write the Perfect Personal Statement before you get started?
Qualifications
Original certificates will need to be provided prior to enrolment via your Applicant Portal. These need to be clear scanned, photographed or electronic certificates.
Please provide proof of your completed qualifications by uploading them to your Applicant Portal. If you have difficulties doing this, please send them to admissions@glyndwr.ac.uk, clearly stating your full name, the course you have applied for and your UCAS PID or Wrexham Glyndwr Student ID.
Tips on taking a clear photo
Place the document on a flat surface, hold your camera above the document, line it up in the viewfinder and take a photo. Check the photo is clear and not blurry and that the whole document is visible. Also, make sure that there are no (or minimal) shadows or reflections – you may need to turn a light on or off to get the best image! Repeat for each of your qualifications and then upload them to the Portal, ideally as a combined PDF. 
Dates

and deadlines


For the majority of courses at Wrexham Glyndŵr University, you should submit your application by the equal consideration deadline (the last Wednesday in January). Following this date, the University can close any courses that are already full.


If the deadline has passed, the good news is your chosen course may still be open.

Get in touch with our admissions team at admissions@glyndwr.ac.uk for more information and to find out what courses are currently available.