Day in the life of a Wrexham Uni student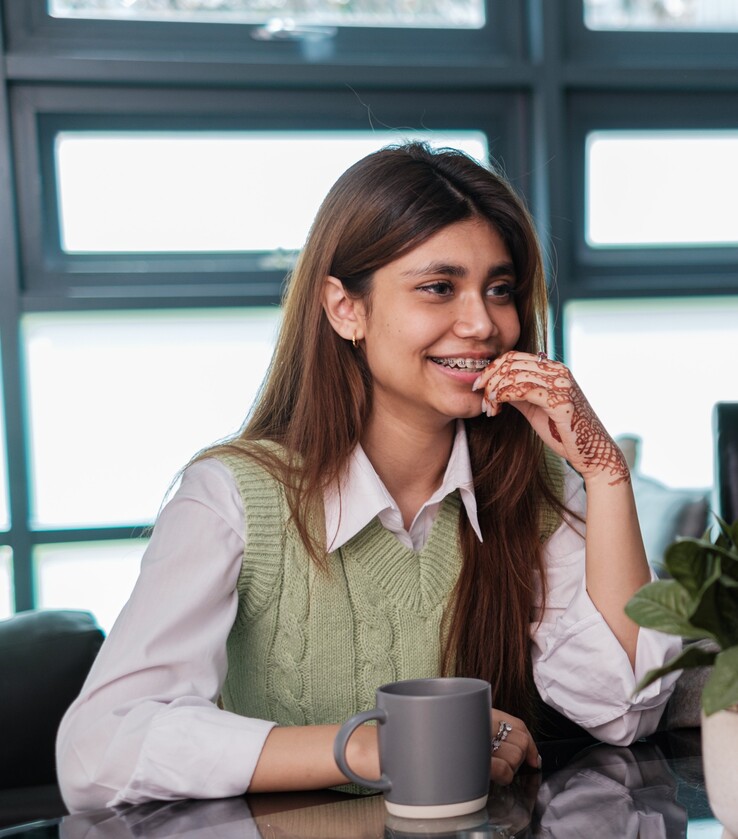 My name is Maham Munawwar, and I am a Policing student at Wrexham University. I thought I would give you an insight into what my general 'day in the life' at Wrexham looks like, and share some of my study tips along the way.
MORNING
My alarm goes off and I get ready to leave for university. I currently live in the close city of Chester, so I enjoy a pleasant morning rail journey to the university with a nice book to read.
I usually meet up and talk with my peers about the lectures to clarify any questions. We have a mixture of lectures, seminars, or tutorials scheduled throughout the day. After my morning lecture, I grab some food from the canteen, or I go to sit in the Students' Union bar (Glyn's).
STUDY TIP
I have found that making notes during lectures and finishing them right afterwards has proven to be an effective study strategy for me as it cements the knowledge in my brain.
Spending time in the library helps me finish any ongoing notes or assignments, as I have access to the university's resource finder. This is a great tool to find thousands of digital resources that you might need. For me, the library is the best place to sit and get my hands on the resources that are available, as I find I can concentrate better if I have a hard copy.
AFTERNOON
I head to the B-hive which is a great, quiet place to work individually or in groups if there are presentations to practice.
After completing my work for the day, I head home from the campus, freshen up, relax, and go to the gym. Exercise has really helped me to get into a healthy lifestyle and I'm looking forward to moving from Chester, to live campus, where there is an on-site gym.
When I return from the gym, I make myself a smoothie and a fruit salad. I take a moment to unwind and review my schedule for the following day, which gives me time to prepare for my lectures. I also prepare my bag and the clothes for the morning and download any presentations I will need which saves me a ton of time.
EVENING
I like to hang out with my friends, and we usually spend time trying new recipes and preparing dinner together. I find that talking with my flatmates about their studies helps me pick up more tips and tricks as they introduce me to ideas around the best ways to work as they study different courses to me.
We occasionally go to the town library to work on assignments together, where we discuss new ideas and different opinions. After a relaxed study session, I usually go for a nice walk in the evening with my friends as I find that it's a wonderful way to reset after a busy day.
At home, I video call my family and tell them about my day, as it is important to give time to your family even when you are hours away from them.
STUDY TIP
Being a night owl, it really helps me to focus on my assignments during the quiet nights. I organise all the study materials and my head-start plan. Personally, I find it difficult to start essays so keeping organised bullet points of all the topics I need to discuss in my essays has really helped me. One tool that has been extremely helpful to me in writing my essays is Morley's academic Phrase bank. As the phrases are generic and content-neutral, it is a tool that's helpful for all students, regardless of their course.
After working on my assignments, I grab a quick night-time snack, watch some TV, and start getting ready for bed.
I hope you have enjoyed my day in the life and make sure to check out Wrexham's courses to find out how you can spark change by studying at Wrexham University.