The past, present, and future of Wrexham University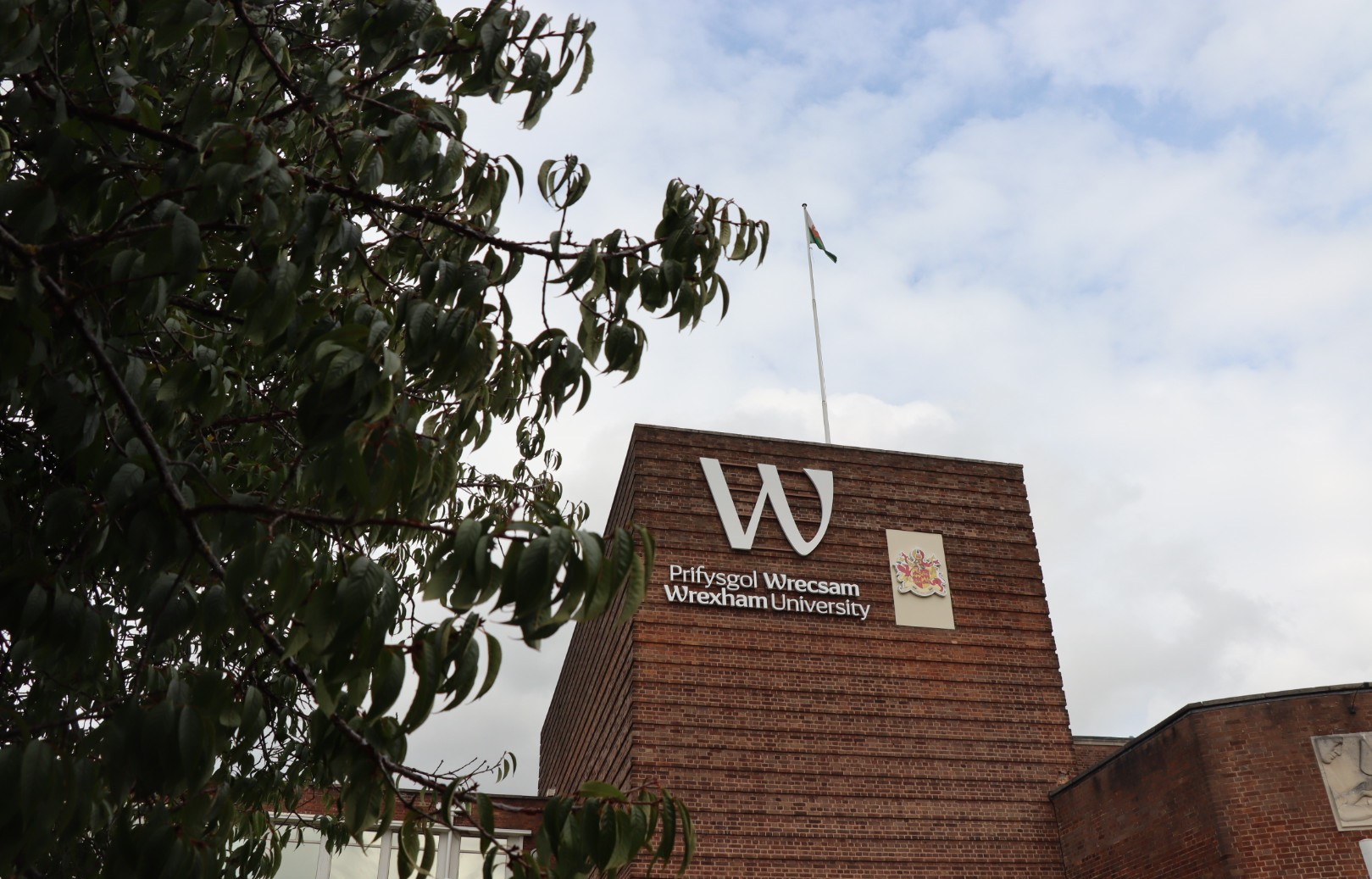 We are always looking to the future, whilst continuing to celebrate our origins in everything we do. Our campus improvements, opportunities for students and teaching quality, are key aspects of our university that contribute to us moving forward.
With our exciting, upcoming new rebrand and name change, we are looking back at our roots, and invite you to discover our past origins, present achievements, and plans for the future.
Wrexham University's history
We've been teaching students at our main Wrexham campus since 1887, when we were known as the Wrexham School of Science and Art. We first started offering degrees in 1924 but we've come a long way since then.
We became the Denbighshire Technical Institute in 1927 and moved to Regent Street, which is now home to our arts and design courses. As the Institute grew, the development of what is now our main Plas Coch campus began, and following the completion of developments in 1939, the Denbighshire Technical College was born.
The internal design of the College was created and executed by Sir Patrick Abercromby, the famous Liverpool-Dublin Architect. Our tiles in the main foyer of our campus were designed by Peggy Angus as a representation of the flow of learning, with a celebration of our Welsh background incorporated. The original tiles remain in our reception to this day.
It soon became necessary to merge the three main colleges of the County of Clwyd: Denbighshire Technical College, Cartrefle Teacher Training College (situated at the other end of Wrexham) and Kelsterton College in Connah's Quay near Chester.
The resulting North East Wales Institute of Higher Education (NEWI) became one of the largest colleges of its kind in Britain, with over 9,000 students and an annual budget in 1975 of £5 million.
In 2008, NEWI gained university status and we decided on the name, Glyndwr University. This name came from Owain Glyndŵr, the last native-born Welshman to hold the title of Prince of Wales.
We wanted our new institution to encapsulate the values of Owain Glyndwr; to be bold, enterprising, and open to all.
What we're doing now
Since we became a university 15 years ago, our campuses and course offering continues to expand.
Our £80 million Campus 2025 strategy has already begun, having completed several campus and facility improvements for current and future students. To include a number of well-equipped and modern social learning spaces to ensure our students have the best learning environment as they study with us.
Our Grade II listed Regent Street School of Creative Arts has also been upgraded, with its key features faithfully maintained. Teaching spaces along the B corridor of our Wrexham campus have been renovated, with excellent AV equipment, accessible workstations, and clean designs. From classrooms and lecture theatres to our SCALE-UP rooms and Moot Court, each space has students' learning at its heart.
Following our successful Health Education and Improvement Wales (HEIW) bid to deliver new Nursing and Allied Health courses in addition to existing ones, we've developed a Health Education & Innovation Quarter (HEIQ) to include a Healthcare Simulation Centre, utilising existing buildings on the Crispin Lane side of our campus with plans to expand even further. Additional subject specific developed spaces include applied science labs, Colliers Park, and a Veterinary Nursing clinical suite.

Our Health Simulation Centre provides cutting-edge equipment which enables students to go even further with their learning capabilities. Students are given the opportunity to experience life-like simulations they could be faced in their Allied Health placements and throughout their careers.
We have hundreds of fully funded places each year for students who want a career in healthcare across Wales. This means that hospitals and care providers in the region will have a steady stream of qualified professionals, trained by our exceptional teams going on to work and care for patients in the area.
We pride ourselves in our teaching quality and student satisfaction, which has been recognised in university league tables. We are currently ranked top 10 in the UK for both Teaching Quality (Times and Sunday Times Good University Guide, 2023) and for Student Satisfaction (Complete University Guide, 2024).

Our dedication to inclusion has also been consistently recognised, as we have remained number one for Social Inclusion in England and Wales for five years running (Times a Sunday Times, 2023).

We are a close-knit community on our campus and we make sure to harbour this community spirit within the local area of Wrexham through our support of local endeavours. The Science Discovery Centre in Wrexham city centre, Xplore, used to have a home at our university campus. The centre changed from Techniquest to Xplore and we currently support the centre to provide eye-opening, interactive scientific experiences to the community. We also have connections to supporting and promoting Ty Pawb, Wrexham's multi-award winning, cultural community hub, which brings together arts and markets to celebrate Wrexham's cultural identity. Theatr Clwyd currently leases the William Aston Hall on our Wrexham campus in a partnership to protect this vital arts venue as a community asset. This partnership ensures that the people of Wrexham and North Wales have access to the best in Welsh, UK and international entertainment.
As our notoriety has grown, our graduate opportunities have also been enhanced with our degree offering. The number of Wrexham graduates in full-time employment currently exceeds the UK average and our dedicated Careers team provide support to students for life. Students are supported as they study here and beyond. We create opportunity and we spark change in the lives of our students whilst they study with us and beyond.

Looking to the future
Our rebrand and name change marks a step forward on our journey from our 1887 origins as the Wrexham School of Science and Art.
From September 2023, we will be known as Wrexham University. This will unify us as a university to the place we are proud to call home. The switch to the new name will strengthen our brand and identity to reach a wider range of audiences, so we can provide more opportunities for learning to those who may not have heard of us before.
We are proud of our history and heritage and our Welsh roots, despite the fact that we will no longer be referred to as 'Glyndwr'. We remain extremely proud of the legacy of Owain Glyndwr and will continue to celebrate that through our link with the Owain Glyndwr Society, which presents an award to a top Wrexham graduate every year. Through the great work of our appointed head of Welsh medium development, more students than ever have opportunities to speak bilingually across a wide range of courses at the institution, so we are very much committed to keeping the Welsh language alive now and in the future. 

Even with our new developments, our rich history will always be with us in our protected buildings and historical origins.
Our Campus 2025 project will continue with the development of 'Enterprise Engineering' - a state-of-the art engineering building on the Plas Coch campus. A brand-new Learning Gateway Building is also being designed to house our main reception, the Students' Union and a new catering area.
As a long-standing colleague and member of the university community for almost three decades, Gerry Beer, Senior Executive Officer, has certainly lived and worked through many of the changes. Gerry describes the most notable memory as being "the transition from a Higher Education Institute to a University."
"The Inauguration and Installation ceremony was a wonderful sight to see with an academic procession of management, staff, fellows, dignitaries and politicians all parading through the streets of Wrexham to St Mary's Cathedral. First, to welcome existing fellows as Fellows of the University, and then moving onto St Giles for the formal ceremony.
"The evening concert was a public event following by a spectacular firework display in the quad. The community welcomed us to their event, and we welcomed them to ours – perfect. That event epitomised who we were and what we wanted to achieve, it was ambitious, highly visible and noteworthy. We have come such a long way since then, but we still retain our "Welshness" and our ambitions.
"We have always firmly believed that we are a University for Wrexham and North Wales and that event brought 'Cap and Town' together. So, no matter where our future lies or where the growth comes from, as a university, we welcome students from all corners of the globe to our unique city and university as we did on that day. But nothing stands still, and I can vouch for that, and I will be excited to see our new brand come alive as it infiltrates all we do and say. I hope it brings a breath of fresh air, a brightness and confidence and that it reflects a University that can stand amongst the best of them!"
We look forward to welcoming more students on to our forward-thinking and industry-focussed courses as we build on our foundations and look to the future as Wrexham University.