Tips for tackling imposter syndrome when applying to and attending university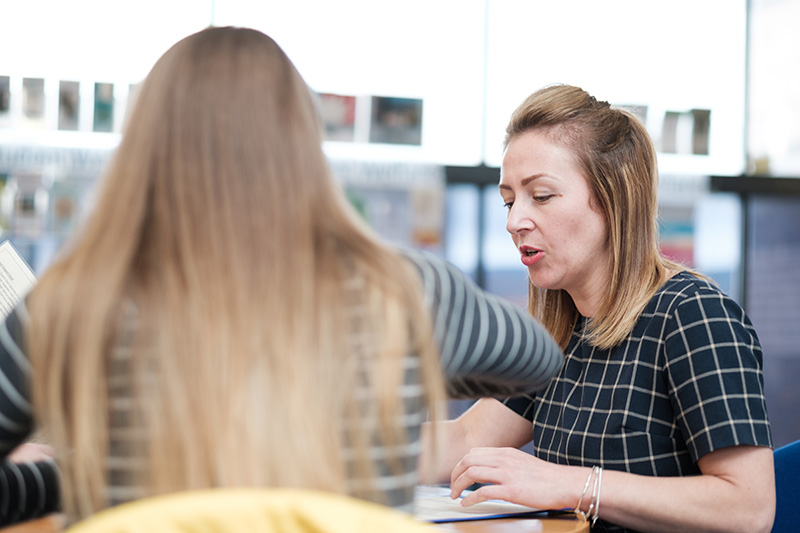 Wrexham Glyndwr University is an inclusive and welcoming place to study, and we are here to support our students, even before they apply.
We recognise that imposter syndrome is a tricky challenge to overcome when applying to and attending university and so we have put together a guide on how to beat any nerves you may be feeling.
Imposter syndrome is a term used to describe a sense of unworthiness which persists despite external evidence of your achievements and accomplishments. It creates a lack of confidence in your work, your grades, and your capabilities as a student.
We are here to assure you that you are more than capable of achieving a place in university and of succeeding with us whilst you are here.
Before you apply
For many, the application stage is possibly one of the most stressful parts of university. You may be worrying about your grades and whether you will meet your application requirements to attend university. You may be going through clearing after not achieving the grades you were predicted. You may even be struggling to find the confidence to apply to university in the first place.
All of these anxieties can lead, or are related, to imposter syndrome.
Visiting us for an open day and talking with staff and current students about your studies and what you expect to achieve in your education is a great reassurance method. At Wrexham Glyndwr University, we pride ourselves on our inclusive and welcoming environment. We have been ranked first in the UK for social inclusion five years running in the Complete University Guide 2023.
Our commitment to inclusivity by supporting our students, sets us apart from other universities and we welcome everyone through our doors. Visit our campus and see for yourself why you would be the perfect fit in our student community.
Talking about insecurities or issues when applying to university is the first step in getting these problems solved. If you aren't quite ready to attend an open day, but you have questions about applying to us as a university, then please feel free to message our enquiries team via enquiries@glyndwr.ac.uk.
We are more than happy to talk you through your options and answer any questions you may have.
During your studies
Rest assured you are not alone - did you know that 43% of university students relate to feelings of or suffer from imposter syndrome?
Being in an environment where you are assessed and where you can achieve your academic goals is understandably going to add some pressure in your life.
It has been found that pressures provoked by self-doubt and imposter syndrome include perfectionism, social comparison and a fear of failure. On the opposite side of this, you could be experiencing feelings of anxiety, depression, disengagement and feelings of not belonging, as you make your way through university.
We have a number of support systems in place for you to combat these feelings and to help with your health and wellbeing whilst you study with us. We always aim to ensure that our students feel confident in their learning and encourage a couple of methods you can try out to reduce the impact of your lurking imposter syndrome.
Talk to a tutor, a lecturer, a friend. Feeling like a fraud or feeling out of place is rooted in secrecy and reaching out to a trusted person or service can enable those around you to help. Having a chat with anyone about your studies can work wonders, don't be afraid to reach out.
We have a range of impartial support services are available to help with your health and wellbeing whilst you study with us. Having a chat with your tutor about your studies can work wonders.
Acknowledge your good work and celebrate your achievements. Reward yourself with a treat, favourite activity, or a break after receiving positive feedback. Mantras also have been psychologically proven to work as a reassurance tactic. Repeat positive messages to yourself when you smash it out of the park, believe in yourself!
Failure or a setback can be your greatest strength. Use your failure to fuel your progress and harness the negative energy into a positive step forward. Pay attention to your feedback and don't be afraid of asking questions if there is something you don't quite understand. At university, you are here to learn and sometimes the greatest teachable moments can be found in our failures rather than our successes.
The next step
The prospect of leaving university and becoming a professional is inevitable. This inevitability is daunting and exciting at the same time, and we do what we can to prepare you for your professional endeavours after leaving academia.
Our practical approach to embedding employability into our courses defines us as a university. We want our graduates to succeed during their studies and beyond, we are here to support you throughout each stage you encounter.
If you are already thinking about the next step after university then our dedicated Careers and Employability team are here to help. They offer careers planning support, work opportunities including the Student Ambassador scheme and extracurricular employability events, as well as tips for writing CVs, personal statements, and job applications.
You have access to this support for life, so if these insecurities crop up in the future, then you can always drop us a message and we'll be happy to help.
We are with you every step of the way with your learning and beyond. Make sure to connect with us and contact our support teams for more information about what is available to you before and whilst you study with us.