What to expect from an open day at Wrexham University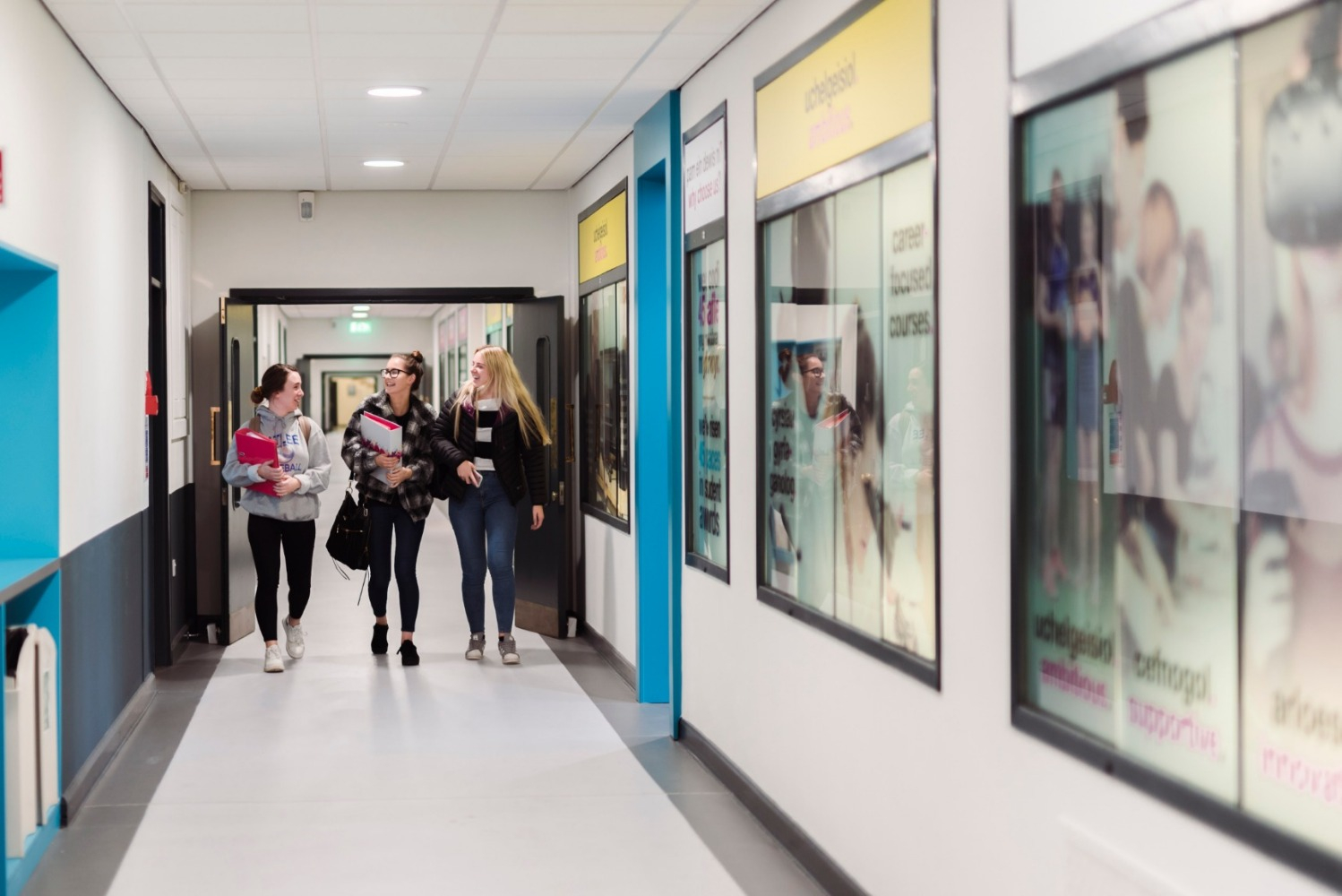 Open days are a great opportunity for you to visit our campuses and get a taste of what it's like to be a student here at Wrexham University.
Our staff and student ambassadors will be on hand to guide you throughout your day. Find out more about your chosen course by chatting with your future lecturers or discover student life by spending time with our current students - there's always a friendly face to be found.
To give you an idea of what to expect before you arrive, we have planned out your visit from start to finish. Read our guide to make the most out of an open day:
10:00 am
Once you arrive on campus and enter via the main entrance, you will be greeted by friendly staff members who will help you sign in, just so we know who you are.
You will then be directed to our welcome desk where you will be informed on any talks occurring throughout the day. Feel free to ask about any subject-specific events here, the times these take place can vary between each open day so it's always good to check.
If you are wanting to visit our Northop campus, where our Animal Science degrees are taught, then we have a free minibus you can hop on which leaves at 11am. You'll have plenty of time to explore, as you will be able to return at 1:30 pm on the same bus.
Our Regent Street bus, which will take you to our School of Creative Arts, runs every 30 minutes or so. Ask for details on the bus timetable at the welcome desk on the day of your visit.
10:45 am
On our main campus, now is a great opportunity to listen to a welcome talk from our Vice Chancellor.
You can even have a coffee and a chat with our VC and find out exactly what WU has to offer you as a student.
11:30 am
Have a campus tour to get a feel of the university and see where you will be studying.
This will give you the chance to see some of the progress we have made in our facilities - and there are even more to come.
Starting at the main entrance, you'll visit our classrooms and labs which we have recently invested in. You'll see our new social spaces like the B hive, where you can relax or complete group projects in a dynamic environment.
Our new labs, study rooms and social spaces are part of our Campus 2025 project. We are investing £80 million into our students' future by enhancing all of our campuses to ensure they have the best facilities and learning environment.
Ask your tour guide any questions you can think of, they will be happy to answer them.
12:00pm
Chat with our support services to find out what we have available to support you as you study with us.
Careers and employability will be able to tell you about your career prospects for your chosen course and the ways you can enhance your employability through learning.
Our student's union, WSU, will be on hand if you'd like to find out more about the fun societies and sports teams available for you to join.
Discover the ins and outs of living on or near campus with our accommodation team.
As a university, we also pride ourselves on our dedication to inclusion. As such, an inclusion rep will be on hand for you to discuss any concerns or challenges you may be anticipating before going to university.
There will be a representative to assist with international students if you would like to discuss any processes or requirements with them.
1:00 pm
After chatting with accommodation services, you have the option of going to our halls of residence to see what we have on offer.
On your way, why not check out our flight simulator that you can experience throughout the day?
There're also some fantastic science experiments that you can observe in our brand new labs.
2:00 pm
Have lunch on us!
You must be hungry after all that information, and you have the option of having lunch on us.
If you think of any other questions to ask whilst you eat, make sure to ask a staff member or a student ambassador and they'll be happy to help.
Make sure you keep an eye out for upcoming open days – we look forward to welcoming you soon!