Immersive technology: could it revolutionize your business?
Make your business goals a reality through utilising Immersive Technology expertise and facilities at your local university.
Delve into the world of Immersive Technology and learn how it can have an impact on your business with support from WGU. Hear about exciting collaborations that the university has been involved in, and experience Virtual Reality (VR), Augmented Reality (AR), and Mixed Reality (MR) for yourself with the cutting-edge equipment and advanced expertise available at WGU.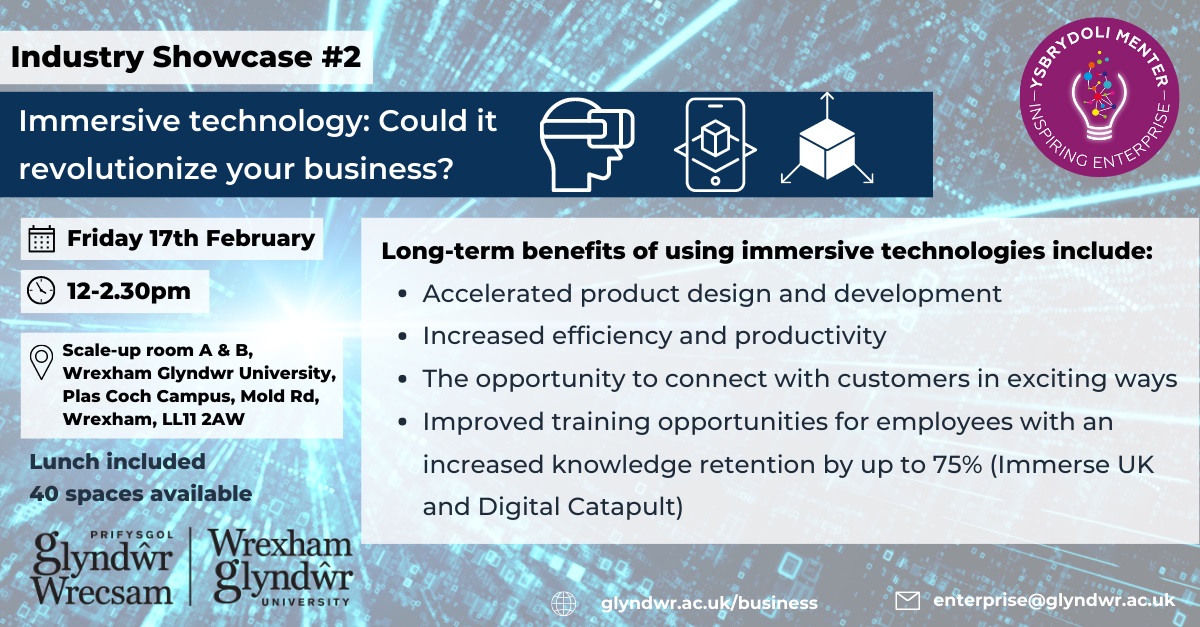 Date: Friday, 17th February 2023
Time: 12 – 2.30 pm
Location: Scale-up room A and B (B Corridor), Wrexham Glyndwr University, Plas Coch Campus, Mold Rd, Wrexham, LL11 2AW
With application possibilities in a wide range of industry sectors, from healthcare and commercial to manufacturing and engineering, immersive technology will lead to long-term benefits for your business, including:
Accelerated product design and development, leading to decreased intervals between product manufacturing and release to market
Increased efficiency and productivity resulting in safer workplaces for employees
The opportunity to connect with customers in new and exciting ways through offering practical solutions
Improved training opportunities for employees with an increased knowledge retention by up to 75% (Immerse UK and Digital Catapult)
Uncover further benefits of using immersive technologies at the second Industry Showcase event, hosted by the Enterprise team at Wrexham Glyndwr University. With the global immersive technology market size rapidly increasing, so is the desire to incorporate new, innovative technologies in businesses to achieve goals.
The event will include introductions to Immersive Technology from experts in this field, an informative session on how immersive technology can impact your business, including talks with industry partners, as well as hands on activities and demonstrations using immersive technology equipment available at WGU.
Lunch is included.
For further information, please contact the Enterprise team through e-mail: enterprise@glyndwr.ac.uk