Course Highlights
3rd in Wales
for teaching quality (Times and Sunday Times Good University Guide 2022)*
Combines
academic study and work experience
Receive
support from an experienced staff team and academic tutorial system
Why choose? this course?
This popular degree is ideal for those interested in working with children and young people in informal and formal education settings. You'll learn the statutory requirements of curricula for primary education in both England and Wales, explore learning dispositions, and discover how to support pupils both academically and pastorally.
The course:
Has a long history of providing a well-respected, successful and alternative pathway into mainstream primary teaching via a Postgraduate Certificate in Education (PGCE – Primary Education) or Post-compulsory qualification (PcET – Adult and Further Education

404

).
Keeps options open for a range of other career opportunities that involve work with children and young people.
Is predominantly geared towards working with children between the ages of 3-13 years of age.
Combines academic study and work experience.
Draws upon theoretical perspectives from a wide range of disciplines including education, sociology, psychology, philosophy, health and social welfare/justice.
Considers educational policies, processes and perspectives relating to the statutory requirements of early years' curricula and Key Stage 2 of the National Curriculum in both England and Wales.
Covers factors that impact the wellbeing and learning dispositions of children and young people.
*Is part of a subject area rated 3rd in Wales for teaching quality in the Education subject league tables, Times and Sunday Times Good University Guide 2022.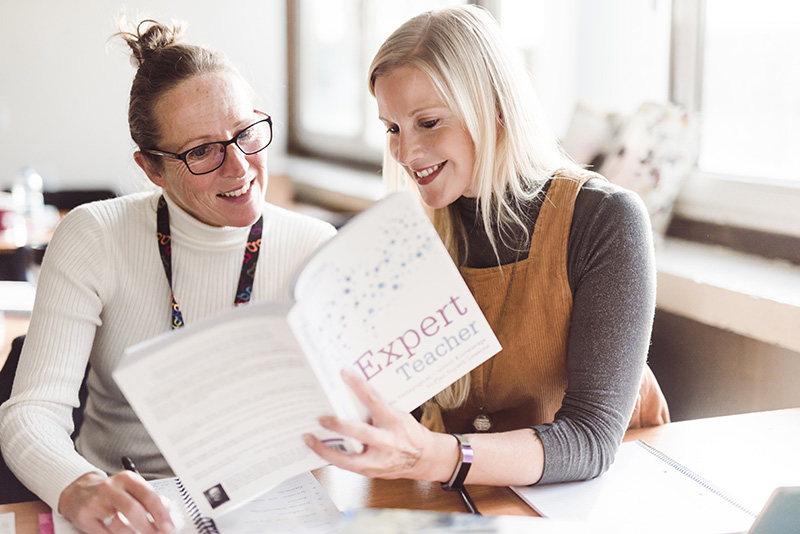 Education at
Wrexham University
Thinking of a career in Education? Hear from lecturers and students about our Education course at Wrexham University.
Key course features
Study contemporary topics which are directly related to the education of children.
Experience extended placements within the children's workforce.
Engage in research whilst out on placement, guided by experienced practitioners.
Use your current relevant employment as your placement or seek exciting new experiences.
Receive support from an experienced staff team and academic tutorial system.
*This course is part of a subject area rated 3rd in Wales for teaching quality in the Education subject league tables, Times and Sunday Times Good University Guide 2022.
What you will study
YEAR 1 (LEVEL 4)
Level 4 offers students a broad understanding of some of the main issues involving work with children, young people and families. This is a core year studied by all students to ensure the subject foundations, key study skills and preparation for placement are all in place.
MODULES
Learning to Learn in Higher Education
Child Development and Play
Introduction to ALN/SEND
Preparing for your Placement
Placement 1
YEAR 2 (LEVEL 5)
Level 5 builds upon the core skills gained at level 4 and introduces a specialist module specific to your study route and an optional module to choose from. A key part of level 5 is the introduction to research skills and an extended placement.
MODULES
Curriculum Matters 1 (Specialist Module)
Inclusion and Diversity (Optional Module)
Well-being and Resilience (Optional Module)
Practice Informed Research
Placement 2
YEAR 3 (LEVEL 6)
Level 6 builds upon prior learning, requires more independent study and involves students completing a research project. This year you will study two specialist modules and develop your leadership skills.
MODULES
Curriculum Matters 2 (Specialist Module)
Learning and Teaching: Theory and Practice (Specialist Module)
Leadership and Professional Development
Practice Informed Research Project
The information listed in this section is an overview of the academic content of the programme that will take the form of either core or option modules. Modules are designated as core or option in accordance with professional body requirements and internal academic framework review, so may be subject to change.
Entry requirements & applying
The academic requirements for the course are;
80-112 UCAS tariff points at GCE A Level or equivalent.
GCSE grade C/4 or above in English/Welsh (First Language), plus grade C/4 or above in Mathematics or Science, or equivalent.
For applicants without formal qualifications, work experience in appropriate areas will be considered on an individual basis.
Before applicants are offered an unconditional place on this degree, they will be required to complete a Disclosure and Barring Service (DBS) clearance (previously known as CRB), to confirm their suitability for working with children, young people and vulnerable adults.
Teaching & Assessment
A range of assessment methods are used throughout your studies and could include: essays and reports; case studies; observations; portfolios; presentations and a research project at level 6.
These varied assessment strategies help individuals to develop a range of transferrable skills required for work within education, child and community settings.
Placement forms a major part of the programme at each level of study: Year 1 (min of 90 hours); Year 2 (min of 134 hours); Year 3 (min of 45 hours). You will be expected to mirror the working hours of the staff within the placement setting you attend.
Teaching and Assessment
Wrexham University is committed to supporting our students to maximise their academic potential.
We offer workshops and support sessions in areas such as academic writing, effective note-making and preparing for assignments. Students can book appointments with academic skills tutors dedicated to helping deal with the practicalities of university work. Our student support section has more information on the help available.
In terms of particular needs, the University's Inclusion Services can provide appropriate guidance and support should any students require reasonable adjustments to be made because of a recognised prevailing disability, medical condition, or specific learning difference.
Career prospects
Our Careers & Employability service is there to help you make decisions and plan the next steps towards a bright future. From finding work or further study to working out your interests, skills and aspirations, they can provide you with the expert information, advice and guidance you need.
There are a growing number of careers within both education and community settings, and opportunities for further studies, including:
Primary Postgraduate Certificate in Education (PGCE)
Lecturer Further/Higher Education (PcET)
Masters programmes
Teaching Assistant
Special Education
Educational Youth Worker
Teacher-English as a Foreign Language
Behavioural/Pastoral Support Worker
Health Promotion Practitioner
Fees & funding
You do not have to pay your tuition fees upfront.
Wrexham University's tuition fees for 2023/24 for a full-time undergraduate degree course are £9000 per year.
The fees you pay and the support available will depend on a number of different factors. Full information can be found on our fees & finance pages.
Programme specification
Accommodation
If you're looking for a place to stay while you study then take a look at our accommodation pages to get more information on your options, including our on-campus halls of residence Wrexham Village.
International
If you are applying as an European / International Student, and live outside of the UK, you should make your application through our online application system, Centurus.

For information about the university's entry requirements for EU/international students, please visit our international section.

TypeError: Cannot call method "getContent" of null