BA (Hons) Marketing & Business (with Foundation Year)
Course Highlights
Bronze member
of the Business Graduates Association with access to a range of benefits including consultative services and the BGA eLearning hub
Accredited
by the Chartered Institute of Marketing (CIM)
Achieve
an optional level 4 CIM certificate in digital marketing* and a level 5 CMI diploma in leadership and management upon graduation
Why choose? this course?
Our BA (Hons) in Marketing and Business prepares students for the challenges of the modern business world and strengthens and develops their broader personal and professional skills.
Students will:
Discover how and why do we choose the things that we buy and what influences people when they choose goods or services.
Explore the latest scientific thinking in areas including consumer behaviour, decision-making and advertising.
Work-based learning is embedded into the programme, meaning that all graduates will be equipped with knowledge and skills to meet current and future market needs and be 'work ready'.
Key course features
Includes a foundation year to prepare you for further study.
Explores the latest scientific thinking in areas including consumer behaviour, decision-making and digital marketing.
Involves work-based learning so that all graduates will be equipped with knowledge and skills to meet current and future market needs and be work-ready.
Includes practical experience with an optional industrial placement in business to solve a genuine industry problem.
Enjoy the North Wales Business School's excellent links with a range of commercial research organisations that have worked with some of the largest brands in the world, including Tesco, Unilever, and Cadbury's.
Hear guest lectures delivered by a range of practitioners, allowing you the opportunity to develop your network of contacts.
What you will study
YEAR 1 (FOUNDATION YEAR)
The Foundation Year is an integrated year where you will study core modules with a broad range of students from across the Faculty of Social and Life Sciences, giving you access to different perspectives and networking opportunities.
The modules will equip you with key skills needed for Higher Education and beyond. They will give you the chance to explore your subject area and available careers, allowing you to adapt your reading and assessments to be relevant to your degree pathway.
Alongside teaching from the broader faculty staff, you will be able to meet with staff and other students from your main degree pathway and get involved with events and opportunities that they are running.
Study Skills for Success (core)

will give you a solid foundation in academic conventions and time management skills to help you to progress through your degree.

Resilience in Higher Education and Beyond (Core)

Personal development and resilience are as important as academic skills in the accomplishment on your journey towards graduation, and this exciting new module will equip you with the attributes needed for this.

A Day in the Life (core)

This module allows you to explore the potential career options open to you on completion of you chosen degree. You will be exploring the professions linked to your degree and start preparing your graduate portfolio for employers.

Life and Work in the Welsh Context (core)

will give you the opportunity to explore your subject area and/or desired career in relation to living and working in today's Wales.
The suite of optional modules are designed to enhance your skills base in relation to your career development. Your personal tutor from your degree will meet with you to help you decide which one of the available optional modules would be most suitable for you. The optional modules are:
Welsh for First Time Learners

provides an introduction to the Welsh language for those taking their first steps Numeracy where your degree requires a competent level of numeracy, you may be advised to choose this option.

Professional Communication in the Workplace

in this module, you will begin to develop the skills and aptitude necessary to communicate effectively in a professional context.

Maths and Experimental Design

if your degree pathway requires an understanding of numeracy and sciences, then this module is designed to provide the opportunity to achieve that.
There are a variety of assessments across the foundation year – presentations, portfolios, electronic scrapbooking, and learning logs are just some.
YEAR 2 (LEVEL 4)
MODULES
Introduction to Management & Business: This module will introduce students to some of the fundamentals of business, including organisational structure and the nature of the modern business practices. It will also provide opportunities for the student to acquire a broad understanding of management by exploring the skills and characteristics of effective managers and leaders, and techniques to successfully manage a team.
Introduction to Business Finance & Accounting: This module aims to introduce the contemporary concepts and principles of accounting and finance so as to enhance the abilities of the students, by applying relevant management accounting, financial accounting and financial management techniques, to determine the most appropriate operational financial decisions, and analyse the effects of those decisions on a firm's performance and financial position.
Business Communication Skills: The module aim is to recognize the importance of effective integrated internal and external communications in building sustainable relationships and delivering customer value. Students will also learn how to communicate effectively in a business and academic settings understanding the fundamentals of presentation skills, written communication and professional communication.
Understanding Human Resource Management: This module provides a comprehensive understanding of the role of human resource management (HRM) in organisations. The module covers the following HRM fundamentals:
- Types of organisation prevalent in the business world
- The importance of human resource management and the role of HR practitioners
- HR activities in organisations
- Impact of technology on human resource management
Marketing Essentials: This module is about recognising the importance of marketing's role in driving success and delivering results. Students will learn about the different functions of marketing in the 21st century and will study how an appreciation of consumer behaviour and the marketing environment can enable effective targeting and planning. By the end of this module students will have gained an awareness of the various tools available to the modern day marketer, and be capable of recognising their strengths and weaknesses, enabling them to use them both creatively and effectively in an operational context including commercial and non-profit sector organisations
Business Analytics: This module aims to develop a critical and practical understanding of the concepts and principles of analytics and the ability to apply these concepts to the systematic analysis of data within the contemporary business world.
YEAR 3 (LEVEL 5)
MODULES
Planning Marketing Campaigns: This module covers the planning of effective marketing campaigns and the processes for developing relevant marketing activities to influence customers. The module comprises of three units: the first unit develops knowledge about the campaign planning process; the second unit develops the skills and knowledge to prepare and implement an effective marketing campaign plan; and the third unit develops knowledge and application skills to measure and monitor the results of marketing campaigns.
Digital Business Strategy: This module aims to equip students with the skills needed to build digital competitive advantage in a rapidly changing world. The rules of business have changed and why it is no longer enough for firms to be better or cheaper to gain competitive advantage. These new rules make it essential for companies to re-examine four fundamental aspects of their business to thrive in the digital era—their strategy, value chain, customer engagement, and organization structure.
Agile Leadership: This module aims to develop a critical and practical understanding of the concepts and principles of agile leadership and the ability to apply these concepts within the contemporary business world, to create the right environment for agile teams to succeed within an organisation
International Business and Trade: This module aims to develop a critical and practical understanding of the concepts and principles of international business and trade and the ability to apply these concepts to the contemporary international business world. The module explains the main concepts, principles and functions of international business and globalisation and applies the challenges of international business culture to realistic commercial situations. This includes a practical understanding of the global financial system and an evaluation of theories of international trade in terms of its commercial consequences. International business strategy will also be assessed and applied in terms of its commercial consequences.
Entrepreneurship & Innovation: This module aims to provide students with the opportunity to discover how ideas are developed, how entrepreneurship operates and an understanding of Innovation and entrepreneurship theories within a business context. It will enable students to enhance their employment prospects in the workplace by providing them with an understanding of the sought-after traits of entrepreneurship and innovation and how to express them.
Digital Marketing Techniques: This module covers the evolving nature of digital marketing concepts and use of digital techniques within organisations. The module covers three units: the first unit relates to the understanding, application and assessment of digital tools and techniques; the second unit is about developing knowledge to apply integrated digital marketing processes, which enhance the organisation's engagement with stakeholders; and the third unit is about the development and evaluation of digital marketing plans.
Industry Placement (optional): The module aims to provide students with the opportunity to gain valuable experience in the workplace, specifically related to the student's specialism, via first-hand experience. This module allows students to undertake a sustained period, embedded with a host employer, to work on one or more defined projects or goals. The student will be expected to find and secure a suitable placement opportunity in collaboration with NWBS. The Industry Placement will typically take place during the normal academic year, over the two normal university semesters. However, where necessary, it may start earlier and finish earlier where required by industry. As such its duration should normally be in the region of 40 weeks dependent on working hours.
YEAR 4 (LEVEL 6)
MODULES
Digital Marketing Optimisation: This module develops knowledge and skills to enable a strategic approach to marketing planning, applying both traditional and digital models, frameworks and techniques to achieve a competitive advantage. The module covers three units: the first unit develops skills in analysing the environment and identifying insights for strategic decisions; the second unit covers the development of effective strategic marketing plans, which includes digital strategy, to deliver objectives; and the third unit develops resource, monitoring and measurement skills to implement and control the strategic marketing plan
Strategic Management: This module presents a systematic approach to the study of strategic management, building upon an array of ideas and theories ranging from industrial organization theory to institutional economics. This unit outlines the fundamentals of strategic management and gives students an introduction in this important area of business management. Students will gain an awareness of the issues involved and the techniques that managers adopt. The tools and techniques will help students understand how organisations achieve sustainable competitive advantage.
Strategic Marketing: This module aims to build on the marketing foundations studied previously and provides a staged approach to the nature of strategic marketing which contribute to the achievement of a competitive advantage. It will introduce the broader aspects of strategic marketing that reflect contemporary developments in advocacy and ethics.
Managing People in an International Context (option): This module provides comprehensive knowledge and understanding of managing people in an international context. The impact of national and cultural contexts, international human resource management approaches (IHRM) and the future of IHRM will be covered as part of this module.
International Supply Chain Management (option): This module aims to develop knowledge and critical understanding of supply chain management as it operates on a transnational basis. To this end it enables students to critically evaluate alternative procurement, contractual arrangements and supply chain processes in terms of inputs, tools, techniques and outputs. It also facilitates learning to analyse problems and develop creative solutions
Dissertation: The aim of the dissertation module is for students to demonstrate the application of knowledge and skills gained during the undergraduate programme of study in all programme routes in an independent, self-motivated, enquiring and problem-solving manner. This serves to extend, underpin and enhance learning through the identification of a business/management problem in either business, accounting & finance, HTEM, HRM, Marketing and any other business related area which requires theoretical research, structured data collection, subsequent analysis leading to conclusions and recommendations.
The information listed in this section is an overview of the academic content of the programme that will take the form of either core or option modules. Modules are designated as core or option in accordance with professional body requirements and internal academic framework review, so may be subject to change.
Entry requirements & applying
The academic requirements for the course are 48-72 UCAS tariff points at GCE A-level or equivalent, from a minimum of two A levels and GCSE Mathematics and English/Welsh (First Language) at Grade C/4 or equivalent. Appropriate AS-Level and Level 3 Key Skills qualifications will also be taken into account.
Teaching & Assessment
Students are assessed in a variety of ways over the course of their undergraduate studies. The balance between the different forms of assessment is determined by the different aims and learning outcomes of the core and option modules. Assessment methods include academic essays, presentations, reports, simulation exercises and examinations.
TEACHING AND LEARNING
Teaching methods include workshop-based core skills modules, lectures by practitioners, student-led seminars and guided research.
Independent learning is an important aspect of all modules, as it enables students to develop both their subject specific and key skills. Independent learning is promoted through the feedback given to students, which takes several forms including small group and one-to-one discussions.
Wrexham University is committed to supporting our students to maximise their academic potential.
We offer workshops and support sessions in areas such as academic writing, effective note-making and preparing for assignments. Students can book appointments with academic skills tutors dedicated to helping deal with the practicalities of university work. Our student support section has more information on the help available.
In terms of particular needs, the University's Inclusion Services can provide appropriate guidance and support should any students require reasonable adjustments to be made because of a recognised prevailing disability, medical condition, or specific learning difference.
Career prospects
Our Careers & Employability service is there to help you make decisions and plan the next steps towards a bright future. From finding work or further study to working out your interests, skills and aspirations, they can provide you with the expert information, advice and guidance you need.
Marketing offers an extensive job market for qualified graduates who can think strategically, create relevancy and deliver measurable results. Possible careers include - Advertising Account Executive, Advertising Art Director, Digital Marketer, Market Researcher, Media Buyer, Social Media Manager, Social Media Manager.
Fees & funding
You do not have to pay your tuition fees upfront.
Wrexham University's tuition fees for 2024/25 for a full-time undergraduate degree course are £9000 per year.
The fees you pay and the support available will depend on a number of different factors. Full information can be found on our fees & finance pages. You will also find information about what your fees include in the FAQs.
Programme specification
Accommodation
If you're looking for a place to stay while you study then take a look at our accommodation pages to get more information on your options, including our on-campus halls of residence Wrexham Village.
International
If you are applying as an European / International Student, and live outside of the UK, you should make your application through our online application system, Centurus.
For information about the university's entry requirements for EU/international students, please visit our international section.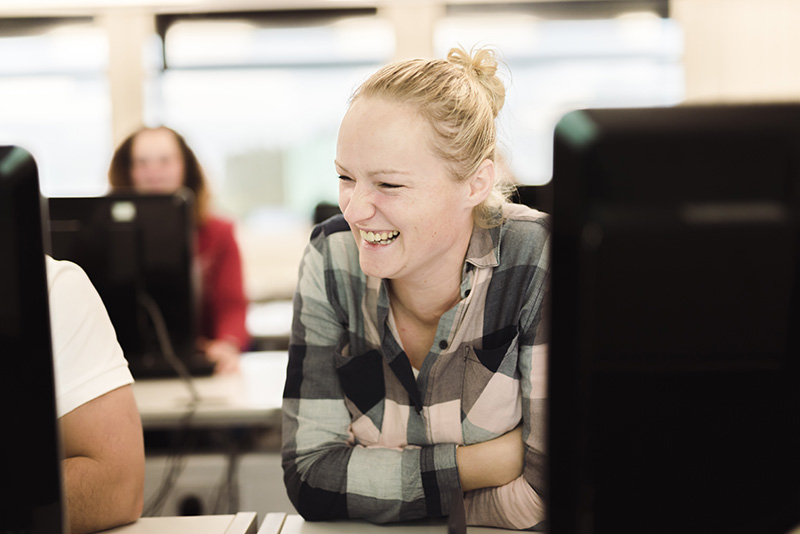 Business at
Wrexham University
Thinking of a career in Business? Hear from lecturers and students about our various Business degrees at Wrexham University.