BEng (Hons) Mechanical Engineering (with industrial placement)
Course Highlights
Industry experienced
teaching team
Strong links
with the industries such as Airbus, Raytheon and JCB
Access
to rapid prototyping facilities, specialist manufacturing systems and industry relevant software
Why choose? this course?
The Mechanical Engineering degree provides the opportunity to combine practical aspects of day-to-day engineering and simulation-based projects providing a solid background for a career in the engineering and manufacturing industry sector.
The graduates from the degree will:
be pragmatic, taking a systematic approach and the logical and practical steps necessary for often complex concepts to become reality.
seek to achieve sustainable solutions to problems and have strategies for being creative, innovative, and overcoming difficulties by employing their skills, knowledge and understanding in a flexible manner.
be skilled at solving problems by applying their numerical, computational, analytical, and technical skills, using appropriate tools.
be risk, cost and value-conscious, and aware of their ethical, social, cultural, environmental, health and safety, and wider professional responsibilities.
be familiar with the nature of business and enterprise in the creation of economic and social value appreciate the global dimensions of engineering, commerce, and communication;
be able to formulate and operate within appropriate codes of conduct, when faced with an ethical issue.
be professional in their outlook, be capable of team working, be effective communicators, and be able to exercise responsibility and sound management approaches.
You will have opportunity to transfer to an integrated-master's degree course MEng Mechanical Engineering at the end of your year 3 (industry placement) study.
You can also choose to study this degree without Industrial Placement year BEng (Hons) Mechanical Engineering (3 years) or with foundation year BEng (Hons) Mechanical Engineering with Foundation year (4 years).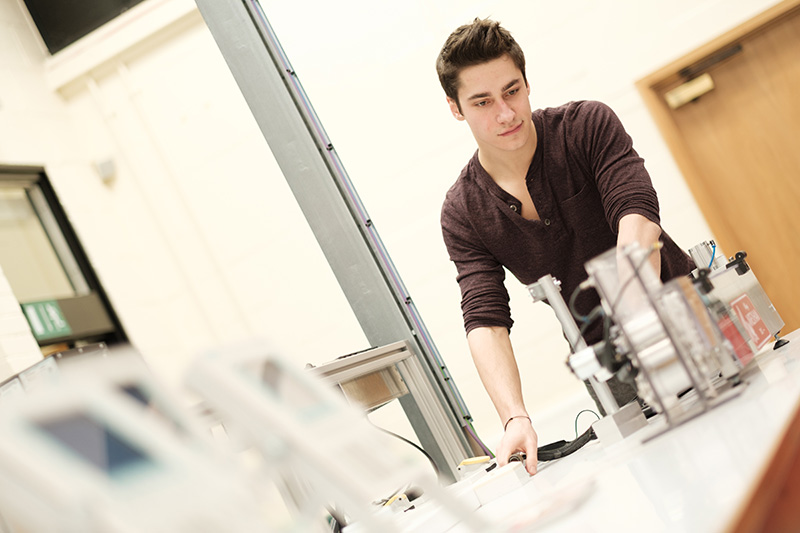 Engineering at
Wrexham University
Thinking of a career in Engineering? Hear from lecturers and students about our Engineering degrees at Wrexham University.
Key course features
Industry placement year provides students with a more diverse range of skills and experiences in a workplace setting.
You will be taught by a dedicated teaching team, with extensive industrial experience.
Up-to-date teaching facilities including manufacturing facilities for Computer Numerical Control (CNC) machining, 3D printing/laser scanner and programme specific labs.
Advanced Composite Training and Development Centre based in Broughton.
Rapid prototyping facility and specialist manufacturing systems simulation software.
Access to cutting edge computer-aided design, analysis and simulation software, including ANSYS, Abaqus, MATLAB and Simulink, etc.
What you will study
YEAR 1 (level 4)
You will develop an understanding of the fundamental concepts, principles and theories in engineering. Acquire basic mathematic skills related to engineering and design problems. Use CAD for engineering design. Competence of working safely in engineering laboratories and workshops, and being able to conduct laboratory procedures, measurement and workshop practices under the guidance of a tutor.
MODULES
Introduction to Electrical & Mechanical Engineering Science
CAD and Production Science
Materials and Environment
Engineering Mathematics
Engineering Professional Development
Mechanical Systems
YEAR 2 (level 5)
MODULES
You will build on the knowledge, concepts and skills acquired at level 4 in addition to more specialist knowledge, skills in engineering design and analysis. More in depth in theories in mechanics, fluid mechanics and thermodynamics, machine design, computer aided manufacturing, structures and finite element analysis, etc. Develop understanding in business and research methods.
Engineering Futures – Research, Ethics, and Sustainability
Fluid Mechanics and Thermodynamics
Further Engineering Mathematics
Computer Aided Manufacturing
Mechanics, Structures & FEA
Machine Design and Manufacturing
YEAR 3 (Industry Placement)
This module aims to provide you with the opportunity to gain valuable experience of the engineering-related workplace via first-hand experience. It will allow you to undertake a sustained period, embedded with a host employer, to work on one or more defined projects or goals. You will be expected to find and secure a suitable placement opportunity. The Industrial Placement will normally take place during the normal academic year, as if over the two normal University semesters. As such its duration should normally be in the region of 20-40 weeks dependent on working hours.
YEAR 4 (level 6)
You will acquire a critical understanding and application of the high-level concepts, principles and theories in engineering as well as a critical understanding and explanation of advanced topics in engineering design and manufacturing, machine and production systems. Use knowledge and skills acquired to do an individual project.
MODULES
Project (Honours)
Mechanical Engineering Modelling & Simulation
Machine and Production System
Advanced Engineering Design and Manufacturing
Manufacturing Systems and Sustainable Engineering (optional)
Professional Engineering (optional)
The information listed in this section is an overview of the academic content of the programme that will take the form of either core or option modules. Modules are designated as core or option in accordance with professional body requirements and internal academic framework review, so may be subject to change.
Entry requirements & applying
The academic requirements for the course are 80-112 UCAS tariff points at GCE A-level or equivalent, including Maths or Physics.
Teaching & Assessment
Wrexham University is committed to supporting our students to maximise their academic potential. An open and friendly atmosphere enhances the students' learning experience. Strong links to local, national, and international companies ensure teaching is industry relevant and provides students with the best possible starting point into their engineering career paths taking on key roles in industry and public services.
TEACHING AND LEARNING
We offer workshops and support sessions in areas such as academic writing, effective note-making and preparing for assignments.
Students can book appointments with academic skills tutors dedicated to helping deal with the practicalities of university work. Our student support section has more information on the help available.
In terms of particular needs, the University's Inclusion Services can provide appropriate guidance and support should any students require reasonable adjustments to be made because of a recognised prevailing disability, medical condition, or specific learning difference.
Career prospects
Our Careers & Employability service is there to help you make decisions and plan the next steps towards a bright future. From finding work or further study to working out your interests, skills and aspirations, they can provide you with the expert information, advice and guidance you need.
The degree will develop your intellectual and practical skills to meet the future needs of a rapidly changing technology and business environment. As well as continuing your professional development, the course prepares you for a career as a professional Engineer in industry, in roles such as:
Design Engineer
Automation Software Engineer
Test and Calibration Engineer
Commissioning Engineer
Materials Engineer
Quality Control
Maintenance Management
Production Management
A management role in the industry
Past students work for globally known companies, such as Rolls-Royce Derby, Airbus, Bentley Motors.
Fees & funding
You do not have to pay your tuition fees upfront.
Wrexham University's tuition fees for 2024/25 for a full-time undergraduate degree course are £9000 per year.
The fees you pay and the support available will depend on a number of different factors. Full information can be found on our fees & finance pages. You will also find information about what your fees include in the FAQs.
Programme specification
Accommodation
If you're looking for a place to stay while you study then take a look at our accommodation pages to get more information on your options, including our on-campus halls of residence Wrexham Village.
International
If you are applying as an European / International Student, and live outside of the UK, you should make your application through our online application system, Centurus.
For information about the university's entry requirements for EU/international students, please visit our international section.