Course Highlights
Practical
programme of study with design, creation, entrepreneurial and employability skills at its core
2nd out of welsh universities
for satisfaction with course (The Guardian University Guide 2023)*
3rd out of welsh universities
for satisfied with teaching (The Guardian University Guide 2023)*
Why choose? this course?
Our Product Design degree focuses on the high-quality practical skills needed to be a professional Product Designer. You will gain experience in digital technologies and techniques that will enable you to turn your imaginative ideas into design boards through prototypes and practical making skills.
You will:
Learn principles of design communication and drawing- applying these to your own client pitches, design boards, prototypes and final 'market ready' products.
Develop your material and design skills through a series of projects including concept design, digital fabrication, and user-centred design.
Explore key elements of product design with a focus on sketching, 2D digital techniques and CAD.
Work with other students on a group project to develop solutions to real-world social and environmental challenges.
Understand the importance of high-quality fabrication, originality and generating personal responses to materials and processes.
Specialise and develop a final degree project that will push the boundaries of your skills to set you apart from the crowd in the job market.
Complete your studies with the professional skills and creative thinking strategies to pursue your chosen career- whether that be as a product designer, working as a freelance designer, or starting your own business.
*Study a course that is part of a subject area rated 2nd out of Welsh universities for satisfaction with the course and 3rd out of Welsh Universities for satisfaction with teaching in the Product Design subject league tables, The Guardian University Guide 2023.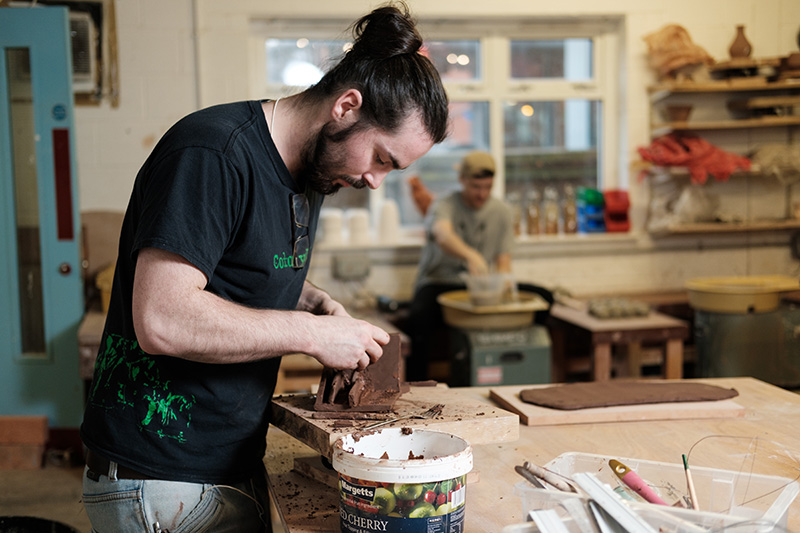 Art & Design
At Wrexham Glyndwr
Key course features
Includes a foundation year to prepare you for further study.
We have excellent commercial links with direct access to live design projects.
The software you will use is of the latest industry standard. We provide the full suite you will need including Creative Cloud and SolidWorks.
You will also have access to Wacom Cintiq tablets, material workshops and digital fabrication equipment.
We offer industry-focused visits and a variety of study trips so you can gain first-hand insight into how the design industry works and the variety of employment opportunities that are available while you develop your career aspirations.
Throughout your time with us, our academic team will ensure you are aware of opportunities, such as competitions, available to enhance your portfolio.
Be part of an end of year degree show exhibition - view the 2022 Degree Show e-magazine, Unjammed.
We offer friendly pastoral care within our welcoming creative community. Our enthusiastic staff set aside a high number of contact hours to ensure that you can always draw on their knowledge and support.
What you will study
The programme of study will give you experience of designing products, from initial ideas to results. The course aims to provide you with a portfolio that will allow you to start professional activities, apply for postgraduate studies, and enter the design industry.
Year 1 (Foundation Year)
MODULES
Visual Investigation
Materials and Methods
Creative Processes
Progression Project
The Skills You Need
Contextual Studies
Year 2 (Level 4)
Level 4 will introduce you to breadth and skills. You will gather the fundamental skills to operate and look for practical, material knowledge and experience.
MODULES
Concept Design (20 Credits): You will develop research and observational skills to strengthen ideas and conceptual design. Explore the creative development of ideas and concepts within the field of product design. You will reinforce design methodology and design skills through creative and imaginative solutions to problem solving.

Explore and appreciate the design of interactions, experiences, processes.

All underpinned by an understanding of consumer needs. Develop skills in concept sketching, diagrams, layout and culminating in professionally presented design boards.

Digital Fabrication (40 Credits): You will develop your skills in the software required to turn ideas and concepts into physical objects. You will also be introduced to the application and appreciation of fabrication methods and techniques.

You will explore the use of digital fabrication methods and techniques and develop your skills in layout, planning and professional presentation.

User Centred Design (20 Credits): Design and develop solutions to everyday problems for a real person. You will be introduced to the application of conceptualising, generation of ideas and

problem solving. You will also explore iterative designing, prototyping, decision making and critical thinking and develop your skills in layout, planning and professional presentation.

Sustainable Design (20 Credits): Create and develop a preliminary idea for a new product, device, or system and evaluate it in terms of its market potential, technical feasibility, and sustainability.

You will provide an in-depth awareness of the range of issues concerning sustainable

development that could relate to designing and to develop an understanding of

sustainable design.

Prototypes and Production 1 (20 Credits):

You will get introduced to prototyping and significant manufacturing techniques that

you

will need

to

prototype and realise

your

designs

in follow levels

.

You

should

become familiar with problem solving, design thinking, and the decision-making

processes needed to plan appropriate prototypes to suitably communicate design intentions

using conceptual drawings and reflections.
Year 3 (Level 5)
Level 5 is all about improving your depth and advancing your skills. You will learn to practice skills within the context of application and learn to analyse the effectiveness of your design.
MODULES
Ergonomics and Human Factors (20 Credits):

Build

upon the knowledge gained in Level 4 User Centred Design. Ergonomics and human factors relate to how the design of a product or system can be optimised to maximise productivity for the user by reducing fatigue, effort and discomfort during use. This will provide an insight into the physiological and psychological relationship between the product and end user.

Environmental Sustainability (20 Credits): Design and develop alternative solutions to products or packaging that have a detrimental effect on the environment. You will be empowered in becoming socially and environmentally aware of their surroundings and the affect their designs and future products play a part in contributing to or preventing climate change. You will also develop your ability to identify products or future products that are potentially harmful to the environment or an eco-system and develop alternative solutions.

Your knowledge and your

awareness of the disposal of products when they have reached 'end of life' use and the environmental impact

will expand.

User Centred Design 2 (20 Credits): Improve and enhance the skills and knowledge developed at Level 4 in User Centred Design 1 and provide a foundation for the degree project at Level 6. The module will also aim to:

Enable you to design and develop solutions to everyday problems for a real person.

Enhance your ability in the application of conceptualising, generation of ideas and problem solving.

Develop your ability in the exploration of iterative designing, prototyping, decision making and critical thinking.

Expand your skills in layout, planning and professional presentation.

Prototypes and Production (40 Credits):

You will

further develop the skill and expertise

gained in

Prototypes and production 1 level 4 module. Throughout this module

you

will demonstrate

your

expertise in prototyping and significant manufacturing techniques that they will need in order to prototype and realise

your

designs to a professional standard.

You

will become well advised in problem solving, design thinking, and the decision-making processes needed to plan appropriate prototypes to suitably communicate design intentions using conceptual drawings, critical analysis and critical reflections.

Creative Futures: Making a Living (20 Credits): Your awareness of career opportunities and the professional life of working artists and designers will be developed.

You will understand the importance of communication, working relationship and the demands and expectations of the workplace or self-employment.

You will establish business systems related to design, production and marketing and professional standards of practice.
Year 4 (Level 6)
Level 6 is all about gaining your independence and starting to specialise in skills. You will identify and analyse design problems and devise solutions in discussion with tutors and students.
MODULES
Dissertation (20 Credits): Explore viable subjects of research relevant to your creative practice. You will encourage further application of methods of interpretation and analysis introduced in previous modules.

You will also develop your ability to be specific, reflective and coherent with the questions, aims and conclusions addressed.

You will initiate and produce a sustained body of work that synthesises your critical evaluation, theoretical understanding and contextual analysis. You will engage in identifying a presentation format appropriate to the body of work.

Creative Futures: Professional Practice (20 Credits): This will prepare you for professional careers beyond university.

You will synthesise your creative skill with their business understanding. You will explore new skills, products and services in the context of the creative industries. You will understand market perspectives, recognising opportunities, developing professional networks and exercising clarity of communication.

Design for X (20 Credits): Design an effective product development methodology. You will apply a lean manufacturing methodology to design.

You will understand deign for manufacture and assembly. You will also apply design solutions for the sustainability of products their life cycles. You will envisage how products will be recycled or dissembled after use. You will also evaluate reverse engineering procedures, whilst understanding intellectually property and patents.

Manufacturing and the Marketplace (20 Credits): Develop your knowledge and understanding of the manufacturing process and the production pipeline that will turn ideas and prototypes into mass produce products. Explore the marketplace and where your products will fit into the current world of consumerism. Develop your skills in planning and management to take your products to the marketplace. You will also be introduced to crowd funding, investors, and other funding streams that may or may not be available to enable a product to be taken to market.

Product Design Degree Project (40 Credits): Develop opportunities for innovative practice in the field of product design.

Consolidate your skills and extend ideas into new areas that demand advanced practice and inventive application of a range of abilities. You will also promote excellent standards of personal discipline and management of time and you will have a substantive body of work that can be showcased for exhibition and/or competition.
Entry requirements & applying
Typical UCAS Offer: 48-72 points
All candidates will either be invited to the University for an informal conversation (please bring a portfolio, showcasing your best work), or where this is not practical, submit a digital portfolio of recent work in hard copy or by digital representation. In addition to the academic entry requirements, all applicants whose first language is not English or Welsh must demonstrate English language proficiency.
Teaching & Assessment
There are no set exams. Assessment is continuous and relates to all aspects of the programme, providing more carefully defined emphasis on formative assessment and feedback on your coursework throughout the academic year. We will advise you on your level of attainment and direct you towards a strategy for further progression as you complete assignments and modules.
There are varied formats of assessment to encourage your learning through group seminars, critiques, and tutorials. This can be through group interaction with critical analysis where you will submit a range of work including design sheets, finished artwork, 3D work, screen-based work, CAD files, journals, essays and presentations. There are reviews of work at key points before Christmas and before Easter and this provides time for you to reflect on your progress prior to a final or summative year end assessment.
Teaching and Learning
Wrexham Glyndŵr University is committed to supporting our students to maximise their academic potential.
We offer workshops and support sessions in areas such as academic writing, effective note-making and preparing for assignments. Students can book appointments with academic skills tutors dedicated to helping deal with the practicalities of university work. Our Student Support section has more information on the help available.
In terms of particular needs, the University's Inclusion team can provide appropriate guidance and support should any students require reasonable adjustments to be made because of a recognised prevailing disability, medical condition, or specific learning difference.
On this course, teaching and learning are tailored to support students from a variety of backgrounds with diverse needs, and to encompass the supportive learning environment and pastoral care the School of Art and Design provides. Timetabling is developed to help learning, teaching and assessment methodologies, and provide clear and effective feedback to students. Contact hours are 16 per week in year 1, 14 per week in year 2 and 12 per week in year 3.
The programme is structured to enable you to work in a multidisciplinary manner, to be flexible and enable you to develop individually. This is supported by a personal tutor / tutorials system that provides you with guidance throughout all aspects of the programme.
Career prospects
Our Careers and Employability service is there to help you make decisions and plan the next steps towards a bright future. From finding work or further study to working out your interests, skills and aspirations, they can provide you with the expert information, advice and guidance you need.
Emphasis is placed on your personal and professional development, communication, and entrepreneurial skills, so that you are well equipped to enter a diverse and rapidly changing industry.
Our graduates have gone on to work for companies like:
Airbus
AMRC
Rolls Royce
Ministry of Defence
Bentley Motors
Tata Steel
Volkswagen
Porsche
Mercedes Benz
BAE Systems
MBDA missile systems
Students have also sold designs to Marks & Spencer, Next, the V&A and supplied interior design companies such as Fiona Barratt interiors (London).
This degree also allows you to gain a range of transferable skills that can lead to a variety of employment opportunities. Further study opportunities are also available at MA or PGCE level.
Fees & funding
You do not have to pay your tuition fees upfront.
Wrexham University's tuition fees for 2024/25 for a full-time undergraduate degree course are £9000 per year.
The fees you pay and the support available will depend on a number of different factors. Full information can be found on our Fees and Funding pages.
Programme specification
You can see the full programme specification here.
Accommodation
If you're looking for a place to stay while you study then take a look at our Accommodation section to get more information on your options, including our on-campus halls of residence Wrexham Village.
International
If you are applying as an European / International Student, and live outside of the UK, you should make your application through our online application system, Centurus.
For information about the university's entry requirements for EU/international students, please visit our international section.