BSc (Hons) Specialist Community Public Health Nursing
Course Highlights
Approved
by the Nursing and Midwifery Council (NMC).
50%
of the course involves health visiting/school nursing practice.
Flexible
study options available.
Why choose? this course?
A Health Visitor or School Nurse is a qualified nurse or midwife with post-registration experience, who has undertaken further education and training to become qualified in child health, health promotion, public health and education.
Health visiting and school nursing play a key role in the evolving public health environment, and this is an excellent opportunity for those with the motivation to develop a career in this field.
The programme is approved by the Nursing and Midwifery Council, and successful completion leads to registration on Part 3 of the NMC register.
The programme comprises of 50% theory and 50% SCPHN health visiting/school nurse practice, with a supervising Practice Teacher and/or mentor.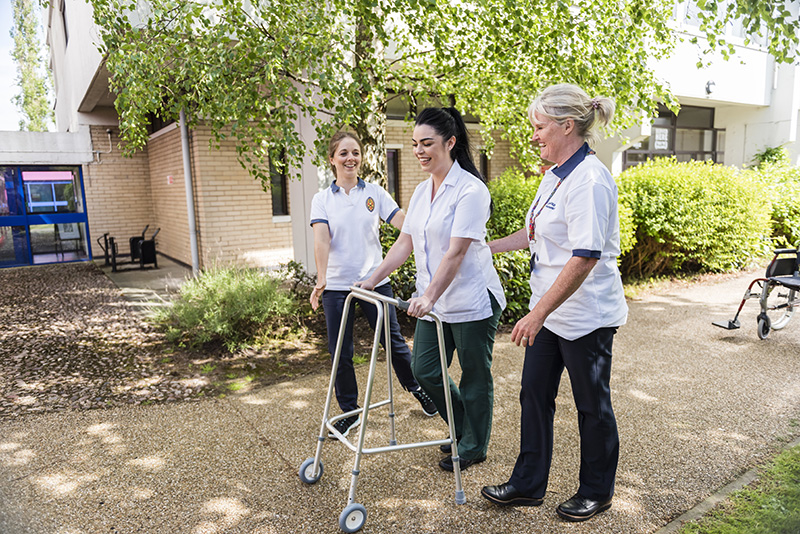 Nursing and
Allied Health
Key course features
The programme has been developed to reflect current and future health care needs.
It also meets the needs of professional regulation and your needs for academic, practice and personal growth.
On successful completion of the programme, you will qualify for admission onto the Third Part of the Nursing and Midwifery Council Register for Specialist Community Public Health Nurses.
The modular learning route allows part-time students to complete modules alongside full-time students, as and when they can join the programme.
What you will study
The programme is approximately 52 weeks in length (45 programmed weeks), comprising of 22.5 weeks of theoretical based learning and 22.5 weeks of learning in the practice setting, in place.
MODULES
Family Approaches to Health for Health Visitors and School Nurses: The aim of this module is to equip students with the knowledge and skills to assess families and plan strategies to improve their health and wellbeing.
V100 Prescribing: This module aims to teach students how to prescribe appropriately and safely.
Individual Approaches to Health for Health Visitors and School Nurses (including consolidated practice period): The aim of this module is to equip students with the knowledge and skills to assess individuals and plan strategies to improve their health and wellbeing.
Population Approaches to Health for Health Visitors and School Nurses: The aim of this module is to enable students to develop a population approach to health in the study and practice of Specialist Community Public Health Nursing for health visitors and school nurses.
Leadership in Health Care Practice: The module aims to enable the student to synthesise and critically evaluate empowering leadership and management theory within their practice and field of healthcare.
Research Methods in Health and Social Care or Process of Enquiry: The module aims to (1) develop the student's knowledge of the research process and enhance their ability to judge the evidence on which practice is based, (2) encourage the further development of critical thinking and reflexivity in health/social care practices, and (3) enable the student to plan a small scale piece of research.
Entry requirements & applying
Applicants wishing to apply for this programme must meet the following essential criteria:
Hold current first level NMC registration.
Hold a minimum of a diploma in higher education (nursing or midwifery) or have the equivalent 120 credits at Level 4 and 120 credits at Level 5 in a cognate subject (subject related to nursing or midwifery).
Provide evidence of recent academic study and commitment to own professional development.
Demonstrate commitment to and motivation for the development of Specialist Community Public Health Nursing Practice (health visiting /school nursing).
Demonstrate the ability to plan, prioritise and manage own learning.
Demonstrate excellent interpersonal and personal organisational skills.
Hold a valid driving licence.
Have access to a car for practice placement.
Must be prepared to travel to any practice placement within the North Wales Area.
If you wish to apply, please contact Admissions to request the application forms - admissions@wrexham.ac.uk.
Before you are offered a place on this programme, you will be required to complete a Disclosure and Barring Service (DBS) clearance (previously known as CRB) and pay the appropriate fee so that a check can be made on your suitability for working with children and/or vulnerable adults.
For further information please contact Diana Hughes-Morris.
Teaching & Assessment
The course is assessed in a variety of ways. These assessments include critically reflective written assignments, observation, presentations, seen and unseen examinations, research proposals and a portfolio of evidence.
TEACHING AND LEARNING
Wrexham University is committed to supporting our students to maximise their academic potential.
We offer workshops and support sessions in areas such as academic writing, effective note-making and preparing for assignments. Students can book appointments with academic skills tutors dedicated to helping them deal with the practicalities of university work. Our student support section has more information on the help available.
The modules on this course will be delivered through blended learning – a series of lead lectures and small group tutorials which will be supported by online study materials available through the university's approved VLE.
Career prospects
Our Careers and Employability service is there to help you make decisions and plan the next steps towards a bright future. From finding work or further study to working out your interests, skills and aspirations, they can provide you with the expert information, advice and guidance you need.
This course will give you the necessary qualifications needed to progress your career to either a health visitor or school nurse.
Fees & funding
The fees you pay and the support available will depend on a number of different factors. Full information can be found on our fees & funding pages. You will also find information about what your fees include in the FAQs section of those pages.
This course is fully sponsored by the Welsh Government.
Programme specification
You can see the full programme specification here.
Accommodation
If you're looking for a place to stay while you study, then why not take a look at our accommodation section to get more information.
Nursing atWrexham University
Thinking of a career in Nursing? Hear from lecturers and students about our Nursing degrees at Wrexham University.