Day in the life of a Computer Game Development Student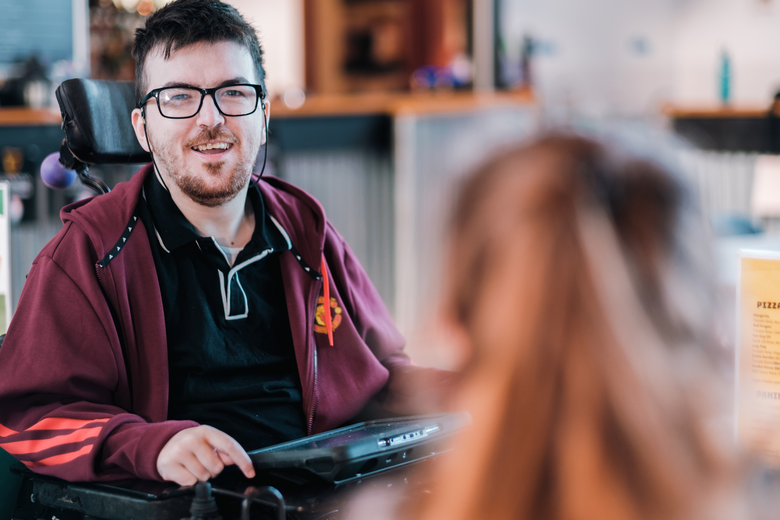 My name is Daniel Roberts and I'm currently studying Computer Game Development. I have put together a write-up of a day in my life to give you insight into this degree here at WGU.
Something to note is that I have Cerebral Palsy through speech and movement. I have a powered wheelchair I move around in and a DynaVox (a talking aid) to help me communicate when I visit the university for my lectures.
I thought I would start by telling you about one of the busier days on the degree. I went along to the 10th Level Up conference, held at the Wrexham Campus of WGU. Level Up Wales is a science, gaming and technology expo, with the aim of helping promote and grow the local, regional games and technology industries through exhibition space, workshops and business networking.
We had guests visit from across the games industry including an art director Alan Mealor, a freelancer Lucy Dove, a journalist Alex Humphreys and a geographer Kate Edwards. They spoke about their experiences and their different perspectives on the industry.
Events like Level Up really enhance an already engaging degree as it gave us the chance to interact with professionals in the industry relating to my studies.

My day started at 8 o'clock with me waiting to be picked up by a taxi, run by the company Chariotts. They are a charity who provide transport for people with disabilities, and they are equipped to drive me where I need to go with my power chair. I am lucky I found a company which provides transportation to suit my needs as it's difficult to get in many taxis.
I am from a village near the university, so I don't have far to go on the days that I travel to campus. On this particular Friday, before the conference, I had a lecture relating to the research assessment module in my final year of study. This module is unlike other modules on games development as it is research-based rather than practical. After the lecture, I went straight to the conference to hear and learn from the guest speakers.

The conference kicked off with Alan Maelor who gave really good advice on CV's and cover letters when it comes to the point of us leaving university. He mentioned that submitting your application in a PDF format is best, especially if there is a specific way you want your CV to look. As Alan is an Art Director, I didn't think his talk would be relevant to my field of interest, but this was a good tip to know as a games' programmer.

Lucy Dove was the second speaker in the conference, and she talked about how her team made a game using Unity, without having a dedicated game programmer. The game was made for Nintendo Switch and was one of the first to come out on this platform. Nintendo actually sent them the handheld game console as a piece of dev kit to work with whilst they were in development. This was a really interesting perspective on the gaming industry as it showed that as long as you have a good idea for a game, you don't really need to be a programmer to publish. We discuss this type of topic in my degree, and it was great to hear a real-life example relating to this argument. The fact that Nintendo got involved in the project adds weight to the argument that you don't need to be programmer to publish a game. This might not be the case for every project, but Lucy's story was good to hear in support of this argument.
After the talks, there was a breakout room with additional, in-depth activities. This included art portfolios reviews, branding sessions, Games Talent Wales advice and industry placement tips. Games Talent Wales is a Welsh government initiative that provides funding for indie game developers to set up their own game studio and release games. I hope to apply for this initiative with my group and events like these help us prepare for applying in the future.
The conference finished for the day but that wasn't the end. The faculty hosted a retro game and quiz night, which I went to for a short while before preparing to go to my powerchair football training.
I never thought that I would be able to play football in real life but Powerchair Football, run by Wrexham AFC, means that I can get involved. Football relaxes me after a busy week of course work and I really enjoy being part of the team. We are part of the Wrexham AFC club and I've even met the owners, Ryan Reynolds and Rob McElhenney, and been on the first series of the Welcome to Wrexham documentary.
There's lots to get involved with in Wrexham and I hope I have given you a taste of what it's like to study and live here.
I am on the "chat to a student" function on the university website so make sure to send me your enquiries about my degree, any of the degrees that university offer or about university life in general.

Check out the course page for more information about Computer Game Development.
Written by Daniel Roberts, Computer Game Development Student and student ambassador at Wrexham Glyndwr University.