Exploring the fascinating world of Biochemistry at Wrexham University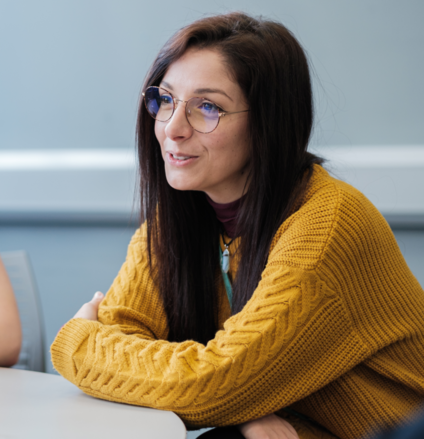 My name is Veronica Bianco and I currently study
Biochemistry
at Wrexham University.
My start with the university was unusual as, compared to most students who research and choose their university options, Wrexham instead reached out and chose me.
The lecturers provided me with the unique opportunity to be the inaugural student of their brand-new Biochemistry programme, and with this call to adventure, I couldn't resist the siren song.
Why Wrexham University
The decision to join Wrexham was a leap into the unknown, but it's a decision that I've never regretted.
The moment I set foot onto the vibrant campus, I sensed something special. The inclusive atmosphere, diverse student body, and the idea of small class sizes immediately captured my interest. It felt like the perfect place for me to delve into the fascinating world of Biochemistry and microorganisms.
I had had previous professional experience in a role relating to Biochemistry, as I came from the unique background of working in a brewery in Manchester. This job involved tending to yeast cultures used in brewing, and it was there that I developed a deep fascination with fungi. I realised that the tiny microorganisms involved in the brewing process held secrets waiting to be uncovered, which ignited my passion for Biochemistry and set me on my path to Wrexham at the age of 27.
Embracing cultural contrasts: Italy VS the UK
My journey to Wrexham has been filled with academic discoveries and has allowed me to experience cultural contrasts. As an Italian living in the UK, I have noticed a few intriguing differences in the education system, teaching styles, and social dynamics.
The Italian educational landscape tends to be more structured, with a focus on theoretical knowledge. In contrast, Wrexham's approach emphasises critical thinking, independent learning, and practical application. This transition has challenged me to adapt, think differently, and embrace the dynamic teaching methods at the university. Additionally, I have found that socialising in a Welsh university has its own charm, as there is opportunity to engage with a multicultural student body, attend vibrant events, and meet people from diverse backgrounds.
What I love about my Biochemistry course
I find myself constantly enthralled by the world of microorganisms, and fungi holds a special place in my heart. In my mind, who can resist the allure of tiny, mysterious organisms with big stories to tell? In our programme, we spend a significant amount of time in the lab conducting hands-on experiments and research.
I find that reading scientific literature isn't a chore and that it's a thrilling treasure hunt. I love how our coursework pushes us to dive into research. Creating presentations and lab reports also challenges us to discover and innovate through our learning. What sets Wrexham apart is the support of our exceptional lecturers, academics, and laboratory technicians. They inspire me to base my presentations, assessments, and research on what I love, not just what's prescribed in textbooks. The learning has a personalised approach informed by a process to follow when exploring the unknown.
Future career aspirations
My journey here is just the first chapter in my lifelong relationship with Biochemistry. I see my future-self in research, either in a large multinational corporation, or within academia. I'm drawn to the intricate world of fungi and bacteria, particularly in the context of food companies.
My current fascinating research project for my dissertation feeds into this and focusses on the Symbiotic Culture of Bacteria and Yeast, affectionately known as SCOBY, for Kombucha production.
To echo Ed Yong, one of my favourite science writers, "The world is a richer place when you turn scientific discovery into a story" and my story has just begun. I am determined to turn my passion for Biochemistry into a profession and to contribute to the ever-evolving tapestry of scientific understanding.
I have also had the opportunity to develop my professional experience as a Student Ambassador for the university. This involves travelling around the UK to UCAS events and fairs where I get to represent the University. I find that it's not just about sharing information; it's about meeting people, forging connections, and spreading the enthusiasm for the learning at Wrexham.
Wrap-up
Starting this academic adventure after a hiatus in education was like embarking on an exhilarating quest for knowledge, and for me, Wrexham was the ultimate destination.
My studies have been defined by growth, passion, and a sense of belonging. Wrexham has transcended from being a mere institution of learning, to being an ecosystem of experiences that continues to unfold. The university community fosters connections, nurtures curiosity, and ignites the pursuit of knowledge. My adventure into the world of Biochemistry has just begun, and I'm excited to see where it takes me next. After all, the pursuit of knowledge is a lifelong quest, and I'm ready to embrace it, one microorganism at a time.
Make sure to check out our Biochemistry and Undergraduate degrees to discover enormous opportunity at Wrexham.