Course Highlights
Experienced teaching team
from professional creative industries
Exhibit your work
in an end-of-year degree show
Opportunities
to enter competitions and build a professional portfolio
Why choose? this course?
The Illustration degree will help you develop both your illustrative style and flair for creative image-making. The course covers the practical, professional, and artistic sides of working as an illustrator with an individual artistic voice, equipping you for a successful career in the creative industries.
You will:
Learn how to create compelling images, work to professional standards and understand how your work fits into the industry.
Be introduced to a broad range of creative skills, from the generation of ideas to their technical production through printmaking, bookbinding, 3D materials, life drawing, traditional and digital media, with an emphasis on drawing and the development of a unique personal style.
Be introduced to professional creative processes and encouraged to expand your abilities through workshops and practical projects.
Learn how to interpret a brief, identify and solve problems, develop creative individuality and produce a professional portfolio.
Gain personal, professional and entrepreneurial skills including working as a freelance artist: from marketing and self-promotion to contracts, invoices and working with clients.
Be encouraged to work on live briefs and competitions.
You can also choose to study this course as a foundation year Illustration (with Foundation Year) (four years including foundation year) UCAS code: ILFY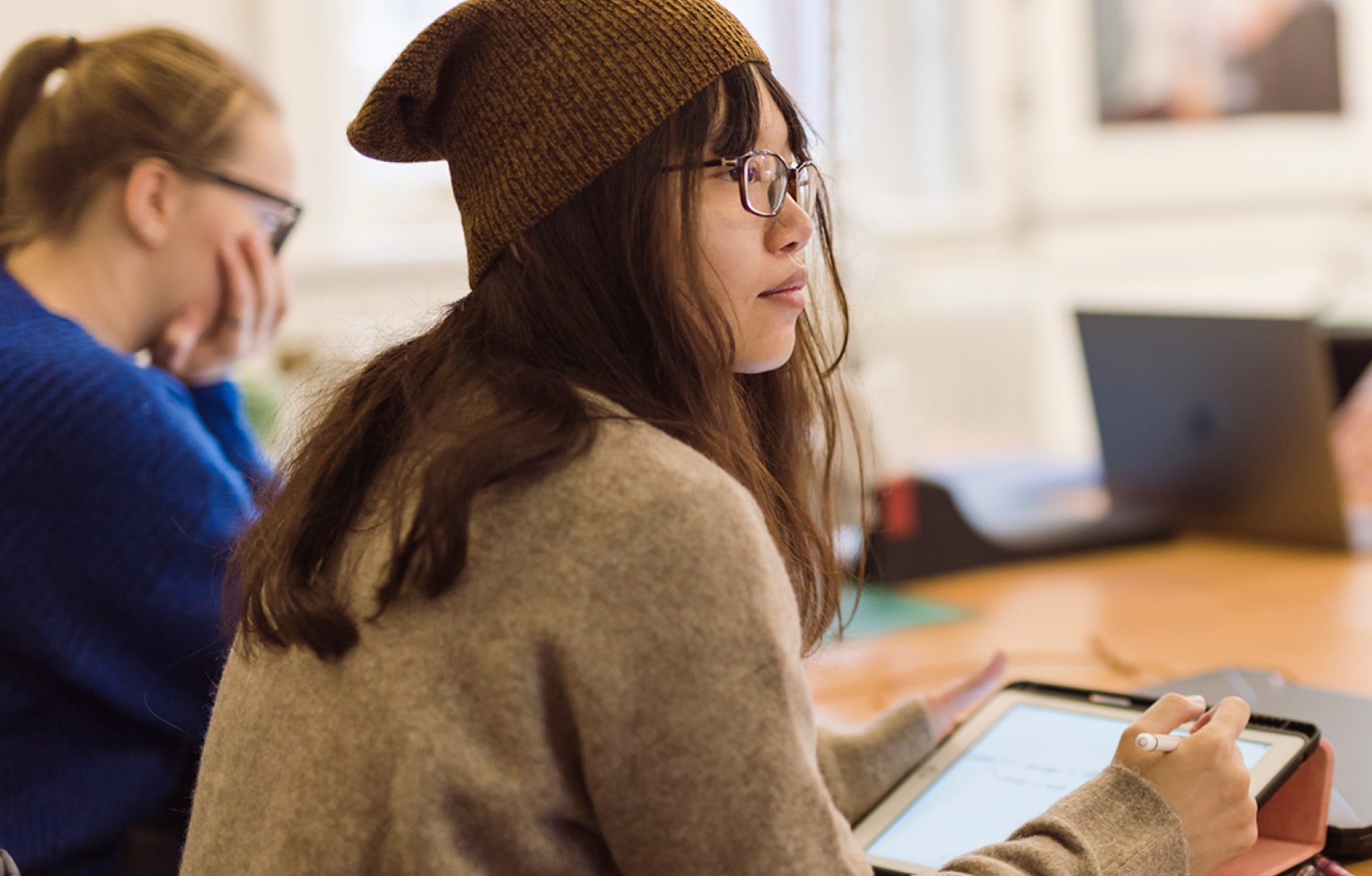 Art & Design
at Wrexham Glyndwr
Key course features
You will be part of a vibrant and creative community of commercial artists including illustrators, animators and graphics designers.
You will be taught by a teaching team with a broad range of experience working professionally in the illustration and creative industries.
We encourage our students to self-publish and learn how to produce high-quality production prototypes to pitch to the publishing industry through the use of our in-house Bindery.
Our students have won illustration prizes and awards such as the Oxford University Press Illustration competition, the Macmillan Children's Book competition, the Caldecott Society and D&AD awards and been nominated for prestigious Eisner and Silver Reuben Awards.
Be part of an end of year degree show exhibition - view the 2022 Degree Show e-magazine, Unjammed.
What you will study
YEAR 1 (LEVEL 4) - Core skills
Level 4 introduces you to the fundamental principles of illustration that will help you develop your illustrative style. This includes developing an understanding of the tools and creative techniques you will be using, the historical contexts and theories of illustration, print, production techniques and an understanding of the illustration industry.
MODULES
Semester 1
History & Context
Visual Communication
Digital Communication
Semester 2
Social Design
Story Telling: Theory and Practice
Interactive Design
YEAR 2 (LEVEL 5) - Advanced skills
Level 5 enables you to develop your individual approach the role of illustration in society, the conceptual aspects of illustration, the practicalities of preparing work for production as well as exploring the fundamentals of running a business as a freelancer.
MODULES
Semester 1
Motion Design
Print and Production
Critical thinking
Semester 2
Creative Futures: Making a Living
Design Project: Illustration
YEAR 3 (LEVEL 6) - Specialism
Level 6 is focused on your specialism. You will work with staff to pitch the projects that demonstrate your illustrative style, your skills and abilities, your ambition, and your understanding of the illustration industry.
MODULES
Semester 1
Specialist Project: Illustration
Semester 2
Creative Futures: Professional Practice
Live Brief
The information listed in this section is an overview of the academic content of the programme that will take the form of either core or option modules. Modules are designated as core or option in accordance with professional body requirements and internal academic framework review, so may be subject to change.
Entry requirements & applying
The academic requirements for the course are 80-112 UCAS tariff points at GCE A-level or equivalent. Appropriate AS-Level and Level 3 Key Skills qualifications will also be considered.
The programme welcomes applications from anyone who can demonstrate a commitment to the subject and the potential to complete their chosen programme successfully. This can be established by showing appropriate academic achievements or by demonstrating that they possess the knowledge and ability equivalent to the academic qualifications.
Candidates may be interviewed and asked to display a portfolio of their work. Experience may also be taken into consideration depending on the extent and depth of such subject knowledge. Students from overseas, or who are unable to attend an interview, are asked to send their portfolio of work digitally for consideration.
An admissions tutor considers each application individually. Different qualifications are considered, including Scottish Higher, Irish Leaving Certificate, the Welsh Baccalaureate, the International Baccalaureate, Access courses, BTEC, VCE, GNVQ, A and AS levels as well as other overseas qualifications.
Progression from HND / FDA
Applicants with relevant HND qualifications, or a foundation degree in a relevant Art and Design subject area may progress onto Level 6 of a BA subject to Glyndŵr University's RP(E)L procedures.
Teaching & Assessment
There are no set exams. Assessment is continuous and relates to all aspects of the programme, providing a more carefully defined emphasis on formative assessment and feedback on your coursework throughout the academic year. We will advise you on your level of attainment and direct you towards a strategy for further progression as assignments and modules are completed.
There are varied formats of assessment to encourage your learning through group seminars, critiques, and tutorials. This can be through group interaction with critical analysis where you will submit a range of work including sketchbooks, design sheets, finished artwork, screen-based work, technical/ production files, journals, essays, and audio-visual presentations. There are reviews of work at key points before Christmas and before Easter and this provides time for you to reflect on your progress prior to a final or summative year end assessment.
TEACHING AND LEARNING
The programme is structured to enable you to work in a multidisciplinary manner, to be flexible and enable you to develop individually. This is supported by a personal tutor / tutorials system that provides you with guidance throughout all aspects of the programme.
Wrexham Glyndŵr University is committed to supporting our students to maximise their academic potential.
We offer workshops and support sessions in areas such as academic writing, effective note-making and preparing for assignments. Students can book appointments with academic skills tutors dedicated to helping deal with the practicalities of university work. Our student support section has more information on the help available.
In terms of particular needs, the University's Inclusion Services can provide appropriate guidance and support should any students require reasonable adjustments to be made because of a recognised prevailing disability, medical condition, or specific learning difference.
Career prospects
Emphasis is placed on your personal and professional development, communication, and entrepreneurial skills, so that you are well equipped to enter a diverse and rapidly changing industry. Students studying Illustration at the School of Creative Arts have gone on to working in a variety of jobs including:
Freelance illustrators

Book designers

Comic artists

Storyboard artists

Character designers

Roles in the animation and games industry
This degree also allows you to gain a range of transferable skills that can lead to a variety of employment opportunities. Further study opportunities are also available at MA or PGCE level.
Our Careers & Employability service is there to help you make decisions and plan the next steps towards a bright future. From finding work or further study to working out your interests, skills and aspirations, they can provide you with the expert information, advice and guidance you need.
Fees & funding
You do not have to pay your tuition fees upfront.
Wrexham University's tuition fees for 2024/25 for a full-time undergraduate degree course are £9000 per year.
The fees you pay and the support available will depend on a number of different factors. Full information can be found on our fees & finance pages. You will also find information about what your fees include in the FAQs.
Programme specification
View the full programme specification here
Accommodation
If you're looking for a place to stay while you study then take a look at our accommodation pages to get more information on your options, including our on-campus halls of residence Wrexham Village.
International
If you are applying as an European / International Student, and live outside of the UK, you should make your application through our online application system, Centurus.
For information about the university's entry requirements for EU/international students, please visit our international section.