BEng (Hons) Industrial Engineering (Top-up)
Course Highlights
Strong connections
with the industry and local business
Existing and past students' work
for globally known companies
Industry-focused
with the curriculum contextualised to the workplace
Why choose? this course?
Designed to meet the needs of people working in engineering, the BEng Industrial Engineering course is delivered on a part-time basis to fit around employment. It has been developed with employers from a variety of industries and incorporates a number of work-based modules.
You will:
Work with industry-standard technology.
Specialise in one of five pathways: 'Manufacturing and Production' (part-time), 'Engineering Management' (full time & part-time), 'Mechanical' (part-time), 'Electrical and Automation' (part-time) or 'Mechatronics' (full time & part-time).
Enjoy stimulating, interactive and challenging learning.
Gain an understanding of new and emerging technologies as well as a firm foundation in theory.
Study a course where 97.6% of graduates are in paid work or study 15 months after graduating* * Wrexham University analysis of unpublished data.
This one year top-up (Level 6) follows on from the FdEng Industrial Engineering and will enable you to obtain a BEng (Hons) in Industrial Engineering. This means that the overall cost will be less and you will graduate with a full honours degree in only three years (Level 6 top-up subject to meeting entry requirements).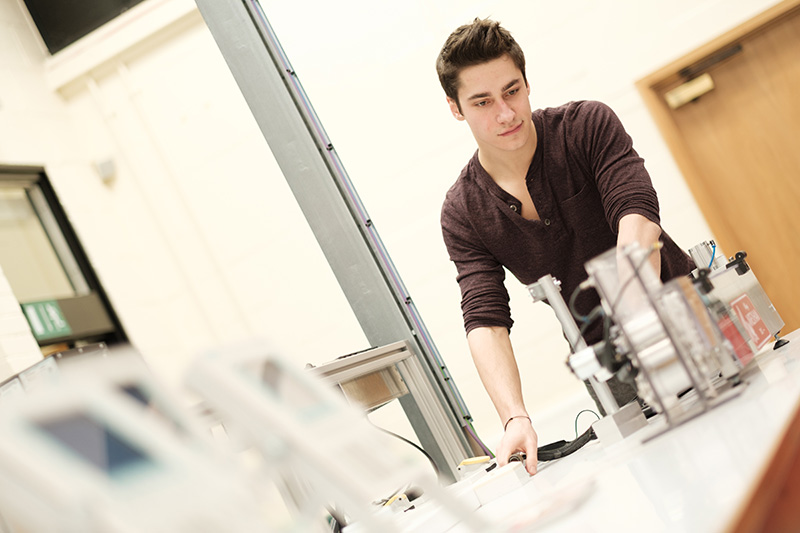 Engineering at
Wrexham University
Thinking of a career in Engineering? Hear from lecturers and students about our Engineering degrees at Wrexham University.
Key course features
You will be taught by a dedicated teaching team, many with industrial backgrounds.
Study flexibly on day release allowing you to fit study around work (check for availability).
Excellent links to industry and local businesses.
Investment of equipment from major companies and local suppliers.
Use industrial standard equipment in our specialist engineering laboratories.
You will have a mentor regularly visiting the workplace.
97.6% of graduates of this course are in paid work or study* *graduates surveyed 15 months graduating, Wrexham University analysis of unpublished data.
What you will study
YEAR 1 (LEVEL 6)
The modules you study in your top-up year will depend on the pathway you have chosen. The programme will give you the knowledge and understanding of mathematical principles relevant to industrial engineering, demonstrate awareness of environmental implications and the need for sustainable development. You'll conduct laboratory experiments to investigate engineering principles and design, construct and test devices and systems before preparing descriptive, interpretive and evaluative technical reports.
Core Modules
Final Year project
Professional Engineering
Electrical and Automation Pathway
Electrical Engineering Modelling and Simulation
Power Electrics and Electrical machines
Industrial Communication systems
Manufacturing and Production Pathway
Machine and Production Systems
Continuous Improvement and Lean
Managing Workforce, Engagement, and Commitment
Mechanical Pathway
Mechanical Engineering Modelling and Simulation
Continuous Improvement and Lean
Product Design
Mechatronics Pathway
Mechatronic Applications
Electrical Design and Testing
Industrial Communication system
Engineering Management Pathway
Maintenance and Safety Systems
Continuous Improvement and Lean
Managing Workforce, Engagement and Commitment


The information listed in this section is an overview of the academic content of the programme that will take the form of either core or option modules. Modules are designated as core or option in accordance with professional body requirements and internal academic framework review, so may be subject to change.
Entry requirements & applying
For the BEng Industrial Engineering routes, you must satisfy the entry criteria and admissions tutor by producing documentary evidence that you have achieved a qualification at level 5 or better in a relevant discipline and have the necessary background, having accumulated the equivalent of 240 HE credits with at least 120 credits at level 5. Admission to the programme may specifically be gained if you can present evidence of one of the following:
Have passed a Dip HE in a relevant discipline.
Have passed a Glyndŵr University FdEng in Industrial Engineering
Have acquired 240 credits at levels 4 and 5, with at least 120 credits at level 5, from other suitable and relevant HE studies (Interview will be necessary prior to offer being made).
Please state on your application form your preferred pathway after Industrial Engineering within the course title field. Eg. BEng Industrial Engineering (Mechatronics).
Admission to the programme may specifically be gained by students who can present evidence of passing a Wrexham University FdEng in Industrial Engineering.
Teaching & Assessment
You will take part in practical laboratory work and work-based learning in your workplace. Tutorial demonstrations and assessed practical work are also part of the course.
Wrexham University is committed to supporting our students to maximise their academic potential.
We offer workshops and support sessions in areas such as academic writing, effective note-making and preparing for assignments. Students can book appointments with academic skills tutors dedicated to helping deal with the practicalities of university work. Our student support section has more information on the help available.
In terms of particular needs, the University's Inclusion Services can provide appropriate guidance and support should any students require reasonable adjustments to be made because of a recognised prevailing disability, medical condition, or specific learning difference.
Career prospects
Our Careers & Employability service is there to help you make decisions and plan the next steps towards a bright future. From finding work or further study to working out your interests, skills and aspirations, they can provide you with the expert information, advice and guidance you need.
The course will develop your intellectual and practical skills to meet the future needs of a rapidly changing technology and business environment. As well as continuing your professional development, the course prepares you for a career as a professional Engineer in industry, in roles such as:
Design Engineer
Automation Software Engineer
Test and Calibration Engineer
Commissioning Engineer
Materials Engineer
Quality Control
Maintenance Management
Production Management
Mechatronic Systems Design Engineer
A management role in the industry
Fees & funding
The fees you pay and the support available will depend on a number of different factors.
Wrexham University's tuition fees for 2024/25 for a full-time undergraduate degree course are £9000 per year and undergraduate part-time fees are £4,500 per year.
Full information can be found on our fees & finance pages. You will also find information about what your fees include in the FAQs section.
Accommodation
If you're looking for a place to stay while you study then take a look at our accommodation pages to get more information on your options, including our on-campus halls of residence Wrexham Village.
APPLY
APPLY FOR:
FULL TIME
PART TIME