(Short Course) Ceramics Handbuilding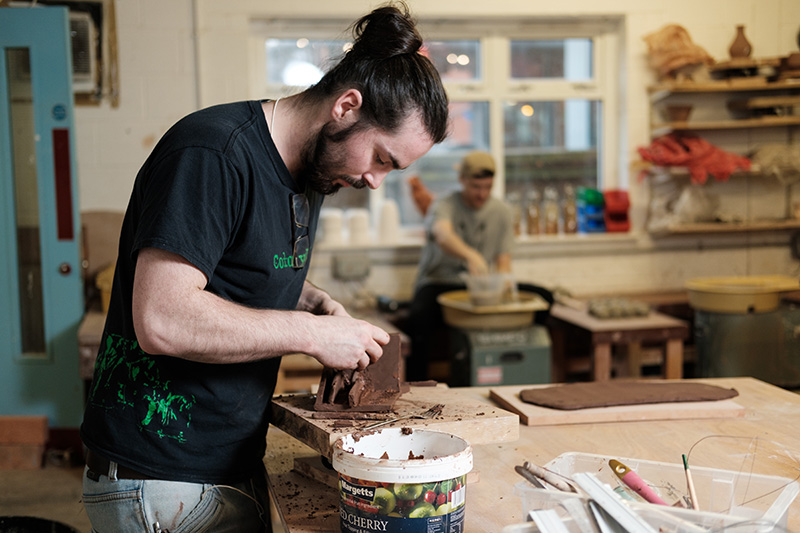 Why choose? this course?
From sculpture to chandeliers, decorative tiles to figurative work. Our 9-week evening class introduces you to the world of handmade ceramics. Taught in small classes you will be guided through all aspects of hand-built ceramics, from preparing the raw clay through to finished glazed pieces.
Key course features
Practical sessions in our Regent Street Art School workshops.
Discover a variety of ceramics techniques.
Design and produce your own personal creations.
What you will study
This course will introduce you to some of the processes of Handbuilding ceramics. Participants will be guided through a variety of ceramic techniques, from preparing the raw clay through to finished glazed pieces.
You will be guided to produce your own individual design ideas using experimental methods guided by demonstrations.
Entry requirements & applying
This course is subject to minimum participants and payments will be returned in full if the course does not recruit the minimum cohort.
The booking for this course closes a week before the course start date.
Teaching & Assessment
The portfolio of work accumulated during the short course can be presented for assessment providing 10 HE credits.
Fees & funding
£195
This fee covers attendance and tutorage, including assessment and basic materials. Additional cost may be incurred if participants choose to work with non-standard materials or at high volume or large format.
Do you live in Wales?
We have a number of funding opportunities available, please complete the form below to find out if you are eligible to study this course for free.
Apply now via this form
.
Course dates
6pm-8pm Tuesdays or Thursdays for 9 weeks
Future start dates:
Thursday February 2 2023
Tuesday April 18 2023
Thursday April 20 2023
Tuesday June 27 2023
If you would like to find out more about future dates for this course, register your interest.