(Short Course) Introduction to Teaching and Training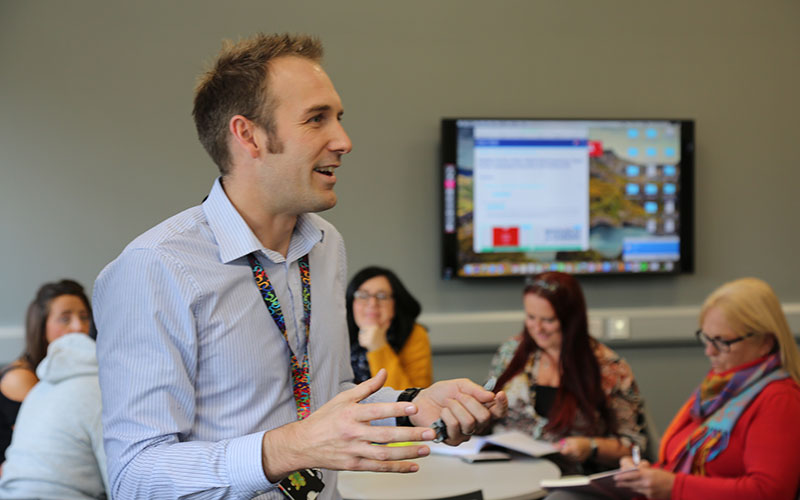 Course details
Duration
12 weeks (+ 2 week Easter Break)
Why choose? this course?
Are you looking to enhance your career prospects, improve your skills, or considering a move into teaching? Consider enrolling on our Introduction to Teaching and Training.
Reasons to study:
Career Advancement: Ever considered being a workplace trainer or moving into teaching? This introductory course equips you with new skills and knowledge that can open doors to job opportunities. It will provide you with the fundamentals of how we structure teaching and learning that has impact.
Flexibility: Designed with busy adults in mind, this course takes a blended approach to study, with a mixture of evening classes and online materials to work through in your own time. Perfect for those who want to try something new but are juggling other commitments.
Boost your confidence: The team at Wrexham understand a return to study can be daunting. This short course is a perfect way of 'dipping your toe' back into to education and our supportive team will be on hand to offer advice and guidance at every step of the way.
Want to get into teaching? Ultimately this course is a great first step for those who want to get into teaching but are anxious about jumping straight onto our PGCE provision. Try our Introduction to Teaching and Training, then see where your next step takes you.
Key course features
A perfect taster for those who are considering a career in teaching or training but don't want to commit to a full PGCE.
This short course is an ideal pathway onto our PGCE for those who are willing to take the next steps.
Blended learning with six evenings at Wrexham University and a series of online learning tasks.
Supportive staff who have extensive experience in adult education and professional training settings.


What you will study
This course is designed to equip learners with knowledge of the key concepts and principles associated with effective teaching and learning. Throughout the course, learners will develop knowledge of the necessary skills to teach or train within their own context.
In addition, students will demonstrate consideration of the key characteristics associated with effective adult educators and evaluate barriers to learning which may be faced by post 16 students.
As part of this course, learners will engage in reflective practice to develop their own lines of argument and make sound judgments in accordance with basic theories and concepts associated with learning, teaching, and assessment.
By the end of this course, participants will be able to select and review appropriate teaching, learning, and assessment strategies that are tailored to their own context.


Entry requirements & applying
Any qualification at Level 3 or above.
Teaching & Assessment
Students will take part in 6, two-hour, active learning workshops (on campus) and will complete 6 online workbook tasks. Students will therefore be expected on campus once every two weeks.
Students will be assessed, at Level 4, by a portfolio of work.
Course dates
Start: 7th March 2024
End: 6th June 2024