(Short Course) Principles of Wound Care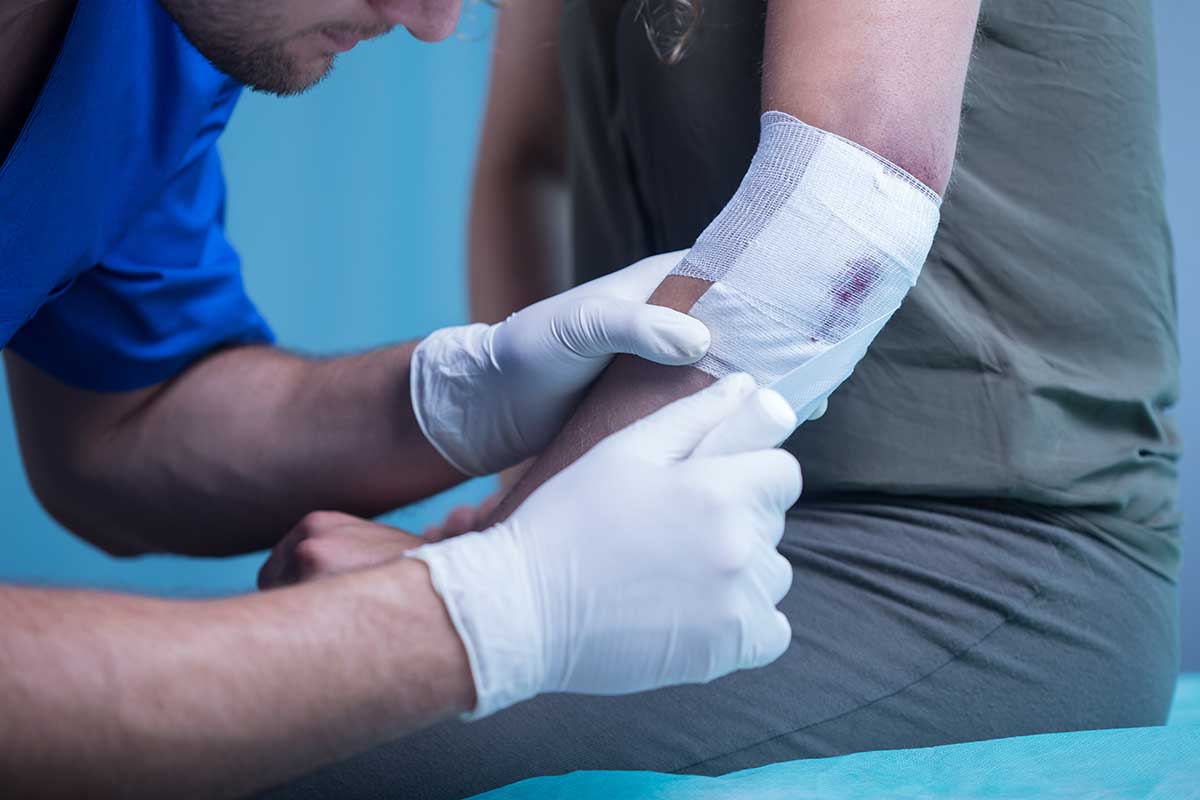 Course Highlights
Designed
in consultation with clinical leads in North Wales enabling you to explore a wide range of themes within the field of wound care
Interprofessional approach
to work collaboratively to benefit the patient.
Engage
in open discussion about some of the positive elements of wound care and more challenging elements
Why choose? this course?
This stand-alone module is accessed by students who wish to develop their knowledge and practice of clinical wound care provision. It offers an interprofessional approach to the delivery of wound care in many clinical settings.
Study in a collaborative way to consider the wider issues of delivering wound care management to enhance patient care, using evidence-based practice to underpin delivery.
The final assessment is a wound care training portfolio specific to your clinical environment. This creates a practical tool for you to take back to your clinical area. Of note, you will share your work (once the work has been submitted and marked) to broaden the educational resources for your teams.
Key course features
Face-to-face delivery on campus for one week to enable you to book study time from clinical practice to enhance learning. This is supported by further online resources for a blended approach
Links to current evidence base of wound care to your clinical practice and employment
Assessment is a wound care training portfolio that can be utilised in clinical practice areas, sharing the learnt material with colleagues and students
Available to all registered nurses, AHPs and medical staff
Enables you to network with other practitioners in the region to encourage wider communication links
Gain 20 credits at level 6/7 on completion
What you will study
This module was developed in consultation with local experts to enhance access to specialist wound care education in the region and includes:
Assessment of wounds
Wound healing & associated factors
Acute wounds
Chronic wounds
Pressure ulcers & prevention
Dressing types & choice
Challenging & complex wounds
Decision-making & safeguarding
Associated symptoms
Clinical case studies are used to support learning and create effective discussion and debate.
This is a part-time stand-alone module aimed at students wishing to gain greater knowledge in the field of wound care. The core elements of wound care will be explored through a variety of teaching styles and outside specialist speakers will be accessed to encourage wider learning.
Entry requirements & applying
Pre-requisites:
Registered Health Care Professional (Nurse, Midwife, AHP, Doctor etc.)
This is a part-time course for any registered healthcare professional wanting to develop knowledge and skills to enhance wound care in their clinical environment.
Booking is subject to numbers. There is a maximum of 40 places for this course.
Teaching & Assessment
The module is delivered over 5 consecutive days (1 week) on campus via face-to-face delivery. This will include a blend of lectures, workshops, discussion groups and online material to explore.
The classes will be delivered from 9am-4pm, with 4-5pm reserved for tutorial support for module students.
Learning support is endorsed from the start of the module, with an introduction to the Virtual Learning Environment (Moodle).
You are encouraged to access further support as needed from the Academic Skills Tutors, Digital Learning Facilitators and our Academic Support Librarians.
The assessment is via a wound care training portfolio for a specific clinical environment (3500-4000 words depending on the level of the module) which will include:
examining the nature of acute and/or chronic wounds from your specific clinical area
planning effective wound assessment and management of simple and complex wounds
the critical analysis of symptom management
assessing the safeguarding/risks associated with the chosen wound type
The assessment will be submitted approximately 4 weeks after the end of module delivery.
Career prospects
This module is linked to the employability of registered nurses and AHPs. It is highly relevant to staff working in secondary care (hospitals) and primary/community care settings.
It is also becoming increasingly relevant to paramedics and those working in prehospital care to prevent hospital admissions. This module may also be accessed as a negotiated module towards a much bigger MSc programme.
Course dates
24th - 28th April 2023