5 reasons WGU lecturers are award-winners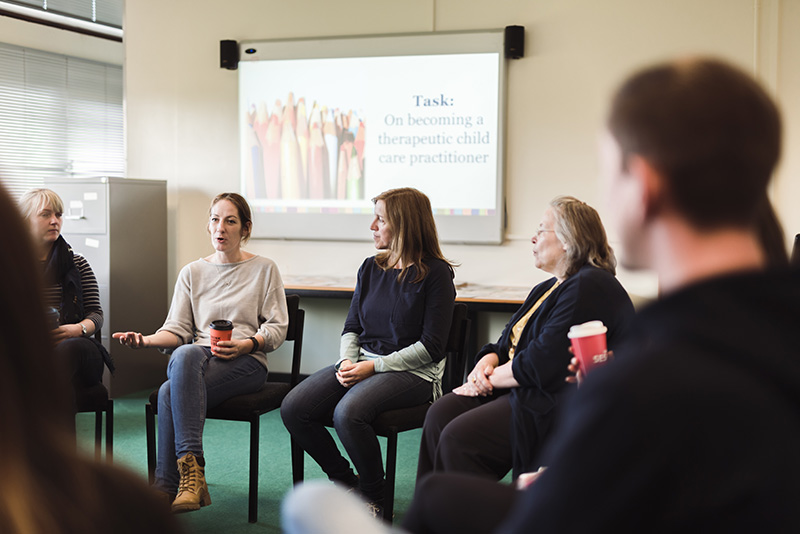 We're very proud of our lecturers at WGU, and with good reason too.
Inspiring, engaging, impressive and helpful - these are just some of the words that our students have used to describe the teaching team at Wrexham Glyndwr University.
Our lecturers have also won a raft of prestigious national awards, including silver in the Teaching Excellence Framework Awards.
And if that wasn't enough, WGU was voted top 10 in the UK for teaching quality by The Times and Sunday Times University Guide 2023.
Here are five reasons we think our lecturers are the best...
1. Open door policy
It can be a big change studying at university. You might be fresh out of A-levels or have been busy working in industry, either way, adjusting to university life and learning can take some time. Luckily, that's where our lecturers come in. Their 'open door policy' means help is always at hand. Whether you need support with something covered in a lecture, or advice on a personal issue that's affecting your study, you can count on them to be there if you need to talk either in person or online.
2. Real-world experience
Our lecturers are experts in their fields. From internationally-renowned artists and world-leading researchers to members of BAFTA Cymru and iconic DJs, you'll be taught by some of the best and brightest minds in Wales. With years of experience being at the top of their game, they have reams of real-life knowledge and contacts too. The perfect ingredients to help give you a competitive edge when it comes to entering the world of work.
3. Passionate about teaching
We love teaching at WGU, it's what makes us tick. Our lecturers are genuinely passionate about their subject and inspiring the next generation of industry leaders. As a small university, we really get to know each and every one of our students and nothing makes us happier than seeing you succeed. Our teaching team never stops striving to be the absolute best either. From leading the way in hybrid learning to mastering the most engaging ways to deliver lectures, their passion and dedication are two of the reasons why our trophy cabinet is filled with awards.
4. Going above and beyond
Our lecturers are known for going above in beyond. In fact, we even have our own annual awards by that very name - the Above and Beyond Awards. It's an ethos that's embedded in all we do too, from one-to-one tuition sessions and free short courses to incredible events like Creative Futures, which our teaching team give up their free time to organise. Everything we do is designed to give our students the best start to their career.
5. Supportive and caring
Life isn't always easy. Sometimes you might need that extra bit of support - whether it's with your course or your wellbeing. Whatever it is, you can count on our lecturers to be there and lend a listening ear. They embody WGU's philosophy of providing a friendly, caring and inclusive learning community and will help you find the right support to get the most out of your university experience. Don't just take our word for it either, The Times ranked WGU as #1 in the UK for social inclusion for the fifth year running in its Good University Guide 2022.
Why not come and meet our lecturers at our next open day? Or read more about why WGU is the perfect home from home.