9 reasons students love Wrexham University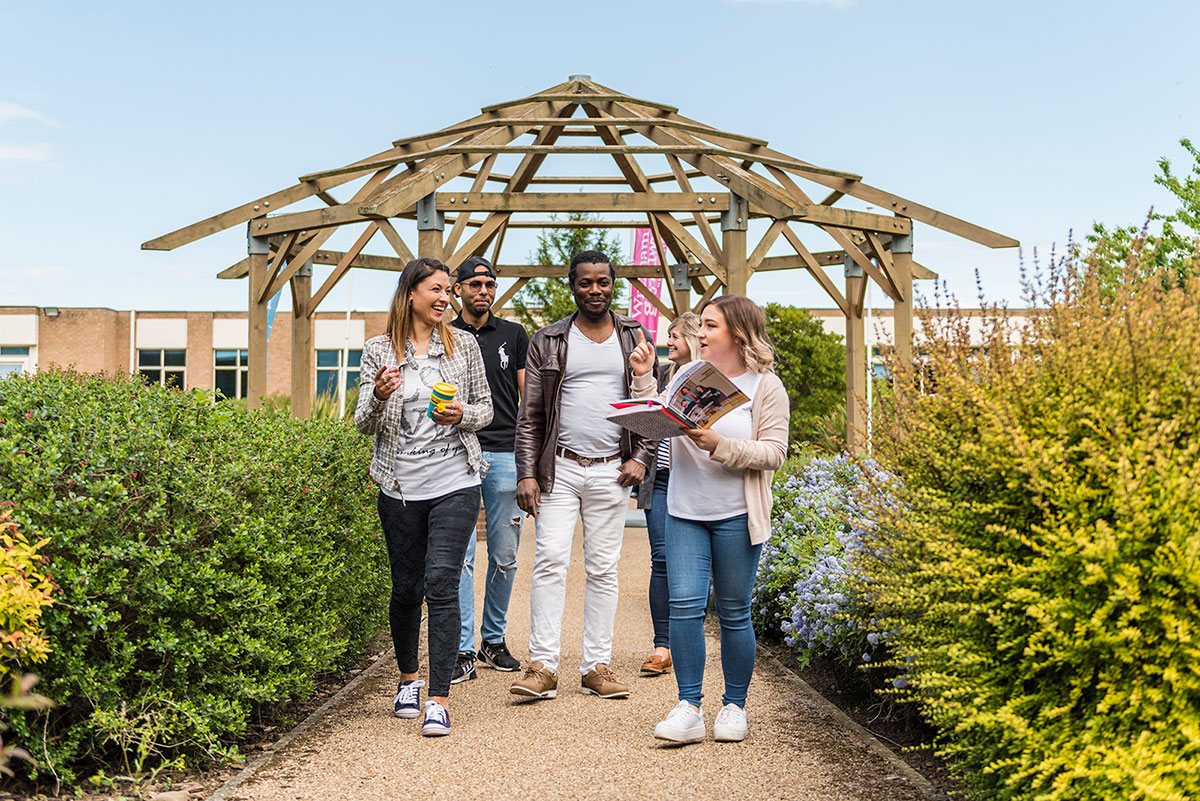 From our great location and fantastic facilities to our award-winning teaching staff and acclaimed courses, it's little wonder Wrexham University was rated Top 10 in the UK for student satisfaction in the Complete University Guide 2024.
Don't just take our word for it though - here are 9 reasons why our students love it here so much....
Our close-knit community
We have an extraordinarily friendly and supportive community. Our small campus means we are a close-knit group and our students love the safe, village-like vibe at Wrexham University. No huge class sizes meaning no getting lost in a sea of faces. You will be known by name rather than a number - every person here matters. Our cosy and modern halls are just a stone's throw from our main campus too. The perfect place to call home.
It's affordable
Now more than ever, one of the biggest concerns facing students is the cost of going to university. Luckily, for those coming to Wrexham University, Wrexham was voted the 3rd cheapest place to study in the UK. With affordable accommodation and the city offering great value nights out and living costs, its pocket friendly-prices are an added bonus. Plus, our Student Funding and Money Advice team are on hand to offer expert financial support.
Read how much it costs to live in Wrexham to find out more. You may also find it useful to check out our 3 tips to combat the cost of the living crisis should you need that little extra guidance.
Support when you need it
Moving away from home for the first time can be daunting; we get it. That's why we're always on hand to help if you need it. From our friendly teaching staff who operate an open-door policy, to our learning skills' teams and free counselling service, students tell us that they feel cared for and supported at Wrexham University. Our student support services are available before and during your study journey with us – make the most of them, they're here to help you.
Food, glorious food
If you love your food, there's lots to tuck into in Wrexham. The city is a melting pot of cultures and the wide choice of cafes, delis, restaurants, take-aways and food makers reflects this - something that gets a big thumbs up according to our students. Think artisan Polish bakeries, Portuguese tapas, Mediterranean mezes, hearty pub grub, street food and award-winning contemporary fine dining. It's time to dig out those elasticated trousers.
A safe space to be you
We are passionate in our belief that higher education should be accessible to everyone - no matter their gender identity, sexuality or background. As a university we have an active LBGT+ society and there are a number of local support and social groups which our students tell us makes them feel welcome and free to be themselves. We are also proud to have increased our Stonewall Championships ranking by 133 places in 2022 resulting in Gold Award. Our home is your home. Fine out more about what pride means to us.
Work hard, play hard
Being the largest city in north Wales, it's no surprise that Wrexham has a lively nightlife scene. On campus there's our Students' Union bar and Glyn's, offering tasty and affordable food options. Venture into the city centre and you'll find it comes alive after dark; from clubs and cocktail bars to traditional pubs, sports bars and live music venues. So, whether you want to grab a pint while watching the footy with your mates or let your hair down after a long day studying by dancing 'til dawn, you'll find everything you need to make your student experience an unforgettable one.
Everything's within easy reach
Our main campus is home to everything that students need - from a library and study areas to a gym and well-known coffee shop. It's also a quick 10-minute walk to the city centre, full of shops, bars and restaurants, meaning no expensive daily transport costs. And, if you do want to explore further afield, bus and rail links are even closer, based just a a short stroll away from campus. As locations go, our students tell us it's pretty hard to beat with the best of both worlds on your doorstep. Discover Wrexham to find out more.
Vibrant culture
We can't not talk about the amazing culture on our doorstep either. In the city centre there are a growing number of galleries, museums and arts venues, including the award-winning Ty Pawb which has hosted work from iconic artists like Antony Gormley and Grayson Perry. Plus, there is a annual busy line-up of events and festivals. Think Wales Comic Con, Wrexham Feast and Wrexham Carnival of Words as well as international music festival, FOCUS Wales. We're also surrounded by world-class historic attractions, such as Erddig Hall, UNESCO World Heritage site, Pontcysyllte Aqueduct, and not one, but three of the Seven Wonders of Wales. We're proud of our place in the world. Our neighbourhood in numbers is here to help you digest all the little things that make our community special.
It's a celebrity hotspot
Wrexham's world-famous football club is located right next to our main campus, and its new owners - Hollywood stars Ryan Reynolds and Rob McElhenney - have attracted a host of famous fans. From David Beckham and Will Ferrell to Jack Whitehall and Blake Lively, who knows who you might bump into on campus, or your local?!
Come and discover our campus and city for yourself - check out our latest dates for open days and subject events. Sound like somewhere you'd like to study? Explore our undergraduate, postgraduate or short courses.