Essential Life skills you will learn as a student at Wrexham Glyndwr University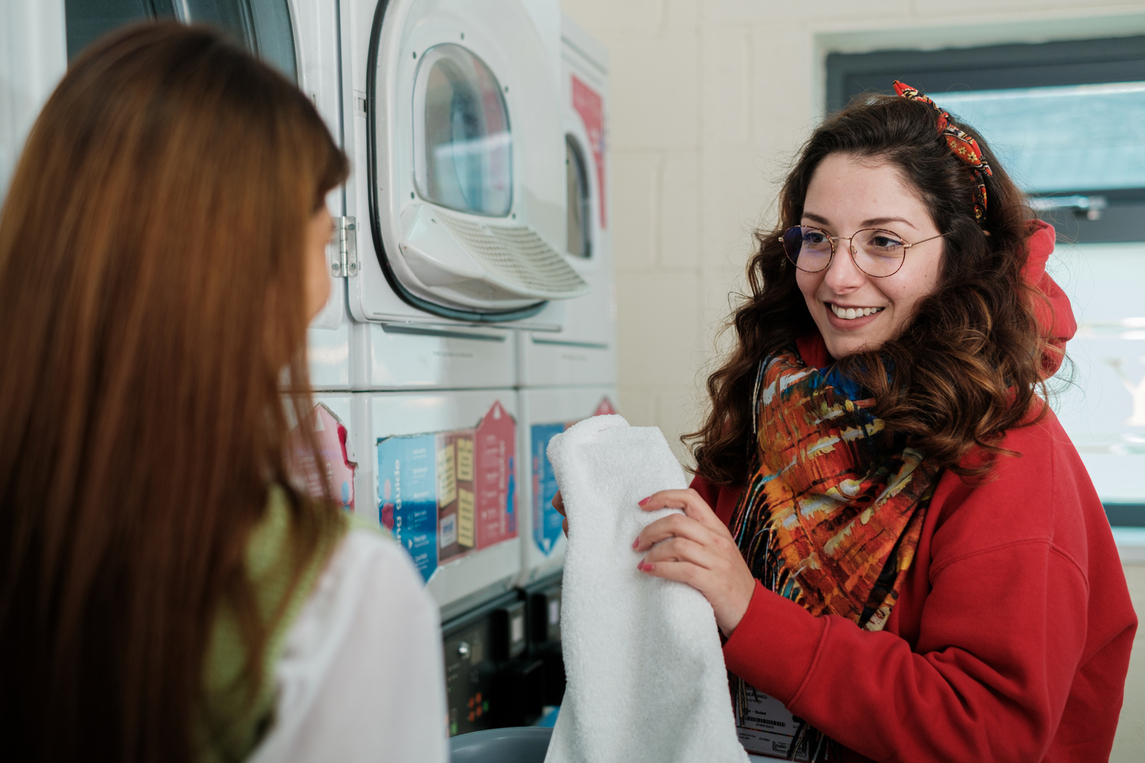 We know that university isn't just about getting a qualification. On top of academic success, your time at Wrexham Glyndwr University will teach you essential life skills that you can take with you after you leave us.
We have highlighted some of the key things you will learn outside of your degree at WGU, along with some of the support systems we have in place if at any point, you need a nudge in the right direction.
1. Living independently
Taking the big leap into higher education not only prompts a massive change in your life but as a university, WGU also supports you as you live and think more independently.
There are certain domestic chores that are an unavoidable accompaniment to living on your own, like cooking, cleaning, and shopping for yourself. As you make your way through your studies, you will attain these skills as a by-product of your environment, but we have a couple of resources to help you out:
Our

cost-of-living

page will point you in the right direction of money saving tips and Wrexham-based deals.

Our

sign up and save shopping blog

has a list of discount schemes and apps to sign up to, for you to start saving.
Aside from the practical skills, you will learn how to become a self-reliant individual in university.
Coming to Wrexham may be the first time you have moved away from home, and we are here to ensure that even though you are living independently, you are not alone.
Each of our students are different and we have many support systems in place to help you in your journey to independence:
General university enquiries- if you have questions about the university before you get here then make sure to email enquiries@glyndwr.ac.uk.
Counselling and Mental Health Support- our experienced Counsellors and Mental Health Advisers can help you to explore your situation in a safe and confidential setting where you will be listened to with respect and without judgement. They can be reached via counselling@glyndwr.ac.uk if you have any questions about their services.
Care Leaver support- Our support team can help you with a variety of things, from the guidance you need to apply and start your course, through to your time studying at WGU. Your financial entitlement and support package depends on your circumstances, and your personal advisor within your local authority should be able to let you know what these are. For those students who are eligible, the University also offers a £1000 bursary which you can find more about from our fees and funding team via funding@glyndwr.ac.uk.
By the time you have gone through university, and made use of the services we provide, we hope that you will be equipped with the skills to live independently.
2. People skills and confidence
During your studies you will likely be required to participate in group projects and in public speaking, through the form of assessed presentations. Your people skills and confidence will be boosted through your degree, as you will learn the knowledge required to do just that.

You will also have the opportunity outside of the classroom to expand on your people skills. WGU has a practical approach through our career-focused degrees, which are designed to help you fulfil your potential. We have strong and varied links with industry, and we ensure that each course, route and option, is designed for you to get the key skills you need to reach your potential.
With our placement degrees, you will not only engage with your fellow students and lecturers, but with external companies and professionals as well.
We also offer Careers support for you for life, including finding a job or internship whilst you study with us.
Dipping your toe into the professional world either through a placement or a part-time job will enhance your confidence and people skills, whilst also contributing to your goals overall.
There are additional opportunities outside of your degree to build up your people skills and confidence. Becoming a Student Ambassador is a great way to meet fellow students whilst representing the university at events or via social media takeovers. WGU also has a multitude of societies for you to join and connect with other people with similar interests.
3. Organisation



University is the perfect time to hone your organisation skills, as balancing your assessments with your personal and work commitments can be a tricky skill to master.

We know that this can be slightly daunting, but there's no need to worry, as we are here to support you through your academic endeavours. Our Learning Skills team can help you to develop time management strategies, plan your assignments and prepare you for upcoming exams with revision tips and techniques. As an example, one of our Mental Health and Wellbeing students, Rebecca Fielding, recently shared a study tool that she learned from her academic tutor in her day in the life blog.
Rebecca said: "I like to create a colour coordinated diary of when I'll do assignments and I'll work out how much time I have to do them. I'm working on three assignments at the moment and my diary is really useful, as it tells me which assignments I should be working on and how many words I need to do to keep on track."
These types of organisation strategies are great to build into the way you work as a student, and as a future professional once you graduate. We highly recommend making the most out of the support at WGU, as this will help you to stay organised throughout your degree and beyond.
4. Working under pressure
All of the skills listed in this blog come along with their own pressures. The prospect of living independently for the first time, along with having to engage with people you didn't know previously, and additionally having to stay on top of graded assessments is a lot to juggle.
A key part of succeeding at university is working under these pressures, however, you don't have to do this alone.
We have many support services available to you if you find yourself struggling at any point throughout your degree. Reaching out and accepting help can lighten the load, as our support team can assist you with figuring out how you best work under pressure. Strategies like focussing on time management and coping with the stress of deadlines are just some of the things our support teams can help you with as a student of WGU.

Want to learn these life skills? Make sure to check out our courses to find one to suit you. We look forward to supporting you as you make your way through university.