Studying a degree as a student with disabilities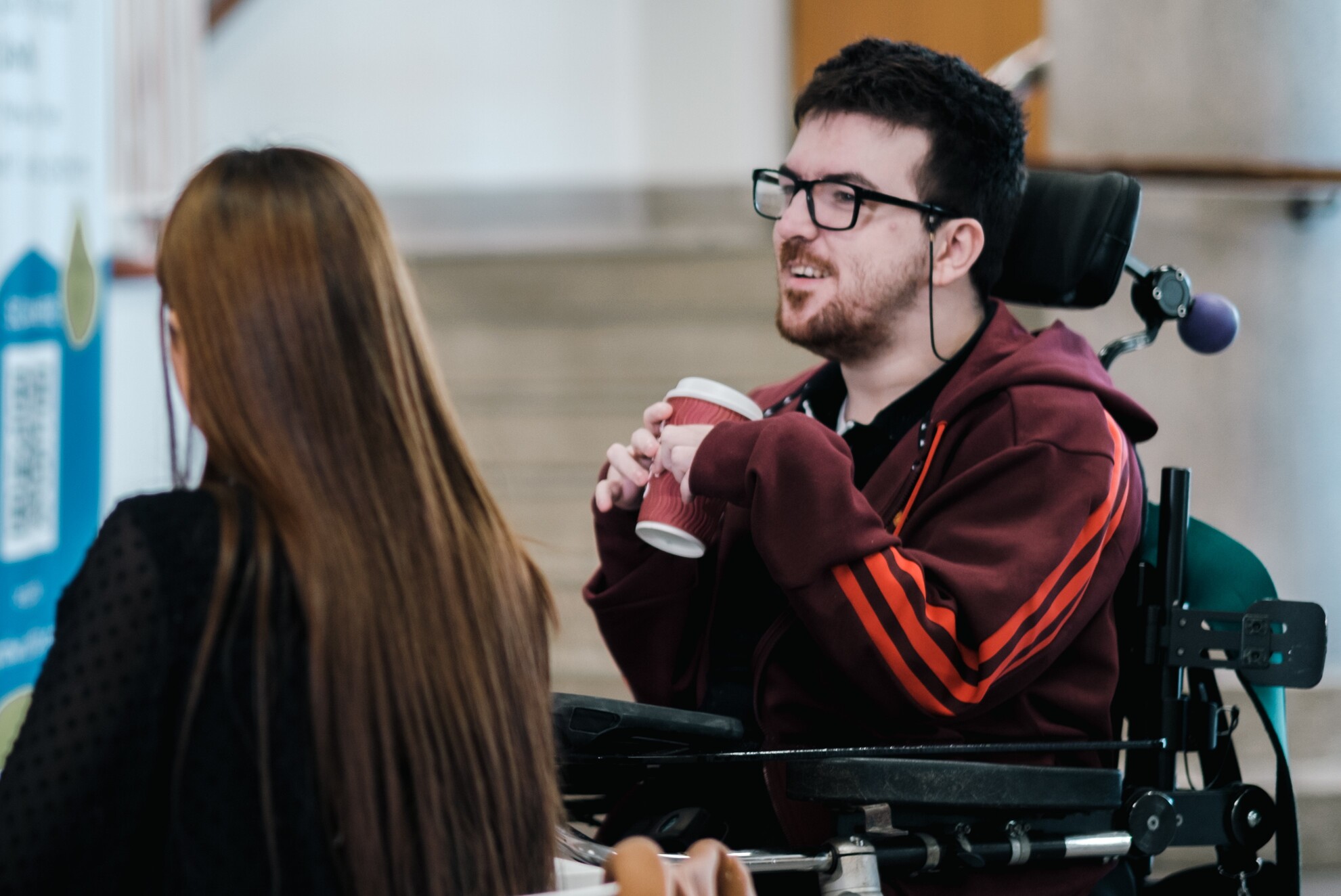 My name is Daniel Roberts and you might remember me from my day in life blog.
I recommend giving this a read if you haven't already, but the a short introduction to me is that I study a Bachelor of Science degree in Computer Game Development and I have Cerebral Palsy through speech and movement.
I have a powered wheelchair, which I use to move around, and a DynaVox (a talking aid) to help me communicate. I thought I would write this blog to reassure you that if you are a student with a disability, or if you're from a disadvantaged background, you can achieve a degree when you are passionate about the subject. I will explain my application process, the reasons for my decision to go to Wrexham University and go through my progress over the years.
Wrexham University has remained first for social inclusion for six years running (Times and Sunday Times Good University Guide 2024) and it has a good inclusion service, which helps students who have physical or learning disabilities.
I initially had some nerves about managing my time and travelling to and from the campus. This proved to not be too difficult and a big plus about getting to physically go to university was that I could explain any issues I was having with my work as I could talk to the lecturers directly.
ADVICE
I would suggest declaring to the university that you have a disability at the earliest opportunity. Personally, I can't recommend Wrexham University's Inclusion team enough, they can get you the support you need and are entitled to. They help you to apply for DSA1, which offers funding to support you in your degree. The grant also pays for learning support for lectures, and this covered assistance with notes, purchasing a monitor, a printer, and acquiring handy software to help my grammar and reading.
As part of the Computer Game Development Degree, students can animate their own movements using a motion capture suit or to demonstrate games in Virtual Reality. This was an activity that wasn't possible for me to take part in, but the lecturers were very understanding, and I had support from my fellow students to carry out the learning.
Even though I had some challenges during my learning, I still managed to become one of the Grads in Games student ambassadors and I was shortlisted for Student Representative of the year at the university awards. Grads in Games is a great non-profit organisation which helps graduates to get into the games industry and I helped them by advertising their events within my university.
ADVICE
I became a Student Ambassador for the university, and I highly recommend it as a way to earn while you learn (I sound like one of Wrexham's adverts!). You get experience and the job is flexible around your degree.
I'm currently continuing my studies at Wrexham with a part-time Master's in Computer Game Development after achieving a 2:1 with my hard work and determination. I plan on releasing my own game on Steam soon as well, so I'm excited for what the future holds!
We are here to support you at Wrexham, and we offer a variety of inclusion services for students to access.
Make sure to check out how you can be part of learning at Wrexham by studying either an Undergraduate or a Postgraduate degree.