Ways we ensure you are part of something special at Wrexham University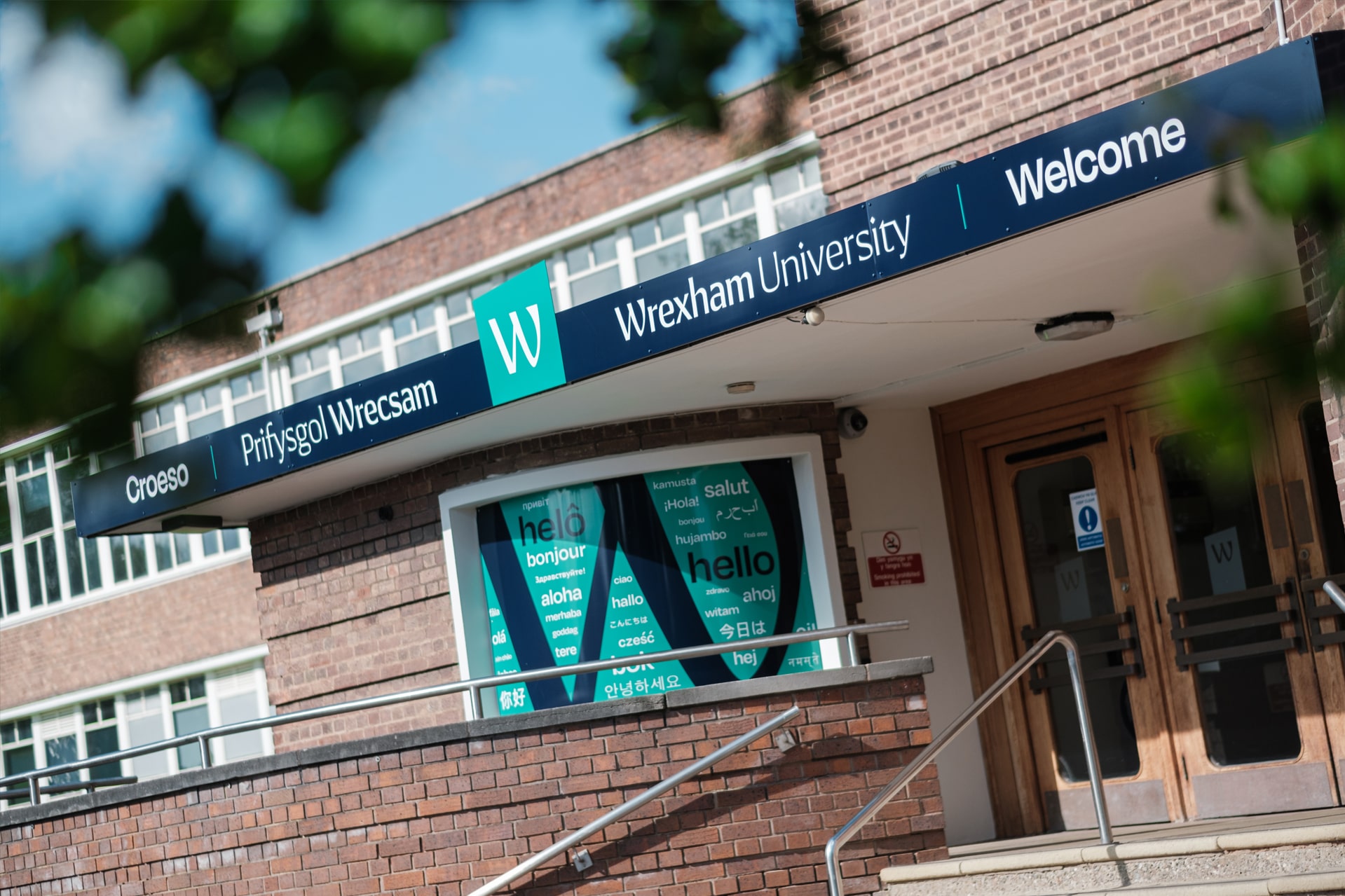 Wrexham University is a university unlike any other.
We are rooted in our student community, and we are powered by the progress of our successful graduates.
Our ethos outlines why our degrees, student experience and opportunities are completely unique. Each powerful message makes us different and encapsulates the ways in which Wrexham University is a special place for you to study.
Transformative education, enormous opportunity
Our degrees take a practical and vocation-focussed approach to learning. We believe that you learn best by getting stuck in and by using the theory you acquire through your degree in real-world settings.
Our transformative education equips you with the skills to advance your way of thinking through your degree and into the professional world beyond.
The programmes we offer are career-focused and designed with employability in mind. You will leave university fully equipped with the skills and experiences needed to find a career in your chosen field. Student survey data from the Higher Education Statistics Agency (HESA), shows that this approach works as 83.8% of Wrexham graduates from the academic year 2020/21 are in full-time, paid employment. This is higher than the UK average of 81.5% and the Welsh average of 79.4% and we pride ourselves on our award-winning careers service.
We have strong links with industry, which you will have the opportunity to take advantage of through visits, work experience, and expert talks. In certain courses, you have the additional option to take an industrial year as part of your degree.
Enormous opportunity can be found at Wrexham through our transformative and practical approach to education.
Rooted in community, powered by progress
We have a strong student community at Wrexham University and our dedicated lecturers pride themselves on providing a welcoming atmosphere as you learn with us.
Our commitment to delivering engaging education has been recognised as we are ranked in the top 10 universities in the UK for Teaching Quality in the Times and Sunday Good University Guide, 2024. Our lecturers deliver high-quality education and a welcoming space for students to develop their own interests, as well as learn.
Olivia Horner, an Illustration student, said: "I am really enthusiastic about Wrexham University as it is a safe space for me to be myself and be creative. An important thing for me coming to university was the class sizes as I struggle with anxiety, but the small class sizes here are amazing and enable us to have 1 to 1's with tutors. There is such a wonderful community aspect."
Our student community empowers you to progress in your studies as well as your career beyond.
Spark change
At Wrexham, we spark change in the lives of our students and our learning environment.
Investing in your future is our top priority, demonstrated by our £80 million strategy to enhance our local region and all of our campuses, to ensure that our students have the best facilities and learning environment. We have brand-new social learning spaces, teaching facilities, and outdoor study areas that suit any study style.
Our B corridor teaching spaces have been completely renovated, with excellent AV equipment, accessible workstations and clean designs. From classrooms and lecture theatres to our SCALE-UP rooms and Moot Court, each space has students' learning at its heart. We have developed subject specific spaces including new science labs, our Colliers Park National Football Development Centre and Veterinary Nursing clinical suite. We have also developed a Health Education & Innovation Quarter (HEIQ) to include a Healthcare Simulation Centre for hands-on learning. Nursing and Allied Health Profession students will have the opportunity to experience simulated real-world scenarios before they go on placement and into the professional world.
Sparking change in our campuses provides you with the best tools to succeed and spark change in your own learning. We are committed to consistently work towards improving your student experience by creating dynamic and engaging learning spaces to help you succeed.
Inspire and enable through higher education
Wrexham University stands out from other universities as we provide a platform where your inspirational student voice will be heard. We are ranked as the top university in Wales for Student Voice by our own students who voted in the National Student Survey, 2023. You will have a say in your learning and your voice will be heard as you study with us at Wrexham.
We have been ranked first for social inclusion in England and Wales by the Times and Sunday Times Good University Guide 2024 for six years running. We enable students to achieve in higher education, no matter their socio-economic background. Our inclusion services and student support services establish the long-standing exceptional dedication we have in maintaining an inclusive learning experience at Wrexham.
Our practical approach to learning, our welcoming student community, our evolving campuses, and our dedication to inclusion makes us stand out. Explore our range of courses and be part of a unique learning experience at Wrexham University.