Course Highlights
Designed
and developed based on industry requirements with emphasis on employability
Opportunities
to enter competitions and build a professional portfolio
Cross-disciplinary approach
approach to course delivery, simulating professional studio practice
Why choose? this course?
The Animation degree offers practical study, enabling you to bring characters to life. This specialised Animation programme will transform you into a versatile creative in the art of the moving image. Designed and developed from the ground up with employability at the core, you will develop skills in animation, motion graphics and design.
You will finish your studies with the professional skills and creative thinking strategies to pursue a career within animation studios, work as a freelance artist, or start your own studio.
You will:
Learn the principles of visual communication and drawing and apply them to character design, background design, storyboarding and scene layout.
Explore the principles of animation and develop a solid foundation for your future career.
Develop ideas and work towards creating a short film to be submitted to film festivals, both nationally and internationally.
Explore animation techniques to build up a professional show reel.
Specialise and develop a final degree project that will push on the boundaries of your skills to ensure you stand out from the crowd in the job market.
You can also choose to study this course as a foundation year BA (Hons) Animation (four years including foundation year) UCAS code: 259D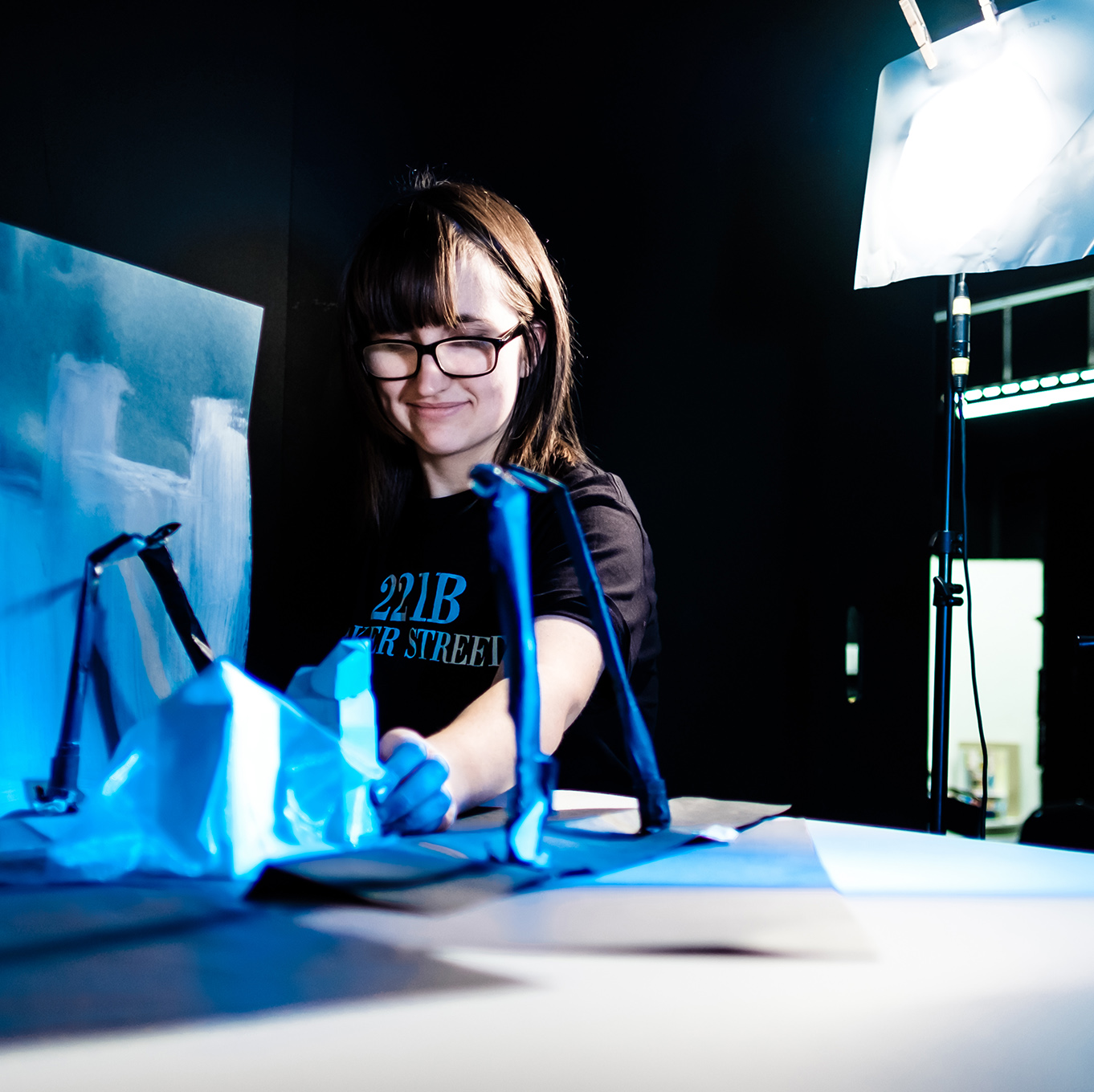 Art & Design
at Wrexham University
Key course features
Latest industry-standard software used such as Toon Boom Harmony and the Creative Cloud suite.
Access to Wacom Cintiq tablets and studio space.
Industry-focused visits to gain first-hand insight into how creative media companies function and the variety of employment opportunities that are available in the development of your career aspirations. There are also other study trips to festivals and expos.
Opportunities to enter competitions and build your professional portfolio.
Be part of an end of year degree show exhibition - view the 2022 Degree Show e-magazine, Unjammed.
Strong pastoral care within a friendly creative community with an emphasis on team building and collaborative work.
Regular contact time with enthusiastic and supportive staff.
What you will study
Your studies will see you gain experience in digital skills and techniques used to bring your imagination from ideas to screen through, various animation techniques, depending on which you choose to specialise in.
YEAR 1 (LEVEL 4) - Core skills
MODULES
Semester 1
History & Context
Visual Communication
Digital Communication
Semester 2
Social Design
Story Telling: Theory and Practice
Interactive Design
YEAR 2 (LEVEL 5) - Advanced skills
MODULES
Semester 1
Motion Design
Print and Production
Critical thinking
Semester 2
Creative Futures: Making a Living
Design Project: Animation
YEAR 3 (LEVEL 6) - Specialism
MODULES
Semester 1
Specialist Project: Animation
Semester 2
Creative Futures: Professional Practice
Live Brief
The information listed in this section is an overview of the academic content of the programme that will take the form of either core or option modules. Modules are designated as core or option in accordance with professional body requirements and internal academic framework review, so may be subject to change.
Entry requirements & applying
UCAS code: 259B
The academic requirements for the course are 80-112 UCAS tariff points at GCE A-level or equivalent. Appropriate AS-Level and Level 3 Key Skills qualifications will also be taken into account.
The programme welcomes applications from anyone who can demonstrate a commitment to the subject and the potential to complete their chosen programme successfully. This can be established by showing appropriate academic achievements or by demonstrating that they possess the knowledge and ability equivalent to the academic qualifications.
Candidates may be interviewed and asked to display a portfolio of their work. Experience may also be taken into consideration depending on the extent and depth of such subject knowledge. Students from overseas, or who are unable to attend an interview, are asked to send their portfolio of work digitally for consideration.
An admissions tutor considers each application individually. Different qualifications are considered, including Scottish Higher, Irish Leaving Certificate, the Welsh Baccalaureate, the International Baccalaureate, Access courses, BTEC, VCE, GNVQ, A and AS levels as well as other overseas qualifications.
Progression from HND / FdA
Applicants with relevant HND qualifications, or a foundation degree in a relevant Art and Design subject area may progress onto Level 6 of a BA or MDes programme subject to Wrexham University's RP(E)L procedures.
Teaching & Assessment
There are no set exams. Assessment is continuous and relates to all aspects of the programme, providing more carefully defined emphasis on formative assessment and feedback on your coursework throughout the academic year. We will advise you on your level of attainment and direct you towards a strategy for further progression as assignments and modules are completed.
There are varied formats of assessment to encourage your learning through group seminars, critiques and tutorials. This can be through group interaction with critical analysis where you will submit a range of work including sketchbooks, design sheets, finished artwork, screen-based work, technical/ production files, journals, essays, and audio-visual presentations. There are reviews of work at key points before Christmas and before Easter and this provides time for you to reflect on your progress prior to a final or summative year end assessment.
TEACHING AND LEARNING
On this course teaching and learning is designed to support students from a variety of backgrounds with diverse needs and to promote the supportive learning environment and pastoral care the School of Art and Design provides. Timetabling is developed to help learning teaching and assessment methodologies and provide clear and effective feedback to students. Contact hours are 16 per week in year 1, 14 per week in year 2 and 12 per week in year 3.
The programme is structured to enable you to work in a multidisciplinary manner, to be flexible and enable you to develop individually. This is supported by a personal tutor / tutorials system that provides you with guidance throughout all aspects of the programme.
Wrexham University is committed to supporting our students to maximise their academic potential.
We offer workshops and support sessions in areas such as academic writing, effective note-making and preparing for assignments. Students can book appointments with academic skills tutors dedicated to helping deal with the practicalities of university work. Our student support section has more information on the help available.
In terms of particular needs, the University's Inclusion Services can provide appropriate guidance and support should any students require reasonable adjustments to be made because of a recognised prevailing disability, medical condition, or specific learning difference.
Career prospects
Our Careers & Employability service is there to help you make decisions and plan the next steps towards a bright future. From finding work or further study to working out your interests, skills and aspirations, they can provide you with the expert information, advice and guidance you need.
Our graduates have gone on to work for companies like the BBC, Channel 4, S4C, and Disney, working on titles such as A Bug's Life, The Corpse Bride, Frankenweenie and the Harry Potter series games.
Career opportunities exist in all areas of animation, including:
Senior designers

VFX artist/animators

Concept artists

Storyboard artists

Assistant animators

Freelance animators

Character designers

Game artists

Interactive developers

Environment and background artists

Freelance visualisers

Model making

Set design

Digital media texture art

Digital painting

Compositing

Lighting, rigging, visual effects and post-production.
This degree also allows you to gain a range of transferable skills that can lead to a variety of employment opportunities. Further study opportunities are also available at MDes / MA or PGCE level.
Fees & funding
You do not have to pay your tuition fees upfront.
Wrexham University's tuition fees for 2024/25 for a full-time undergraduate degree course are £9000 per year.
The fees you pay and the support available will depend on a number of different factors. Full information can be found on our fees & finance pages. You will also find information about what your fees include in the FAQs section of those pages.
Accommodation
If you're looking for a place to stay while you study then take a look at our accommodation pages to get more information on your options, including our on-campus halls of residence Wrexham Village.
International
If you are applying as an European / International Student, and live outside of the UK, you should make your application through our online application system, Centurus.
For information about the university's entry requirements for EU/international students, please visit our international section.