Course details
Duration
3 YRS (FT) 6 YRS (PT)
Course Highlights
Top 10 in the UK
for Student Satisfaction (Complete University Guide, 2024)*
1st in the UK
for Teaching Quality and Student Experience (The Times and The Sunday Times Good University Guide 2023)*
This subject area is rated 1st
for Student Satisfaction in the Complete University Guide subject league tables in the (Complete University Guide, 2024)
Why choose? this course?
Our criminology degree tackles a fascinating array of questions from why people commit crime and how it affects society, to historical landmarks in the justice system and high-profile cases which had a ground-breaking impact on the legal arena.
Students will:
Study criminology from a range of perspectives including social, political and psychological, focusing on modern methods of policing, development of policy and the workings of magistrates and crown courts.
Examine criminal law and the role and work of the agencies that make up a modern criminal justice system.

Take part in site visits to

various operational

areas of the criminal justice system.

Have a variety of voluntary work opportunities.

Learn from a dedicated team of research-active lecturers with experience in the criminal justice system

and who are research active in the areas of youth justice, prisons, homelessness, terrorism, and substance misuse.

Regular input from visiting speakers such as judges, police, probation and youth justice staff

.

Leave ready to enter a wide range of sectors including youth justice, probation, prison, the police and voluntary organisations.
*Study a course which is part of a subject area rated first in the UK for student satisfaction in the Sociology subject league tables, Complete University Guide 2023.
*Study a course that has been rated as part of the CHA3 subject group Sociology ranked 1st in the UK for the teaching on my course and overall satisfaction in the National Student Survey 2022.
*Study a course that has been ranked 1st in the UK as part of the Criminology subject league table for Teaching Quality and Student Experience in The Times and The Sunday Times Good University Guide 2023.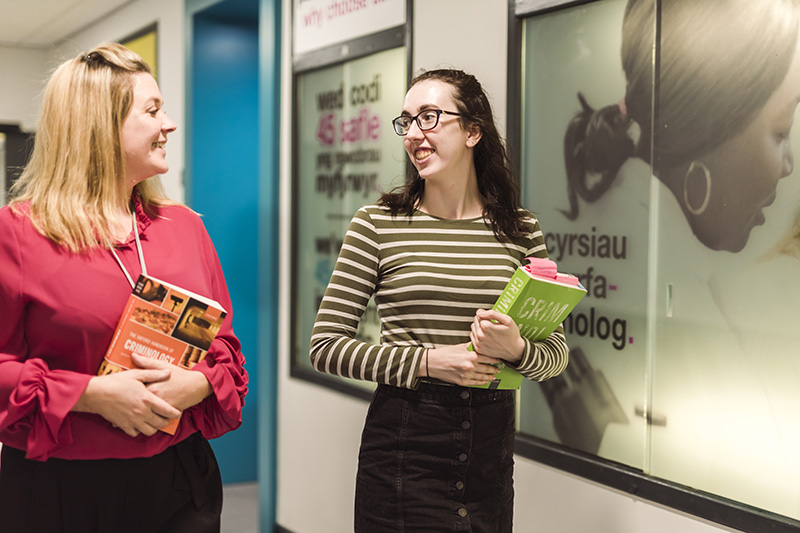 Studying Criminology
at Wrexham University
"I chose to study here because the lecturers I met on the open day were amazing - probably the best I've ever met! I felt treated as a student more than a number when I was talking to them."
Key course features
Be part of an inclusive, inviting and supportive community which fosters learning and encourages

you

to reach

your

full potential.

You will have the opportunity to become involved with the active Criminology Society and engage with fun, interactive events, guest talks, conferences and charitable fundraisers

Learning and teaching approaches that are

i

nnovative

,

f

lexible and

enhance the student experience through thought-provoking activities, structured classroom sessions and critical debates.

Our unique

optional module will give

you

insight and direct experience of professional criminal justice practice and aims to prepare you for working within professional contexts. The module is experientially based

allowing you

to

undertak

e

a work-based placement, along with teaching hours.

We have g

ood links with all criminal justice agencies and employers such as the police, probation, prisons, magistrates'

courts

and the youth justice service.

I

nterested applicants are encouraged to join our social media sites for up-to-date information on networking and key events. These are Facebook @CriminalJusticeGlyndwr, Twitter @CCJglyndwr and Instagram @pandccj

As well as rankings listed earlier, our Criminology & Criminal Justice degree is also part of a subject area rated 1st in the UK for teaching & course satisfaction, and is rated 6th in the UK overall, in the Criminology subject league tables (The Guardian University Guide, 2023).
What you will study
YEAR 1 (LEVEL 4)
The first year of our criminology degree provides an introduction to practice matters relating to working in the community justice system and understanding and engaging with offending behaviour. The range of modules explored in year one provide knowledge and understanding of the causes of crime at a societal and individual level and explores the work of the agencies that make up the criminal justice system.
MODULES
Study Skills in Higher Education (core): this will support your learning and on-going personal and professional development in higher education
Introduction to Criminology and Criminal Justice (core): Get underpinning knowledge of criminal justice and law. It will focus on key concepts such as the definition of crime and the philosophy of sentencing.
Signal Crimes and Criminals (core): By the end of the module you will have been introduced to key turning points and debates associated with the practice of criminal justice.
Drugs, Alcohol and Crime (optional): To consider the range and extent of drugs that are used and appreciate the social context of their use. It will introduce you to the social construction of the 'drugs problem'.
Crime, Society and Social Policy (optional): This module examines crime within a social context, for example, housing, education and health.
Introduction to Forensic Psychology (optional): To familiarise you with the main concerns for Forensic Psychology.
Attachment and Crime (optional): This module applies attachment theory to understand problematic developmental prospects within forensic populations. The focus on attachment theory presents an approach that seeks to understand the influence of relationships on personality and social development. The module interrogates attachment theory research approaches that investigate adverse experiences most likely to lead to poor social functioning and criminal behaviour.
YEAR 2 (LEVEL 5)
The second-year is designed to build directly on the skills and knowledge acquired during year one. You will study criminal law and in traditional lecturers and field trips where possible e.g. to prison and court, you will learn about advanced issues in effective practice with particular types of offenders. Criminological and research theory is explored to begin the process of developing students' abilities to think theoretically and critically about the practice of criminal justice.
MODULES
Research Methods (core): Gain an understanding and critical appreciation of the nature and appropriate use of research strategies and methods in relation to issues of crime, victimisation, and responses to crime and deviance.

Criminology

(core)

: To enable

you

to understand the key concepts and theoretical approaches that have developed and are developing in relation to crime, victimisation and responses to crime and deviance.

Crime and Criminal Behaviour (core): To provide you with critical knowledge and understanding of a range of contemporary crimes and criminal behaviours committed within contemporary society.
Social Difference and Inequality (core): You will develop a critical understanding of the relationship of social class, gender, race, age, ethnicity, language and other salient aspects of diversity in relation to crime victimisation and responses to these phenomena.
Work-based learning (optional): This module will give you an insight and direct experience of professional criminal justice practice and will aim to prepare you for working within professional contexts.
Working in Custodial and Community Settings with people who have offended (optional): This module will enable you to learn about and practice the skills which are essential to working with offenders effectively and reducing the risk of re-offending.
Criminal Law and the Criminal Justice Process (optional): This provides you with an understanding of the nature and context of law, primarily focusing on criminal law. This will include the examination of the criminal justice process including - courts and hearings for adults and young people, the theory and practice of sentencing, prison and community-based penalties, and the place of human rights in these processes.
YEAR 3 (LEVEL 6)
In the final year, modules develop your abilities to apply theoretical and critical perspectives to criminal justice processes and practice. Some degree of choice is also offered in relation to modules options. The socio-political nature of criminal justice policy-making is explored and a critical lens is brought to bear on the criminal justice system.
You may then choose to explore how guilt and innocence might be negotiated in police and courtroom, the contribution forensic psychology might make to understanding crime, youth justice or multi-agency criminal justice response to crime. Students will also complete their own research project (option to conduct primary or secondary data collection) which explores an area of interest to themselves under the supervision of one of the experienced criminology lecturers in the department.
MODULES
Research Project (core): Produce an independent research project based upon primary or secondary data. Argue a thesis based upon a comprehensive understanding of criminology theory, good research practice and criminal justice policy. Synthesise knowledge and understandings gained throughout your criminology degree.
Control, Justice and Punishment (core): A critical evaluation of the social and historical development of justice, sentencing and punishment and social control.
Optional
Multi-Agency

working to manage risk and dangerousness

(optional)

: The study of criminal justice agencies that comprise the criminal justice system in England and Wales, critically analysing their contribution to the management of crime and the protection of the public.

Youth Justice (optional): Critically examine the meanings attached to childhood, youth and crime and the provision made for children and young people who offend.
Terrorism (optional): Explore the contemporary social construction of terrorism and the implications for society.
Policing Contemporary Communities (optional): Explore the evolving nature of policing and contemporary issues in policing society.
Constructing Guilt and Innocence (optional): Study the legal and social constructions of guilt and innocence; To explore the problematic nature of "facts" and "truth" in constructions of guilt and innocence; To study the construction of guilt and innocence by different types of actor: accusers, accused, adjudicators, the media, researchers, and the public and to study a selection of cases which have gone to criminal trial.
The information listed in this section is an overview of the academic content of the programme that will take the form of either core or option modules. Modules are designated as core or option in accordance with professional body requirements and internal academic framework review, so may be subject to change.
Entry requirements & applying
The academic requirements for the course are 80-112 UCAS tariff points at GCE A-level or equivalent.
A Disclosure and Barring Service (DBS) clearance (previously known as CRB) may be required for placement activity on optional Work-Based Learning module.
Teaching & Assessment
There is a variety of assessment methods for this course, including essays, presentations, case studies and examinations. In Year 3 you will be required to do a research project on a topic of your interest.
Flexible, accessible and inclusive teaching methods are utilised across the degree programme. Students will attend face-to-face lectures three days a week. Students are encouraged to participate in site visits to operational areas of the criminal justice system, which in the past have included visits to a crown court and a prison.
Wrexham University is committed to supporting our students to maximise their academic potential.
We offer workshops and support sessions in areas such as academic writing, effective note-making and preparing for assignments. Students can book appointments with academic skills tutors dedicated to helping deal with the practicalities of university work. Our student support section has more information on the help available.
In terms of particular needs, the University's Inclusion Services can provide appropriate guidance and support should any students require reasonable adjustments to be made because of a recognised prevailing disability, medical condition, or specific learning difference.
Career prospects
There is an excellent range of career opportunities across the criminal justice system (CJS), and our degree in criminology and criminal justice prepares students with a wide range of skills.
Employment opportunities available to Graduates with a criminology and criminal justice degree are extensive. Below are just some examples of careers that our Graduates have progressed on to:

Police

Probation services

Victim support

Prison service

Youth offending service

Drug and alcohol agencies

Legal and court system

Civil services

UK border force

Housing and homeless services

Crown Prosecution Service

Third sector

Education

Social services
Our Careers and Employability service is there to help you make decisions and plan the next steps towards a bright future. From finding work or further study to working out your interests, skills and aspirations, they can provide you with the expert information, advice and guidance you need.
If you are interested in postgraduate studies, you may wish to progress onto the MA in Criminology and Criminal Justice.
A degree with us in Criminology and Criminal Justice opens up endless opportunities, and you may even decide to progress on to do a law or psychology conversion course should you wish to pursue a different career path.
Fees & funding
You do not have to pay your tuition fees upfront.
Wrexham University's tuition fees for 2024/25 for a full-time undergraduate degree course are £9000 per year.
The fees you pay and the support available will depend on a number of different factors. Full information can be found on our fees & finance pages. You will also find information about what your fees include in the FAQs.
Programme specification
Accommodation
If you're looking for a place to stay while you study then take a look at our accommodation pages to get more information on your options, including our on-campus halls of residence Wrexham Village.
International
If you are applying as an European / International Student, and live outside of the UK, you should make your application through our online application system, Centurus.
For information about the university's entry requirements for EU/international students, please visit our international section.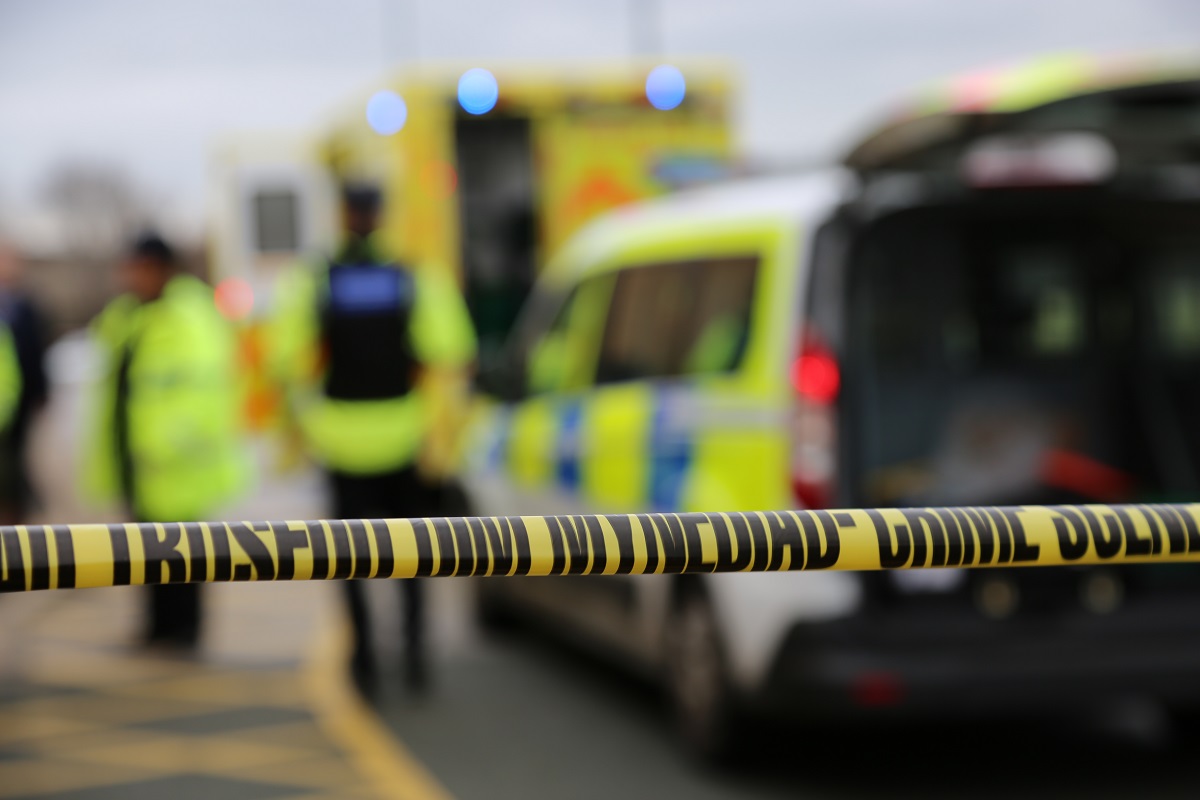 Take part in our annual
real-time training exercise
A high-profile Crime Scene Day learning simulation is held each year, with students from a range of courses acting out, witnessing, investigating and reporting on a high-profile crime on campus.