BEng (Hons) Electrical & Electronic Engineering (with Foundation Year)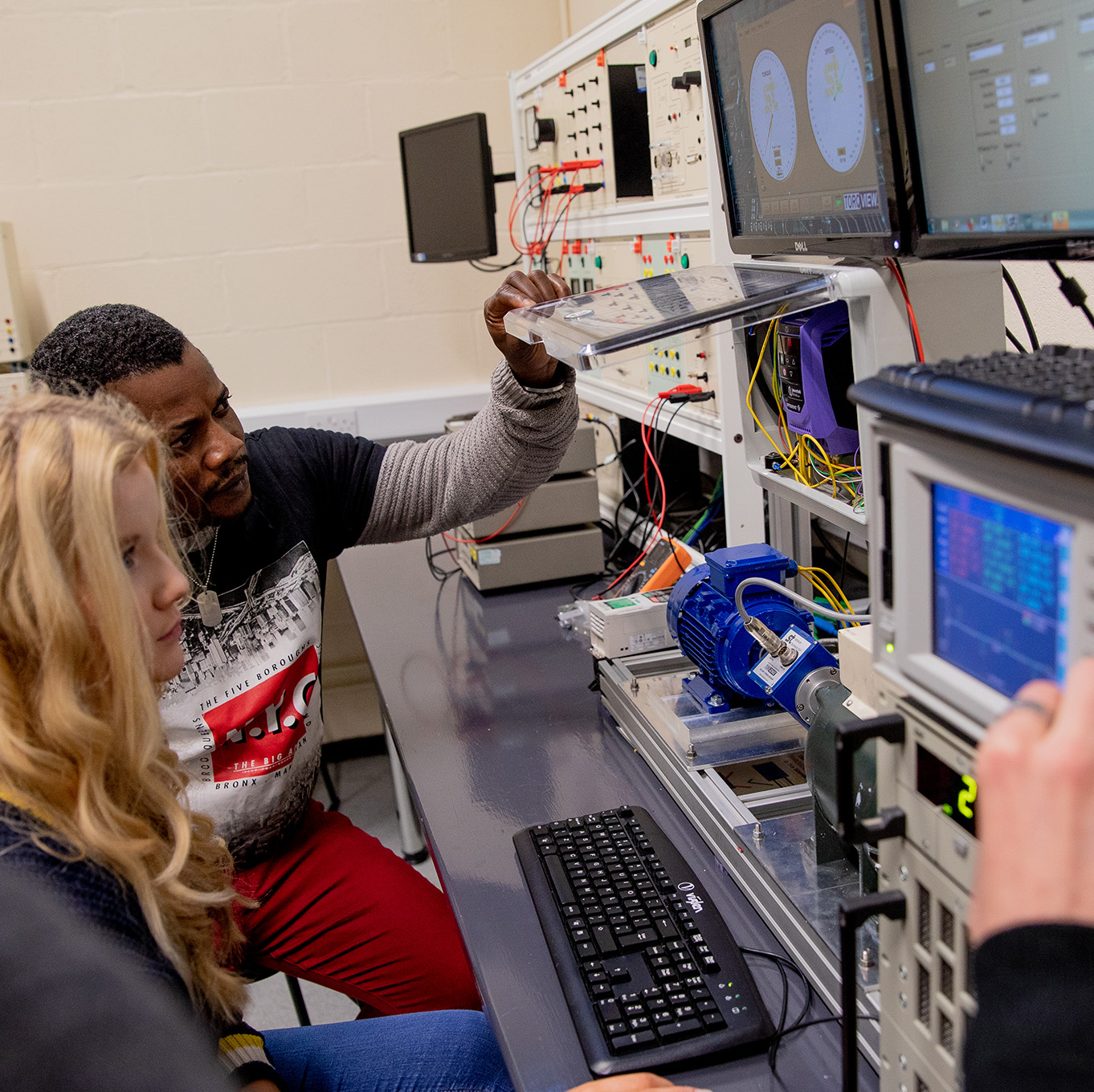 Course Highlights
Maths support
Access to a dedicated maths support centre
Top 10
in the UK for Teaching Quality (The Times Good University Guide 2024)
Specialise
in either electrical or electronic engineering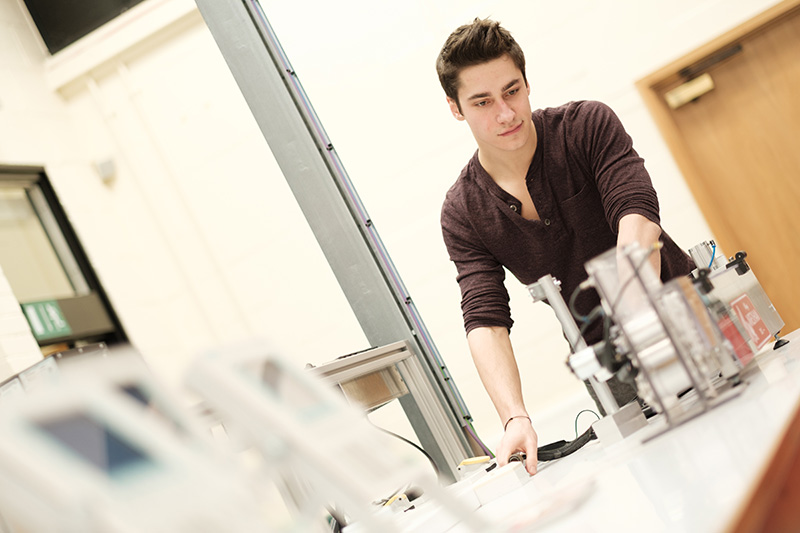 Engineering at
Wrexham University
Thinking of a career in Engineering? Hear from lecturers and students about our Engineering degrees at Wrexham University.
Why choose? this course?
From transport and renewable energy to aerospace and robotics, this degree equips you with the sought-after skills to work at the forefront of new and emerging technologies. The course, accredited by the Engineering Council, explores how electrical engineers shape the future of these sectors through innovation and design.
You will:
Have access to electronic design and testing labs, power electronics labs, programmable logic controllers (PLC) labs and computer-aided design (CAD) labs.
Gain practical experience on industry-standard software packages, developing skills that are sought-after by industry.
Be equipped with analytical, computational, design and transferable skills, including an awareness of social, environmental and ethical implications.
Benefit from strong links to local and national industry, with opportunities for site visits.
Focus on specialisms within power, electronics, instrumentation and control.
Be able to tailor your module choices to specialise in either Electrical or Electronic Engineering, depending on your goals and interests.
This course is also available without a foundation year BEng (Hons) Electrical & Electronic Engineering UCAS Code: H600
Key course features
Includes a foundation year to prepare you for university-level study.
Focus on practical as well as academic study, with access to the facilities in our electronic design and testing labs, power electronics labs, programmable logic controllers (PLC) labs and computer-aided design (CAD) labs.
Gain practical experience on industry-standard software packages, including Arduino, Raspberry Pi, MATLAB and Simulink, Multisim and Ultiboard, Texas Instruments Code Composer Studio, Microchip MPLAB, Keysight Vee Pro and Siemens Step 7 software.
Strong industry links provide opportunities to visit local and regional companies to gain invaluable work experience in the engineering industry.
Focus on specialisms within power, electronics, instrumentation and control.
Dedicated maths support centre for students.
This degree programme is accredited by the Institution of Engineering and Technology (IET), helping to improve graduate employability.
What you will study
YEAR 1 (FOUNDATION YEAR)
The foundation year provides a grounding in all aspects of engineering and design in order to prepare you for further years of study.
MODULES
Analytical Methods for Engineering
Design and Technology
Mechanical Science
Electrical and Electronic Science
The Skills You Need
Contextual Studies
YEAR 2 (LEVEL 4)
The Level 4 modules will lay the foundations for the rest of your degree programme and will equip you with the core theoretical and practical skills you will need to successfully complete the remaining years of study.
MODULES
Engineering Mathematics
Introduction to Electrical & Mechanical Science
CAD and Production Science
Engineering Professional Development
Problem Solving with Programming
Analogue & Digital Electronics
YEAR 3 (LEVEL 5)
In this year you will specialise in your chosen route. You will study a combination of core modules and either the electrical or electronic modules at Level 5, depending on your chosen route of study.
MODULES
Further Engineering Mathematics
Engineering Futures – Research, Ethics and Sustainability
Intelligent Control System Design
Electrical Power Engineering
Industrial Automations & PLCs
Embedded Systems
YEAR 4 (LEVEL 6)
The focus of your final year will be your supervised engineering project. This will give you the opportunity to showcase the engineering skills that you've developed in the previous years. The rest of the Level 6 credits for your final year will comprise of either electrical or electronic modules, depending on your chosen route of study.
MODULES
Project (40 credits)
Professional Engineering
Electronic Design and Testing
Digital Signal Processing
Electronic Route (optional)
Wireless Communication and Antennas
Electrical Route (optional)
Power Electronics and Electrical Machines
The information listed in this section is an overview of the academic content of the programme that will take the form of either core or option modules. Modules are designated as core or option in accordance with professional body requirements and internal academic framework review, so may be subject to change.
Entry requirements & applying
Our general requirement for the foundation year is UCAS tariff points of 48-72 but all applications are considered individually and we consider work experience, vocational training/qualifications, as well as motivation and potential to succeed.
Teaching & Assessment
A broad range of assessment methods are used; these include phase tests, written assignments, practical work on computers, a portfolio of work, logbooks, presentations and laboratory work case studies and CAD. A combination of this work may form part of your assessment, alongside time-constrained exams. Each module is assessed by a variety of methods, enabling students to display their full potential. A project dissertation will form one of the final parts of your assessment.
TEACHING AND LEARNING
Teaching methods include lectures, laboratory sessions, student-led seminars and guided research.
Independent learning is an important aspect of all modules, as it enables students to develop both their subject-specific and key skills. Independent learning is promoted through guided study and feedback given to students.
Wrexham University is committed to supporting our students to maximise their academic potential.
We offer workshops and support sessions in areas such as academic writing, effective note-making and preparing for assignments. Students can book appointments with academic skills tutors dedicated to helping deal with the practicalities of university work. Our student support section has more information on the help available.
In terms of particular needs, the University's Inclusion Services can provide appropriate guidance and support should any students require reasonable adjustments to be made because of a recognised prevailing disability, medical condition, or specific learning difference.
Career prospects
Our Careers & Employability service is there to help you make decisions and plan the next steps towards a bright future. From finding work or further study to working out your interests, skills and aspirations, they can provide you with the expert information, advice and guidance you need.
The course equips you with a thorough knowledge and skills in engineering at the forefront of new and emerging technologies. Graduates will be well placed to become subject specialists within the industry or to pursue research careers within academia.
There is a recognised shortage of qualified electrical/electronic engineers in the UK. A qualification in the field will make you instantly attractive to employers as a result. You will have the skills to contribute to the design and development of electronic systems and processes. Employment opportunities exist in the aerospace industry in aircraft instrumentation systems (technician or engineer level) or in the armed forces.
Fees & funding
You do not have to pay your tuition fees upfront.
Wrexham University's tuition fees for 2024/25 for a full-time undergraduate degree course are £9000 per year.
The fees you pay and the support available will depend on a number of different factors. Full information can be found on our fees & finance pages. You will also find information about what your fees include in the FAQs.
Accommodation
If you're looking for a place to stay while you study then take a look at our accommodation pages to get more information on your options, including our on-campus halls of residence Wrexham Village.
Subject to re-validation and re-accreditation
The University reviews its courses on a regular basis to ensure that they reflect the needs of students and employers. Periodic review of the existing programmes is required every five years and major changes may be made to the programmes during the re-validation process. Courses shown as "subject to re-validation and re-accreditation" are existing courses which are in the process of re-validation and renewing recognition/accreditation with the Professional, Statutory and Regulatory Bodies (PSRBs). As soon as the programmes are re-validated and re-accredited, the details of the course will be confirmed. The majority of new courses that are still 'subject to re-validation and re-accreditation' are approved as expected however, this is not guaranteed and should the course not go ahead as planned, or be significantly amended, you will be informed by the University and assistance will be provided to those who have been offered a place to find a suitable alternative course either at Wrexham University or at another provider.
International
If you are applying as an European / International Student, and live outside of the UK, you should make your application through our online application system, Centurus.
For information about the university's entry requirements for EU/international students, please visit our international section.