Course details
Duration
2 YRS (FT) 4 YRS (PT)
Course Highlights
Strong links
to local employers to ensure teaching is relevant to current practice
2nd in the UK
for satisfaction with teaching (The Guardian University Guide 2022)*
Work-based experience
to explore real world issues, gain experience and develop your skills
Why choose? this course?
The Dip HE Health and Social Wellbeing course explores how we can help people to live happier and healthier lives. You will learn about what impacts on the health and mental health of individuals, communities and societies, and about different solutions that can help to address established and emerging issues.
Alongside this you will be supported to develop the skills and confidence that are important for working in the field of health and wellbeing. You will take part in work-based learning in an area of your own interest, gaining 'real world' experience, and will develop your CV and other employability skills.
This course is ideal for those wishing to work in the field of health and social wellbeing, or who already work in the area but want to develop their knowledge to ensure that their practice is current and evidence-based.
This course:
Develops a rounded understanding of the health, mental health and wellbeing of individuals and communities
Involves 100 hours of work-based learning which you can tailor to your own area(s) of interest
Has strong links with local employers
Includes personal and professional development modules which help you develop a full CV and key skills for employability
Offers a peer mentor scheme, providing support from and to other students.
*Is part of a subject area rated 2nd in the UK and 1st in Wales for satisfaction with teaching and satisfaction with the course in the Health Professions subject league tables, The Guardian University Guide 2022.
*Is part of a subject area rated 6th in the UK for teaching quality and 8th in the UK for student experience in the Subjects Allied to Medicine subject league tables, Times and Sunday Times Good University Guide 2022.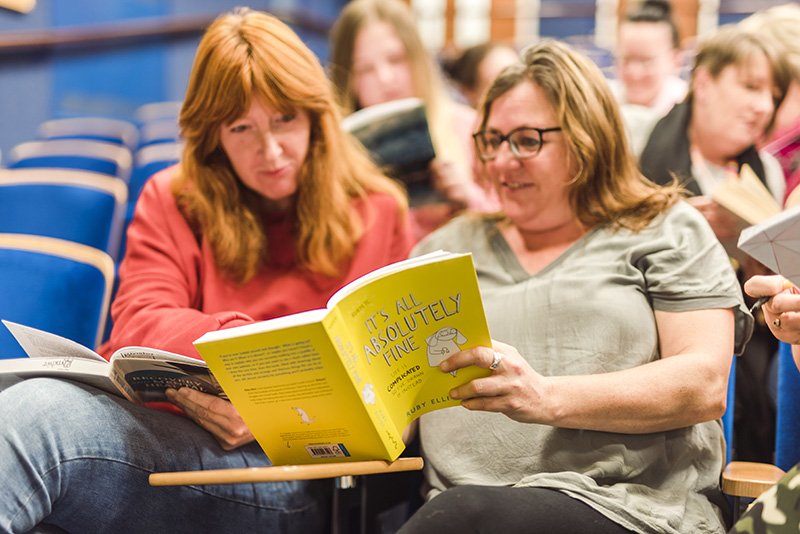 Health and Wellbeing
Wrexham University
Thinking of a career in Health and Wellbeing? Hear from lecturers and students about our various Health and Wellbeing degrees at Wrexham University.
Key course features
Work-based learning allows you to explore real world issues, gain experience and develop your skills.

The degrees

takes a cutting

-

edge approach to health and wellbeing, exploring

how to help individuals and communities to lead happier and healthier lives

The programme team work with local employers to ensure that the theory taught is relevant to current practice in the sector.

To support you on your journey there is an established peer mentor scheme, so that students already undertaking the programme can help you by sharing their knowledge and experience

Teaching is innovative and interactive, so you will learn through discussions, workshops, lectures, tutorials, case studies, online activities such as quizzes, and much more.

In year two of the programme you will take part in work-based learning, which you tailor to your own area/s of interest, providing you with real world experience.
What you will study
YEAR 1 (LEVEL 4)
This year involves establishing your understanding of key concepts in the field of health, mental health and wellbeing, as well as developing the skills for studying in Higher Education.
MODULES
Study Skills and Personal Development (Core): Develop key knowledge and skills for learning in Higher Education and working in health, mental health and wellbeing settings, as well as setting goals for personal, academic and professional development.
Health of the Nation: State of Play (Core): This module will introduce you to the 'state' of people's health in local and national contexts, identifying common physical and mental health problems and their and risk factors, as well as the sectors in which they are usually treated.
Health, Wellbeing and the Body (Core): Gain the knowledge and understanding of the functioning of the body, including key health behaviours that help to maintain normal physiology, and the signs and symptoms of common physical and mental health problems.
Health Inequalities and Social Justice (Core): Recognise inequalities in health, mental health and wellbeing and understand their personal role in contributing to the social justice agenda.
Key Concepts in Health, Mental Health and Wellbeing (Core): Gain a grounding in key theoretical concepts needed to study public health, mental health and wellbeing, encouraging them to question common assumptions and develop a more reality congruent understanding of concepts and issues.
YEAR 2 (LEVEL 5)
This year consolidates and further develops your learning, helping you to expand and apply your knowledge, and to develop a toolbox of personal and professional skills for employment. You also complete 100 hours of work based learning which allows you to explore an area of personal and professional interest
MODULES
Personal and Professional Development (Core): Through taught sessions and a Work-Based Learning, this module will enable you to continue developing your personal, academic and professional skills

and explore contemporary workplace issues such as emotional resilience, and person-centred approaches and evidence-based practice. 

Health Behaviour across the Life Course (Core): This module will provide knowledge and understanding of models and theories that explain human development and behaviour across the life course, and discuss their application to health, mental health and wellbeing-related behaviour.
Mental Health and the Body (Core): Explore the links between physical and mental health, including the relationship between lifestyle factors, preventable health problems and mental ill health.
Preparing for Real World Research in Health (Core): Gain the knowledge and understanding of the nature of research, its value and place in the field of health, mental and wellbeing, and the research process.
Strategies for Health Improvement and Promotion (Core): Gain knowledge and understanding of established strategies for promoting and improving health, mental health and wellbeing, such as social prescribing, health education and a 'settings approach', as well as their application within specific populations.
Policy and Practice in Public Health (Core): This module will provide you with knowledge and understanding of politics, the policy process and key public health policies
The information listed in this section is an overview of the academic content of the programme that will take the form of either core or option modules. Modules are designated as core or option in accordance with professional body requirements and internal academic framework review, so may be subject to change.
Entry requirements & applying
The general requirement for admission to the Diploma is 64 UCAS points at A level or equivalent – this includes relevant Access to Higher Education courses. Applicants should be able to demonstrate the emotional and psychological maturity to work with vulnerable people and the resilience needed to cope with the demands in this sector.
For students without the standard entry qualifications, it may be possible to take this course if you have additional life or work experience and can demonstrate an ability to engage with the academic challenges of the programme. Candidates without standard entry requirements may be invited to interview.
Applicants do not require a DBS for the programme, although a DBS may be required for work-based learning according to the requirements of the provider organisation.
Teaching & Assessment
You will be taught using a variety of active learning methods, including discussions, case studies, lectures, quizzes, and forums.
Assessments on this programme are varied, allowing you to develop and showcase a range of skills. They include portfolios, talks, essays, reflective writing, presentations, and an exam.
For each 20 credit module you will receive 36 active learning and teaching hours during year one (level four), and 30 hours at year two (level five), and will also be expected to complete independent study including key reading
The programme has strong links with the Learning Support services, to enable students to access a wide range of help to develop their skills for studying in higher education
Teaching and assessment
Wrexham University is committed to supporting our students to maximise their academic potential.
We offer workshops and support sessions in areas such as academic writing, effective note-making and preparing for assignments. Students can book appointments with academic skills tutors dedicated to helping deal with the practicalities of university work. Our student support section has more information on the help available.
In terms of particular needs, the University's Inclusion Services can provide appropriate guidance and support should any students require reasonable adjustments to be made because of a recognised prevailing disability, medical condition, or specific learning difference.
Career prospects
The health and wellbeing sector is an exciting and dynamic arena. This course is designed to equip you with knowledge and skills relevant to a diverse range of existing and new roles across sectors, which might include community health development, social prescribing, advocacy, third sector project work, health improvement, befriending and many more.
Developing your employability skills and confidence is a key part of this course. You will complete work-based learning in a setting of your choice, develop your CV and reflect on and enhance your skillset.
Our Careers & Employability service is there to help you make decisions and plan the next steps towards a bright future. From finding work or further study to working out your interests, skills and aspirations, they can provide you with the expert information, advice and guidance you need.
This course is designed to equip students with a range of knowledge and skills relevant to a diverse range of roles across sectors. These might include community health development, social prescribing, advocacy, third sector project work, befriending and many more. Students are supported to develop a CV and to consider how to respond and adapt to a dynamic employment landscape.
On successful completion of the course students are able to 'top up' to either the BSc Mental Health and Wellbeing or BSc Public Health and Wellbeing

Fees & funding
You do not have to pay your tuition fees upfront.
Wrexham University's tuition fees for 2024/25 for a full-time undergraduate degree course are £9000 per year.
The fees you pay and the support available will depend on a number of different factors. Full information can be found on our fees & finance pages. You will also find information about what your fees include in the FAQs.
Programme specification
Accommodation
If you're looking for a place to stay while you study then take a look at our accommodation pages to get more information on your options, including our on-campus halls of residence Wrexham Village.
International
If you are applying as an European / International Student, and live outside of the UK, you should make your application through our online application system, Centurus.
For information about the university's entry requirements for EU/international students, please visit our international section.