Course Highlights
Gain
additional industry-based qualifications
1st in the UK
for Teaching Satisfaction (The Guardian University Guide 2024)*
Endorsed
by The British Association of Sport and Exercise Sciences (BASES)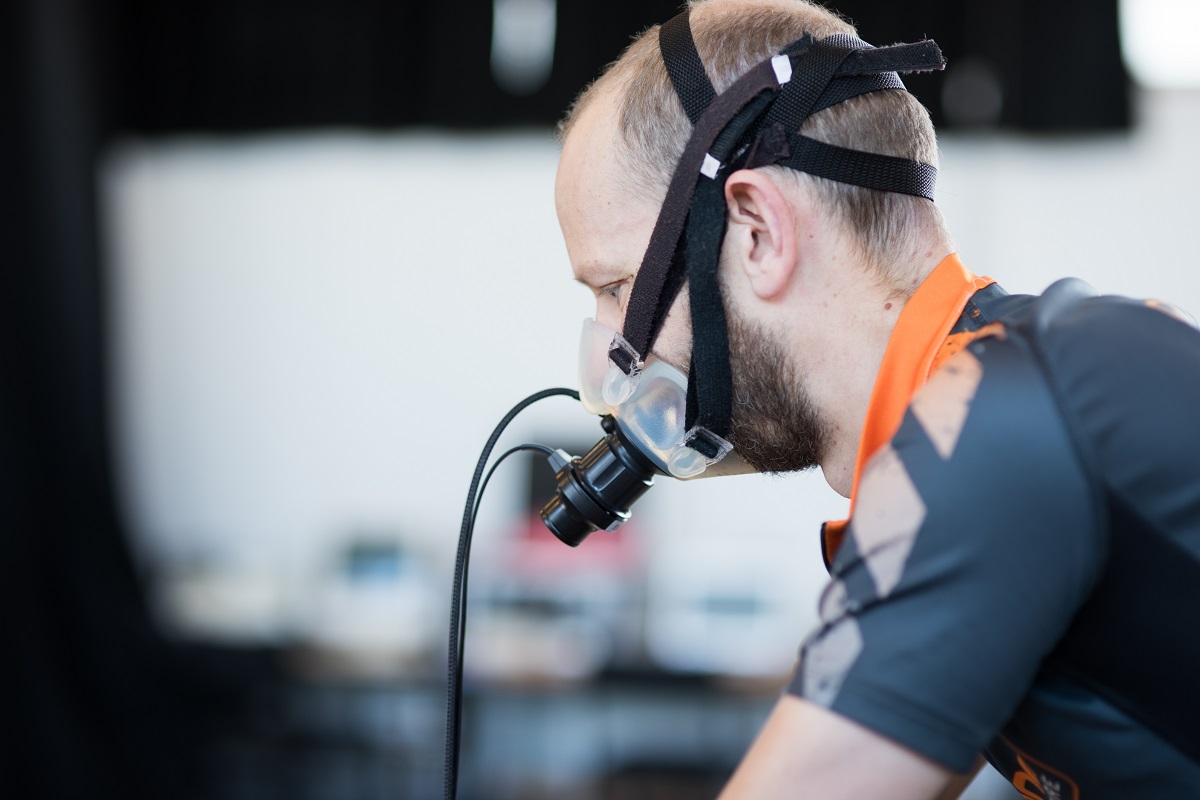 Applied Sport &
Exercise Sciences at Wrexham University
Thinking of a career in Sport & Exercise Sciences? Hear from lecturers and students about our Applied Sport & Exercise Sciences degree at Wrexham University.
Why choose? this course?
This programme was designed to meet the needs of students wishing to follow a career within a sport and exercise environment. It provides insight, understanding and the necessary skills that are required to develop a range of ability athletes and teams, thereby examining sport and exercise from both performance and participative perspectives.
There are opportunities to engage with community and social enterprise activities, allowing students to gain experience and develop vocational skills.

The programme has five strands running through it:
Sport Physiology
Sport Psychology
Performance Analysis / Biomechanics
Strength and Conditioning
Research Skills
The programme looks to provide a solid base for students wishing to follow careers in this exciting area, as well as facilitate pathways into postgraduate study.
You can also choose to study this course with a foundation year.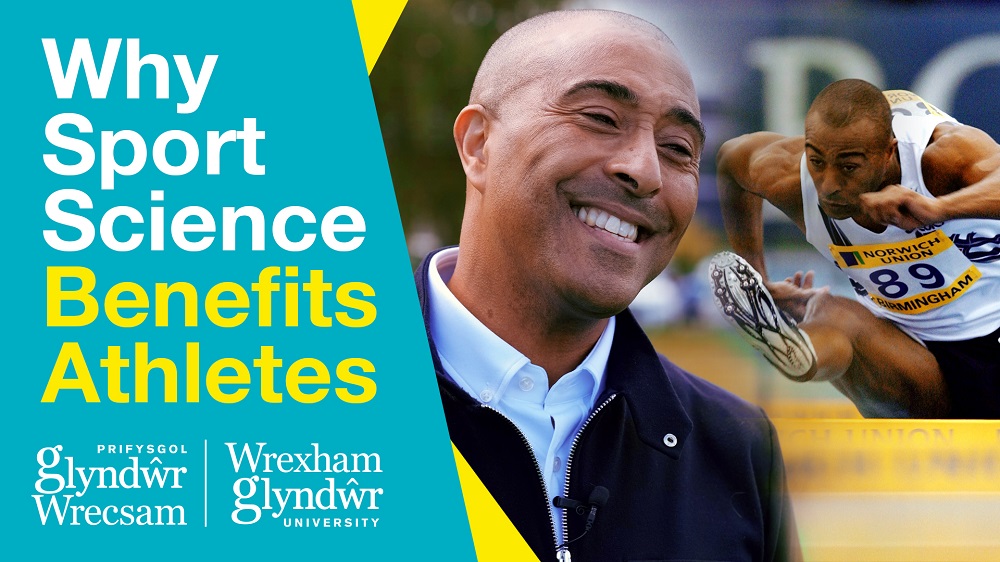 Colin Jackson
on Sport Science
Key course features
The programme has additional, free of charge, integrated qualifications embedded within it: Level 2 Gym Instructor, Level 3 Personal Trainer, Level 3 Exercise Referral, Hudl Sportscode Scripting Levels 1 & 2.
The programme is endorsed by the British Association of Sports and Exercise Sciences (BASES).
Study in a British Association of Sports and Exercise Sciences (BASES) accredited laboratory, allowing for appropriate physiological testing along with much, much more. Read the full story on this BASES accreditation.
The programme is taught by lecturers from a wide range of backgrounds who are experienced, applied practitioners (from sports psychologists to analysts, physiologists and coaches) and researchers within the fields of sport and exercise.
Applied learning is essential to our vision. This means that learning is not limited to lecture halls and seminar rooms instead we choose to expose students to more practical, applied and hands-on work. Students will carry out fieldwork and engage in 'real-world' work experiences.
Our range of external partners from sports clubs to Public Health Wales means that students will have lots of opportunities to gain practical experience alongside their studies, including work-related modules that provide students with valuable contacts and experience before they enter the world of work. This greatly enhances student employability.
We have an excellent support and personal tutor system to ensure students are supported throughout their studies.
Study at one of our many facilities including Colliers Park training ground and access to off-site state of the art gym Fervid Fitness** located in Flint, North Wales.
*This course is part of a subject area rated 1st in the UK for teaching satisfaction in the Sports Science subject league tables, The Guardian University Guide 2024.
** In partnership with Fervid Fitness
What you will study
A feature of the course is the practical application of theory to applied environments, to develop links with the sport and exercise industry at all levels from community to elite levels.
The content of the degree course draws on key sports science principles, through three specific disciplines: Sport Physiology, Sport Psychology and Biomechanics / Performance Analysis.
The programme is split over three years; Level 4, Level 5 and Level 6. Students require 120 credits per year to progress and finally graduate.
LEVEL 4 (YEAR 1)
In this year students are introduced to all the elements associated with sports science. Students gain an understanding of the link from theory to practice across a range of disciplines including psychology, physiology, performance analysis and Strength and Conditioning. You will have 36 hours of contact time per module.
MODULES
Human Behaviour in Sport (20 credits): This module aims to introduce the essential models and theories appropriate for understanding human behaviour in a sports setting.
Introduction to Anatomy and Physiology (20 credits): This module explores how the human body is structured and how it functions at rest and in relation to exercise. A significant amount of time is spent in the sports science laboratory which aims to enhance your practical skills.
Mechanisms to explain human movement (20 credits): This module is split into two areas, the 1st exploring Kinetic and Kinematic Biomechanics, whilst the 2nd explores how we can effect change in performance through the analysis of movement patterns and individual actions.
Academic Discovery within the Sports Sciences (20 credits): This module investigates qualitative and quantitative approaches to researching sports science disciplines.
Fitness and Conditioning for Sport (20 credits): This module aims to provide you with an overview of strength and conditioning training methods. You will also develop your knowledge and coaching skills during practical sessions.
Introduction to Nutrition (20 credits): This module will support you to develop knowledge of the importance of nutrition to human health and performance introducing key concepts.
LEVEL 5 (YEAR 2)
Students in this year are encouraged to personalise their learning to a sport or sports of their choice. Students establish a strong understanding of the link between theory and practice whilst developing vocationally relevant skills. You will have 30 hours of contact time per module. Opportunities exist to obtain externally recognised qualifications at this level, at no extra cost; Level 2 Gym Instructor, Hudl Sportscode Scripting Level 1.
MODULES
Applying Principles of Sport Psychology (20 credits): This module aims to build on the knowledge foundation developed in the first year, where appropriate interventions are considered to improve human performance.
Physiological Responses to Training and Testing (20 credits): This module looks at how we can test athletes to evaluate performance after different training modalities and develops skills in designing and running experiments related to supplement use.
Effective Movement in the Applied World (20 credits): This module looks at real-life scenarios and applies approaches adopted to both develop technical and tactical aspects of performance.
Academic Discovery - Building Strong Research Ideas (20 credits): This module aims to educate students on carrying out research from both a qualitative and quantitative perspective. Students will gain insight into different research methods and analyses whilst also starting to create an idea for their final year dissertation.
Fitness and Conditioning Methods in Practice. (20 credits): This is an applied module with embedded industry qualifications. Taking a holistic approach to fitness and conditioning, you will explore a range of training methods from the position of both participant and fitness/strength & conditioning coach.
Applied Practice Placement (20 credits): This module enables you to gain valuable work experience within a sport and exercise setting of your choice. Develop personal and professional skills relevant for future employment.
LEVEL 6 (YEAR 3)
In the final year, students explore an interest in one or more performance disciplines. This specialism enables students to develop both personal and professional skills essential for employment in a sports-related industry. You will have 24 hours of contact time per module. Opportunities exist to obtain externally recognised qualifications at this level, at no extra cost; Level 3 Exercise Referral, Level 3 Personal Trainer & Hudl Sportscode Scripting Level 2.
MODULES
Applied Sport and Performance Psychology (20 credits): This module aims to develop specific knowledge on the role of a Sport and Performance Psychologist within the Sport Setting.
Exercise Prescription and Referral for Clinical Populations (20 credits): This module sees students undertake their exercise referral qualification. Students will also learn about a variety of clinical populations and how exercise can be used for the treatment of certain non-communicable diseases.
Analysing Performance for Improvement (20 credits): This module looks to apply what students have learned through previous years and apply it to a real-world scenario of their choosing. Ultimately, seeing how effective the system they have developed copes in dynamic environments.
Independent Discovery (40 credits): This module allows students to conduct a research study of their own. After selecting an environment of their choosing students will collect, analyse, and interpret data from within it, turning all this hard work into a structured written format for submission.
Applied Professional Practice in Fitness and Conditioning (20 credits - Option): Building on the knowledge and skills developed at L4 & 5 this module enables you to reflect on your personal and professional practice within applied S&C environments.
Physiology in Extreme Environments (20 credits - Option): This module looks at how the body reacts to exercise performed in extreme environments such as at high altitudes and in hot weather.
The information listed in this section is an overview of the academic content of the programme that will take the form of either core or option modules. Modules are designated as core or option in accordance with professional body requirements and internal academic framework review, so may be subject to change.
Entry requirements & applying
For entry onto our degree programme, we require the following:
At least 80-112 UCAS points at A2 level or equivalent.
A science, maths and sports background are an advantage, but not essential.
If students have been out of education for >5 years or do not have a science, maths or sports background they must submit a personal statement to the programme team even if they have the required UCAS points.
The UCAS points may be counted from a wide variety of qualifications such as:
Welsh Baccalaureate
Progression and Advanced Diploma
BTEC/EDEXCEL both National Diplomas and Certificates
Scottish qualifications at Advanced Higher level
Irish leaving Certificate Higher examinations
International and European Baccalaureates
Applicants may enter the programme at various levels with Recognition of Prior Learning (RPL) or Recognition of Prior Experiential Learning (RPEL) in accordance with the University General Regulations.
Formal DBS is not required for the programme, unless the student is required to have DBS clearance for the placement module during their second year of study. Students will be responsible for their own satisfactory DBS clearance.
You can get more guidance and advice regarding entry requirements and applications here.
Teaching & Assessment
A wide range of assessment methods will be used to test your knowledge and understanding. This includes essays, portfolios, practical sessions, reports, presentations, online discussions, case study evaluations and exams. You will be assessed on your ability to describe, explain and analyse sport science concepts, use specialist video software, undertake lab-based work and conduct independent research.
You will be expected to complete a dissertation as part of your final assessment.
Teaching and Learning
Wrexham University is committed to supporting our students to maximise their academic potential.
We offer workshops and support sessions in areas such as academic writing, effective note-making and preparing for assignments. Students can book appointments with academic skills tutors dedicated to helping deal with the practicalities of university work. Our student support section has more information on the help available.
In terms of particular needs, the University's Inclusion Services can provide appropriate guidance and support should any students require reasonable adjustments to be made because of a recognised prevailing disability, medical condition, or specific learning difference.
Career prospects
Our Careers & Employability service is there to help you make decisions and plan the next steps towards a bright future. From finding work or further study to working out your interests, skills and aspirations, they can provide you with the expert information, advice and guidance you need.
Common graduate employment pathways include sport, leisure, tourism, management, education, research and health, including:
Sport and Exercise Physiologist; sport governing body, local authority, education sector, freelance.
Sport Psychologist; sport governing body, local authority, education sector, freelance.
Performance Analyst; sport governing body, education sector, freelance.
Sports Biomechanist; sport governing body, local authority, education sector, freelance.
Strength and Conditioner; sport governing body, local authority, armed forces, education sector, freelance.
Fees & funding
You do not have to pay your tuition fees upfront.
Wrexham University's tuition fees for 2024/25 for a full-time undergraduate degree course are £9000 per year.
The fees you pay and the support available will depend on a number of different factors. Full information can be found on our fees & finance pages. You will also find information about what your fees include in the FAQs.
Programme specification
You can see the full programme specification here.
Accommodation
If you're looking for a place to stay while you study then take a look at our accommodation pages to get more information on your options, including our on-campus halls of residence Wrexham Village.
International
If you are applying as an European / International Student, and live outside of the UK, you should make your application through our online application system, Centurus.
For information about the university's entry requirements for EU/international students, please visit our international section.