MEng Automotive Engineering (MEng)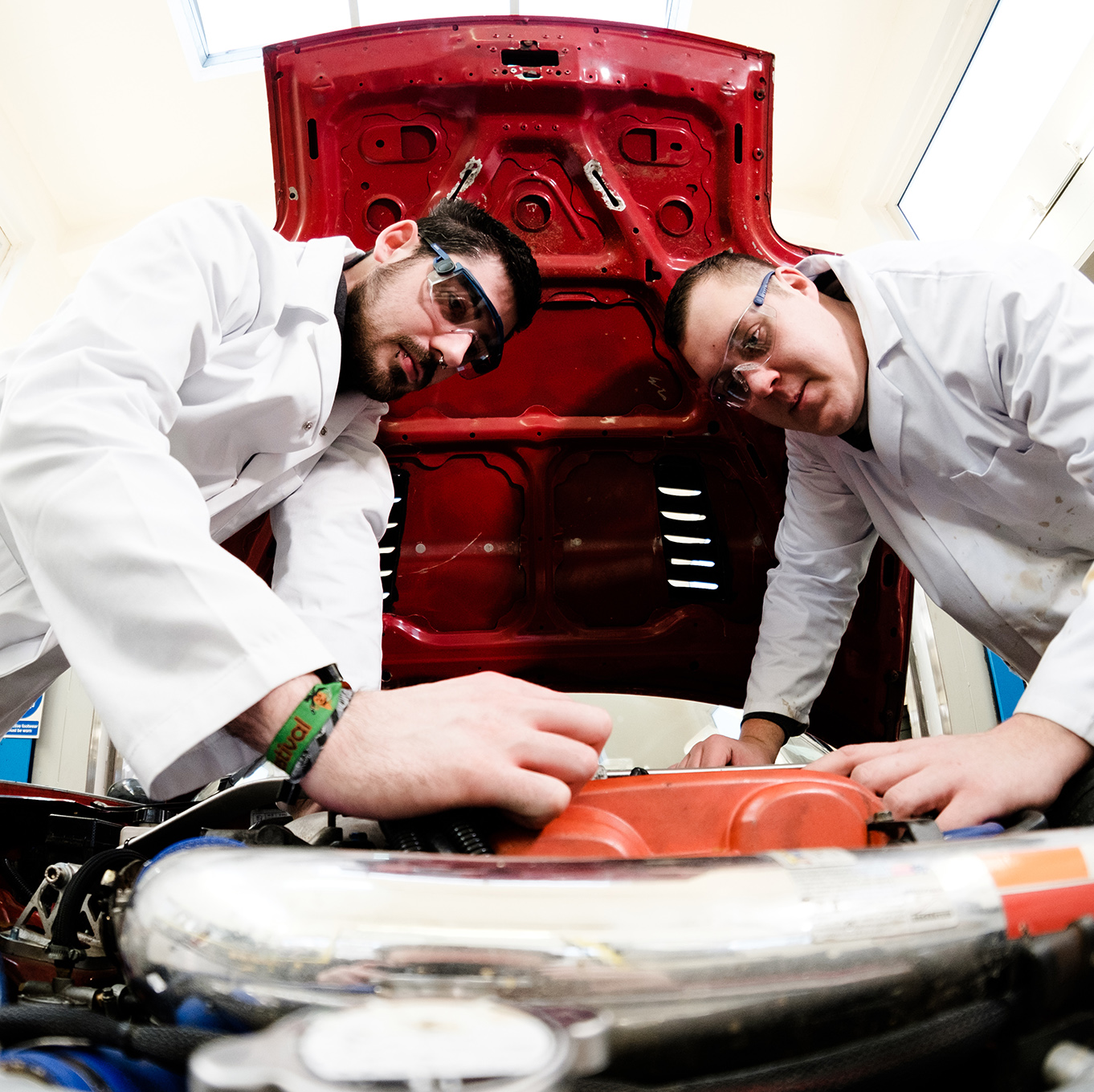 Course details
Duration
4 YRS (FT) 8 YRS (PT)
Course Highlights
Specialist Equipment
access to 3D laser scanner and Advanced Composite Training and Development Centre
Practical Experience
Real projects using a specialist motorsport workshop.
Industry Relevant
teaching.
Why choose? this course?
The MEng Automotive Engineering course equips graduates with a combination of technical knowledge, practical skills, and professional attributes necessary for a range of careers in the automotive industry. The program prepares them to contribute effectively to the design, development, manufacturing, and maintenance of vehicles.

This course provides:
Strong Technical Foundation: The MEng Automotive Engineering course provides a comprehensive understanding of automotive engineering principles, including vehicle dynamics, traditional and modern powertrain systems and chassis design.
Graduates possess a strong technical foundation, enabling them to tackle complex engineering challenges in the automotive industry.
Practical Skills: The course underlines hands-on experience and practical skills development. Graduates are equipped with practical knowledge in areas such as vehicle operations, prototyping, CAD (Computer-Aided Design), and using industry-standard software and tools. These skills are highly valued by employers in the automotive sector.
Projects: Students often work on real projects allowing them to gain practical experience and solve real-world automotive engineering problems. The challenging projects enhances their employability and demonstrates their ability to work on relevant, industry-specific challenges.
Collaboration and Teamwork: Throughout the course, students are encouraged to work collaboratively in teams, mirroring the collaborative nature of the automotive industry. This fosters their ability to effectively communicate, collaborate, and contribute as part of a multidisciplinary team, a crucial skill in the professional world.
Professional Development: The MEng Automotive Engineering program focuses on developing professional skills, including project management, problem-solving, critical thinking, and effective communication. Graduates are prepared to adapt to dynamic work environments, think analytically, and make informed decisions.
Emerging Technologies: The course covers emerging trends and technologies in the automotive industry, such as electric and autonomous vehicles, connected car technologies, and sustainable mobility solutions. Graduates are well-versed in these areas, positioning them as desirable candidates for employers adapting to these technological advancements.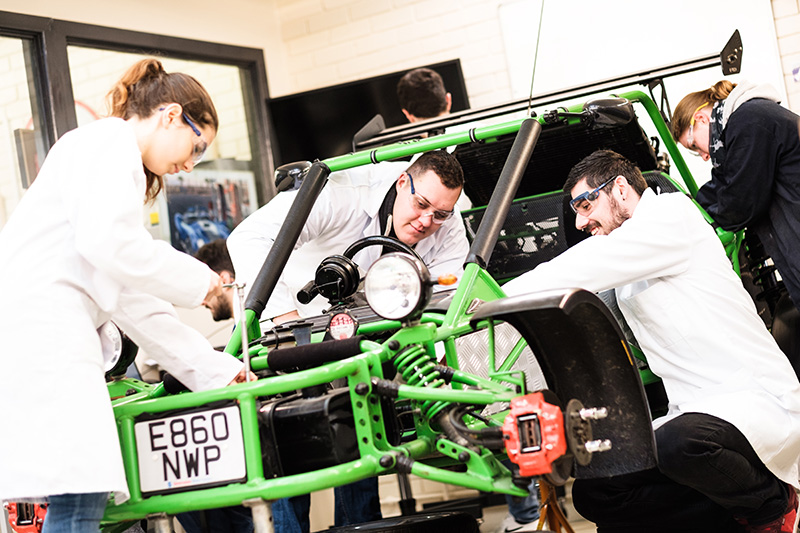 Engineering at
Wrexham University
Thinking of a career in Engineering? Hear from lecturers and students about our Engineering degrees at Wrexham University.
Key course features
You will access a specialist motorsport workshop as well as an industry standard production workshop to gain experience in using machinery.
You will be given access to various projects (projects are changing at all times – subjected to changes - currently single seater bike powered race car, Kit car, EV cars…)
You will have a personal supervisor to oversee your academic progress and your personal welfare.
What you will study
Year 1 (level 4)
The vast majority of the key knowledge is reviewed and expanded at this stage. All lectures are followed by tutorials and practical/demonstrations to ensure that you have fully assimilated the information.
Modules
Introduction to Electrical & Mechanical Science
CAD and Production Science
Engineering Professional Development
Materials and Environment
Automotive Systems
Engineering Mathematics
Year 2 (level 5)
At this level, the teaching team starts to encourage the students to work and learn by themselves. We are not only preparing you to be a knowledgeable practitioner, but we are also preparing you to become a reliable and independent problem solver.
Modules
Research, Ethics, and Sustainability
Mechanics, Structures & FEA
Computer Aided Manufacturing
Automotive Design Automotive
Powertrains & Fluids
Further Engineering Mathematics
Year 3 (level 6)
The first semester is generally focussing on developing specific automotive knowledge and get you ready for your industrial placement. This will allow you to specialise further into a field of your choice.
Modules
Engineering Modelling and Simulation
Automotive Dynamics
Modern Automotive Powertrains
Industrial Placement (all semester 2)
Year 4 (Level 7)
This is the final year of the Master training. This will allow you to enhance further your skills and gain the required knowledge in automotive engineering. At the end of this, you will be a graduate engineer ready for the industry!
Modules
Group Design Project
Mechanical Modelling and Simulation
Modern & Innovative Powertrains
Advanced Automotive Chassis Design
Option (one to pick)
Design with Composites
Renewable Technology and Storage
Intelligent System Design & Control
Option (one to pick)
Design with Composites
Renewable Technology and Storage
Intelligent System Design & Control
Entry requirements & applying
Integrated Masters (4 years)
120 Tariff
For direct entry to the Level 6 of the programme, applicants must have achieved a qualification at Level 5 or better in a relevant discipline. Entry to the programme may be gained by students who can present one of the pieces of evidence listed below:
a) Have passed a Dip HE in a relevant discipline.
b) Have passed a French DUT.
c) Have achieved a minimum of 120 ECTS credits in a relevant discipline.
d) Have passed a Foundation Degree or HND in a cognate discipline.
e) Have passed a qualification from an EU or other overseas country equivalent, as defined as equivalent NARIC, to a DipHE or better in a relevant discipline.
Applicants may enter the programme at various levels with Recognition of Prior Learning (RPL) or Recognition of Prior Experiential learning (RPEL) in accordance with the University General Regulations.
Teaching & Assessment
Wrexham University is committed to supporting our students to maximise their academic potential.
We offer workshops and support sessions in areas such as academic writing, effective note-making and preparing for assignments. Students can book appointments with academic skills tutors dedicated to helping deal with the practicalities of university work. Our student support section has more information on the help available.
In terms of particular needs, the University's Inclusion Services can provide appropriate guidance and support should any students require reasonable adjustments to be made because of a recognised prevailing disability, medical condition, or specific learning difference.
Career prospects
Our Careers & Employability service is there to help you make decisions and plan the next steps towards a bright future. From finding work or further study to working out your interests, skills and aspirations, they can provide you with the expert information, advice and guidance you need.
The course will develop your intellectual and practical skills to meet the future needs of a rapidly changing technology and business environment.
As well as continuing your professional development, the course prepares you for a career as a professional Engineer in industry, in roles such as:
Automotive Engineer
Vehicle Design Engineer
Research and Development Engineer
Manufacturing Engineer
Quality Engineer
Project Manager in Automotive Industry as well as any demanding sector
Automotive Systems Analyst
Test Engineer
Motorsport Engineer
Sales Engineer in Automotive Sector
Consulting Engineer in Automotive Industry
Sustainability Engineer in Automotive Sector
Fees & funding
You do not have to pay your tuition fees upfront.
Wrexham University's tuition fees for 2023/24 for MEng Mechanical Engineering are £9000.
The fees you pay and the support available will depend on a number of different factors. Full information can be found on our Fees and Funding section.
Programme specification
You can see the full programme specification here.
Accommodation
If you're looking for a place to stay while you study then take a look at our accommodation pages to get more information on your options, including our on-campus halls of residence Wrexham Village.
International
If you are applying as an European / International Student, and live outside of the UK, you should make your application through our online application system, Centurus.
For information about the university's entry requirements for EU/international students, please visit our international section.