Allied Health and Nursing students trial immersive virtual reality technology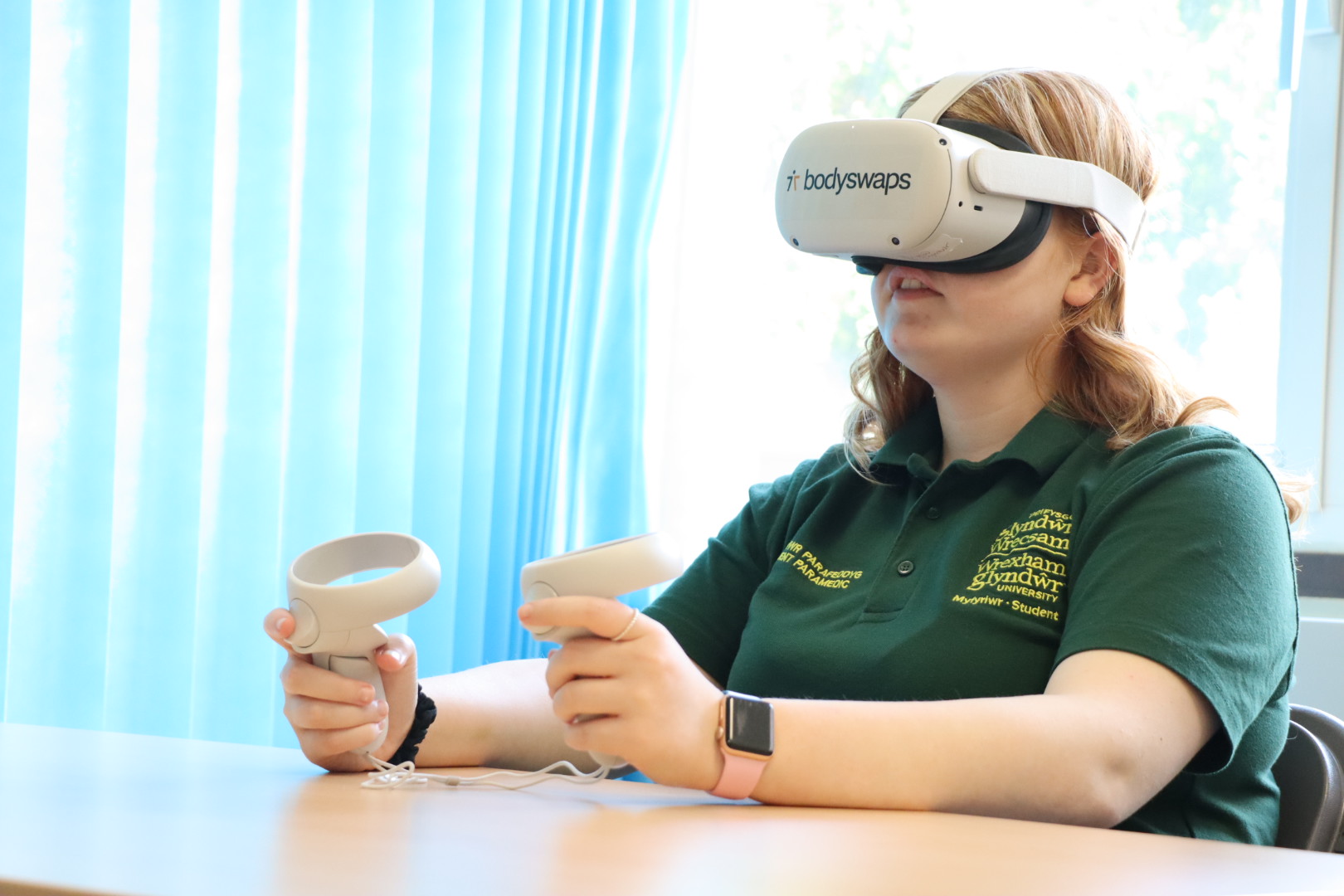 Date: Thursday 18th May, 2023
Allied Health and Nursing students at Wrexham Glyndwr University (WGU) are piloting virtual reality technology, which simulates real-life scenarios relating to their chosen profession, in a bid to equip them with vital skills for employment.
The institution is one of only 106 organisations globally who have been successfully awarded a Bodyswaps and Meta Immersive learning grant to be part of a worldwide pilot study to trial Bodyswaps virtual reality headsets.
Bodyswaps is an organisation, which provides education covering what is known as 'soft skills' using virtual reality and artificial intelligence.
Paramedic students at WGU, who trialled the headsets during a recent immersive session, said they found the software "extremely valuable" in developing their patient-facing skills.
During the session, students treated a virtual patient, that needed mental health support.
Mollie Owen, a first year Paramedic student, said: "I really enjoyed using the Bodyswaps headset and software – it was a great way of seeing how we would manage a situation like that with a patient, without being thrown in at the deep end right away.
"It was also good to be able to determine what we could do better next time, as you're able to watch the virtual reality footage back, as well as perceive yourself from the patient's perspective. For me, it was an extremely valuable experience."
Jayne Beech, Practice Education Facilitator at WGU who led the session with the Paramedic students, said: "It was fantastic to watch students really embrace the technology – and although the subject matter was hard-hitting, the headsets gave students the space to really learn and develop their interpersonal skills, particularly around communication and active listening."
Sara Oxbury-Ellis, Senior Lecturer in Clinical Skills, Simulation and Digitalisation at WGU, added: "There are a number of real benefits to our students having the opportunity to use this kit – one of which being, it will enhance their experience of developing those core, transferable skills that can be difficult to simulate just through roleplay alone.
"This resource provides a unique perspective of seeing human interactions through another person's perspective.
"One of our overarching aims at WGU is to ensure that we are at the forefront of technology-led learning experiences, so us being part of this trial really demonstrates that and how we are fully embracing innovation and technology. For us, it's about training up our students to be experts in their chosen profession."