OBE award for Wrexham Glyndwr's OpTIC Director - Professor Caroline Gray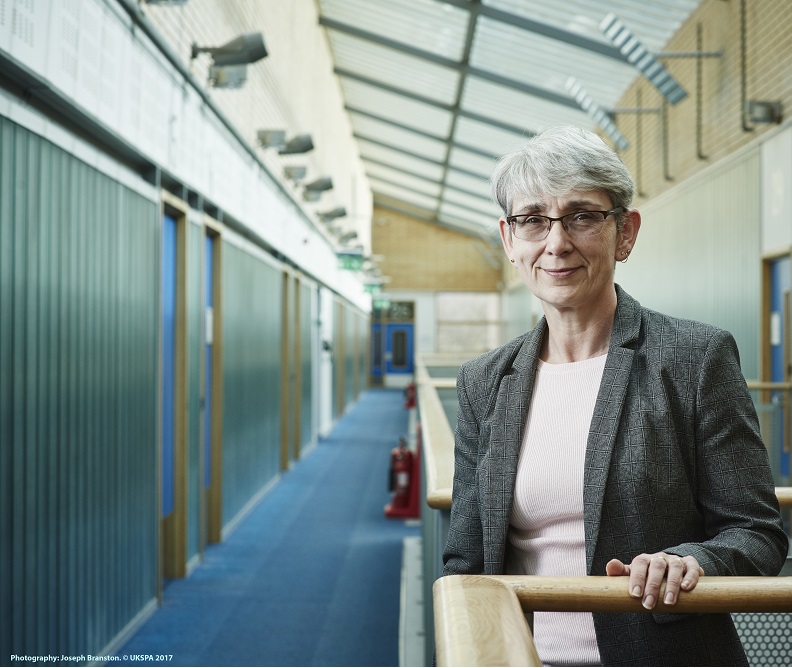 Date: June 2 2022
The Director of Wrexham Glyndwr University's OpTIC Technology Centre in St Asaph has been awarded an OBE in the Queen's Birthday Honours.
Caroline Gray, Professor of Enterprise and Engagement at the university and the lead for the Photonics Expertise project at OpTIC, will receive the prestigious honour for her contribution to the Optics industry and businesses in Wales.
The recognition for Caroline has been made all the more special, coinciding with the year of the Queen's Platinum Jubilee.
Speaking about the honour, Caroline said the news came as a complete shock.
"I was absolutely dumbfounded when I found out", she said.
"About five weeks ago I received the letter notifying me. My husband and I had just been away for a few days, and when we returned it was amongst the post. My son passed it to me and just said 'this one looks important'.
"It's an absolute honour and it is totally humbling, that someone would like to see me recognised in this way as I feel I am just doing what I'm employed to do."
A graduate in Physics, Caroline, has worked within the optical industry for more than 35 years. Her specialism is optical component fabrication and optical testing with specific expertise in Single Point Diamond Machining and CNC controlled optical processing/polishing of complex freeform surfaces.
Caroline previously worked for Pilkington Visioncare, Pilkington Space Technology (technical), Optics and Vision (optical design consultancy) and Phoenix Optical Technologies as MD and Technical Director.
She is currently the Site Director of Glyndwr University's OpTIC Technology Centre and is Project Director of the £7.2m Centre for Photonics Expertise Program (CPE).
The CPE program ERDF (WEFO) funded between four Welsh University partners, developed to deliver collaborative industrial Photonics based solutions together with Welsh businesses. This is the largest funded project Wrexham Glyndwr has led to date and has so far delivered 75+ projects to support and provide technical solutions specific to individual business needs.
Research undertaken by the team at OpTIC played a part in the university achieving an impressive REF 2021 score for engineering.
Caroline said: "The team have worked extremely hard. They've taken what was learned in the ESO programme to develop a repeatable polishing process for large telescope mirrors, and looked at the commercial and industrial impact.
"We are now using those skills that were developed to produce systems for a number of large, highly respected companies including BAE Systems, Qinetiq and Trioptics."
Outside of work, Caroline owns and runs a fitness studio where she is a registered Personal Trainer, and enjoys teaching fitness and Pilates classes.
Caroline is also an accomplished indoor rower, holding three European and one world championship medals in her age group category as well as achieving five world records in group distance rowing.
She said: "I started rowing to train for triathlons in the winter but really enjoyed the challenge of it. I'm a numbers person and there is a lot of data involved with challenging yourself on the rower and the stats behind that.
"I started competing in the Welsh Championships in about 2016, did well and just before the first lockdown went to the European Championships in Prague where I gained a gold medal in all three race distances in the team event, in my age category, which was a very exciting day."
Caroline will receive the Investiture at a ceremony to be held at a future date.
For more information on the OpTIC Technology Centre, read about our St Asaph Campus or visit Glyndwr Innovations.