Football Coaching graduate achieves "dream" Football Association of Wales job goal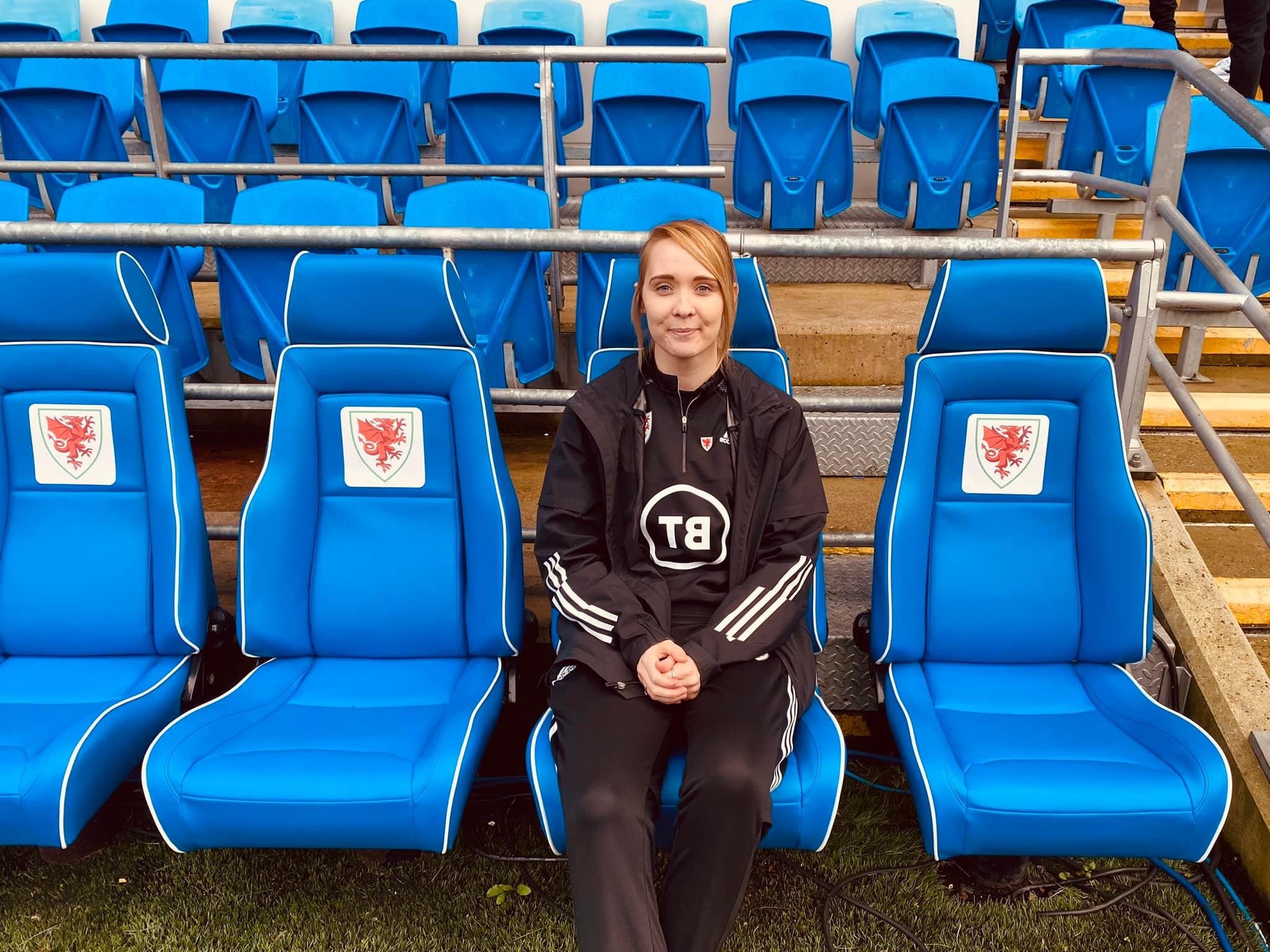 Date: Monday 4th September, 2023
A talented Football Coaching graduate has scored a "dream job" working for the Football Association of Wales (FAW), after a successful internship.
Laura Davies, who has recently completed her Football Coaching and Performance Specialist degree at Prifysgol Wrecsam/Wrexham University, has started working in the role of Girls Participation Coordinator at the FAW, following on from a year-long internship with the Welsh football governing body, which she undertook alongside her studies.
Laura has spoken of her delight at securing the national role, which she describes as a "dream job" for her.
As part of her job, Laura works alongside local authorities to ensure the delivery of the UEFA Disney Playmakers programme across Wales, which is aimed at primary school children aged between five and eight years old. The programme incorporates storytelling and imaginative play together with the magic of Disney to create an enjoyable football experience for girls.  
Laura also assists with the delivery of other initiatives including the BE Football, Huddle Unite and Environments for Her projects. She also supports on the national recruitment and coordination of the Huddle Powered by Weetabix programme. Huddle is a community-based programme aimed at girls between four and 11 years old, the sessions offer a relaxed, fun and friendly environment for a positive first experience of football.  
Huddle is delivered by clubs and partners across Wales who wish to grow the number of girls playing football in their local community.
Speaking about the role, Laura said: "I feel absolutely over-the-moon to have secured a fulltime role with the FAW. It's a dream job for me because not only do I get to work professionally in the sport that I love, I also get to share that passion by encouraging and increasing female participation within Wales.
"At times during my final-year at university, juggling my studies and the internship was hard – it was a really tough balancing act but I can definitely say hard work pays off. It's meant that I've landed this amazing opportunity, where I get to travel across the country and encourage girls to get involved and play football.
"In the past couple of years, there's been a real surge of interest in girl's and women's football, which definitely makes this job even more enjoyable. It's brilliant that young girls feel inspired and empowered by what they're seeing and hearing about, thanks to the Women's Euros and the World Cup."
Laura said her time studying at Wrexham equipped her to "thrive" in the professional world of football.
She said: "My degree at Wrexham University set me up to thrive in the field professionally, largely due to the excellent teaching and facilities. My lecturers were incredible throughout my studies – they're also well known and respected in the industry, which makes a difference and has helped me to form strong working relationships and contacts across Wales. I can't thank my lecturers enough for everything they did for us on the course."
Chris Hughes, Programme Lead in Football and Coaching Science, said: "A huge congratulations to Laura for successfully securing a fulltime position with the FAW. Laura is an absolute credit to the university – throughout her time with us, she completely embraced every opportunity that came her way, so her appointment and success in the role is complete testament to her fantastic work ethic and commitment.
"At Wrexham University, we pride ourselves on equipping our students with the knowledge and skills they need to succeed in their chosen field. We're all incredibly proud of Laura and know that we will continue to hear about her achievements in the months and years ahead."