Policing students' voluntary commitment recognised at celebratory event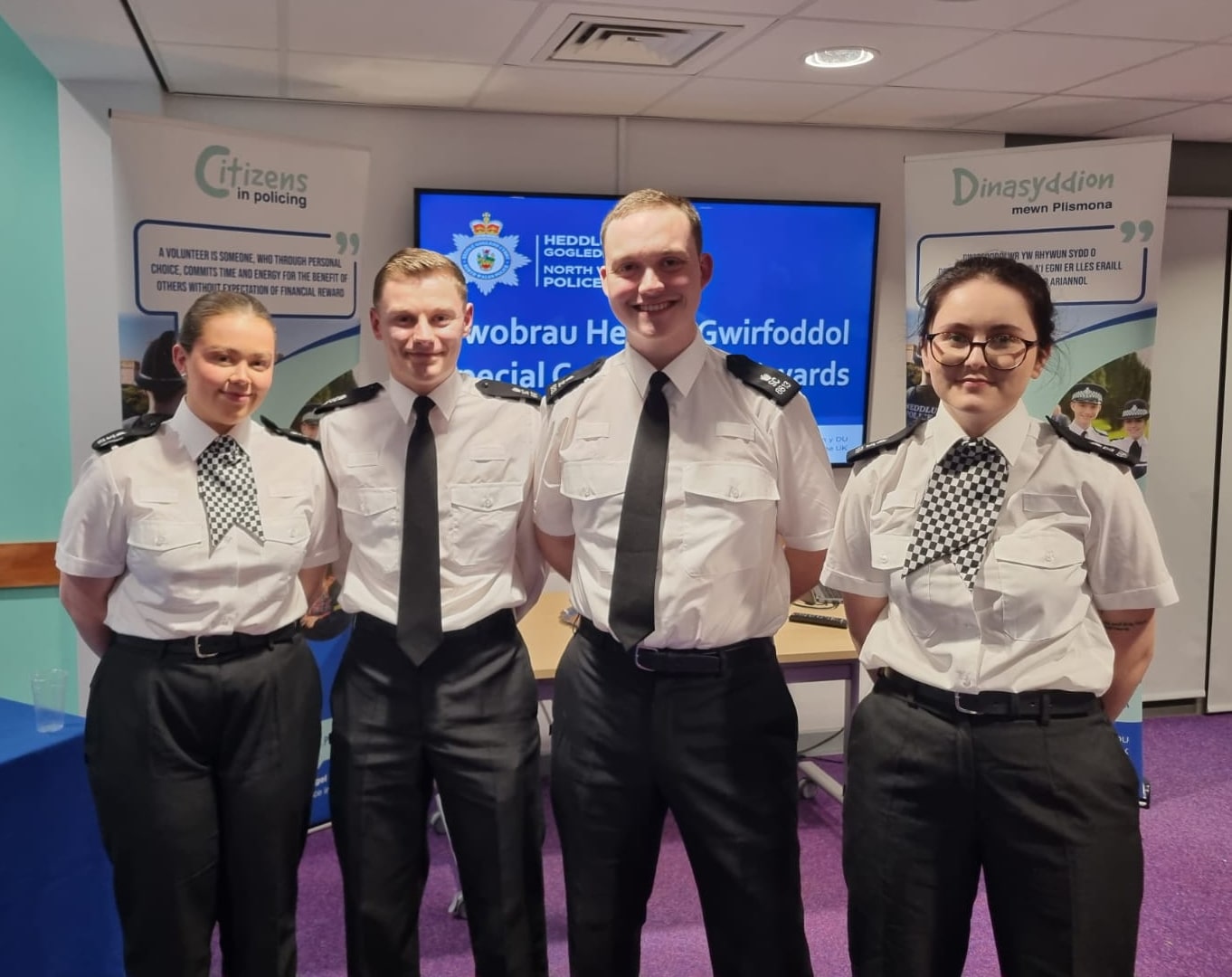 Date: Thursday 20th April, 2023
The commitment and hard work of Policing students at Wrexham Glyndwr University (WGU), who volunteer as Special Constables outside of their studies, was recognised at an awards ceremony.
The event, which celebrated the dedication of Special Constables across North Wales, saw a number of WGU students on the Professional Policing degree course recognised, including third-year student Katy Bell, and second-year students Joshua Taylor and James Hone who volunteered more than 200 hours each during 2022.
While, Georgia Lamb, a first-year student on the programme, was confirmed in her role as a Special Constable with the force, having successfully completed her training.
Special Constables are volunteer Police Officers, who play a crucial role in keeping communities safe. They work mainly within the Neighbourhood Policing teams providing high visibility patrols, working on proactive operations to deal with community problems, and support a wide range of local events and support the regular force at major events.
Katy – who last year completed a total of 350 voluntary hours as a Special – said she enjoys balancing her studies with her volunteering role.
She said: "Studying and my role in the Specials can be a juggling act at times but I wouldn't have it any other way because a – I get to make a difference and help others and b – no two days are ever the same in this job, it really does keep you on your toes and you're always learning something new – whether that's about yourself or the role in general.
"I'm extremely proud of what I do and it felt brilliant to have that recognised at the awards event.
"I'd like to take this opportunity to thank our university lecturers for their amazing support and also encouraging us to volunteer as Specials, there's no better way of getting an insight into Policing and they're really good at keeping us in check when things get challenging."
Andy Crawford, Senior Lecturer in Policing at WGU, added: "On behalf of all of the Policing team at WGU, I'd like to congratulate Katy, Josh and James for their hard work and dedication by giving up their time outside of their studies to volunteer as Special Constables.
"A huge well done too to Georgia, who has successfully completed her training and is now a Special with North Wales Police.
"Volunteering as a Special is a huge commitment but it's something we strongly encourage our students to do as it means they get to see the realities of the job."