Students' Union 'Help Yourshelf' scheme gives out more than 1,200 items since launch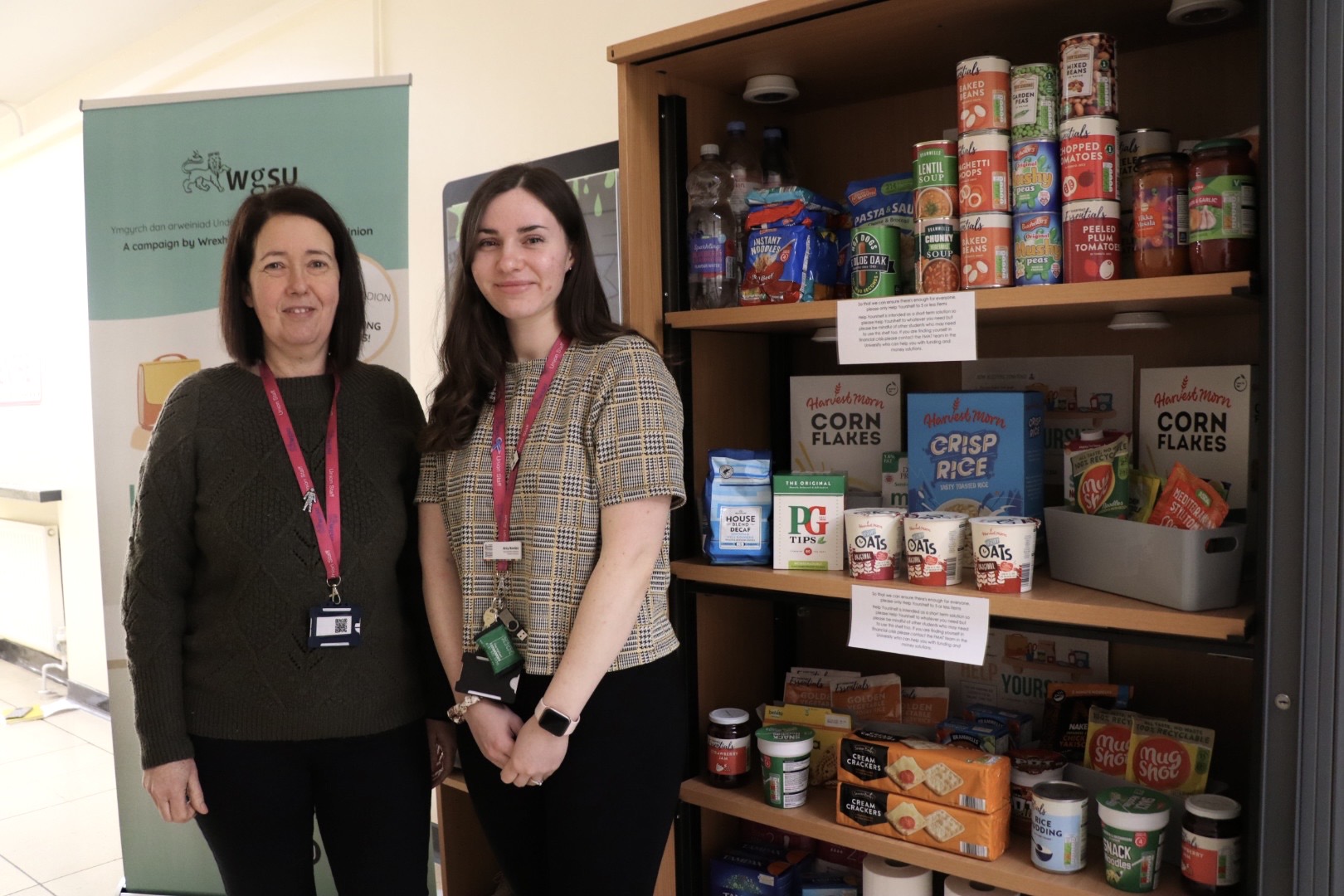 Date: Monday 17th April, 2023
Wrexham Glyndwr Students' Union (WGSU) has given out more than 1,200 food and personal hygiene items since its 'Help Yourshelf' campaign launched towards the end of last year.
Set up by WGSU back in October 2022, the team say they wanted to do something to help students deal with the cost of living crisis.
Housed in the main corridor of the SU building based on the Wrexham Glyndwr University's (WGU) Plas Coch campus as well as the OpTIC Centre campus in St Asaph, the shelves are stocked with non-perishable food items, toiletries, sanitary products and stationery.
WGU students who find themselves in need are able to request access to the shelf from the WGSU team, and then come along and help themselves.
Katie Taffinder, Student Voice Co-ordinator for WGSU who was the initial driving force behind the initiative, said: "The rising cost of living is having a really detrimental impact on a lot of people – and we are well aware that there are a number of students who are feeling anxious about their own personal circumstances.
"We set up 'Help Yourshelf' in order to hopefully take the load off a little – and provide some peace of mind to anyone that is having a challenging time financially. Since we set up, we have given out more than 1,200 items.
"I think it's really important to stress that this initiative wouldn't be possible without the kindness of so many from staff and students donating items and money when they can, to the wonderfully supportive organisations who have lent their support to us, including Neighbourly, Food Share and Wrexham AFC Community Trust. This is true testament to the amazing community we have here in North Wales.
"I'd like to urge anyone at WGU that is in need to come and speak to us at the SU and request some support. We are here to help and understand it can be tricky to ask but it's a tough time for so many right now and we are all in this together. Nobody should be worried about where their next meal is coming from."
Professor Maria Hinfelaar, Vice-Chancellor of Wrexham Glyndwr University, added: "The Wrexham Glyndwr Students' Union team have done our university community proud by setting up the 'Help Yourshelf' initiative.
"Speaking on behalf of all at WGU, we have been overwhelmed by their generosity and community-centred approach, particularly at a time of challenge for many. We'd also like to thank the various organisations that are lending their support to this scheme. I know that this initiative is offering reassurance to those who need it."
For more information about 'Help Yourshelf' or to make a donation, contact the WGSU reception: union@glyndwr.ac.uk