WGU Student Nurses offered golden job opportunities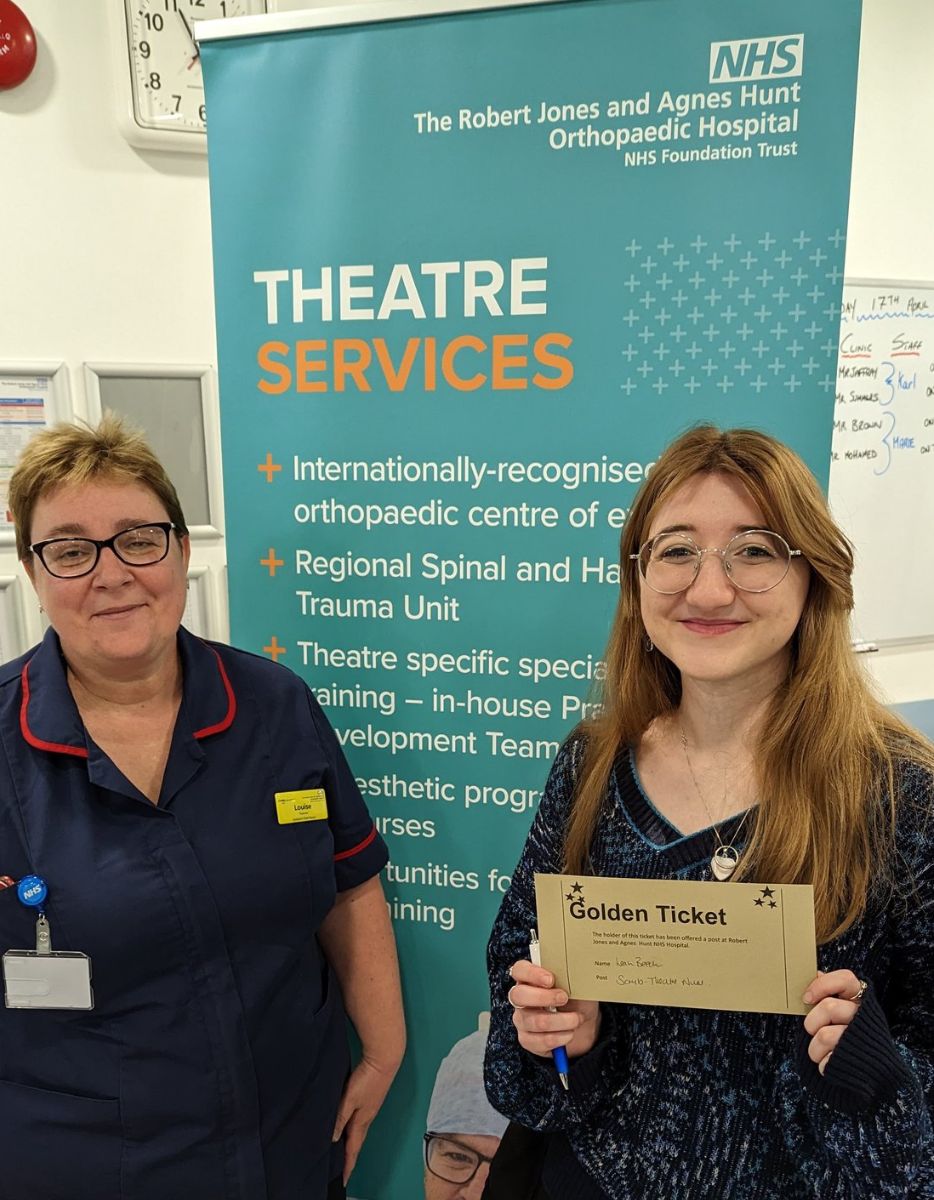 Date: Tuesday 16th May, 2023
Five Student Nurses from Wrexham Glyndwr University (WGU) have been offered jobs working in the NHS on completion of their studies, after attending a hospital recruitment event.
The final-year students all received Golden Tickets, while at the recruitment day held at The Robert Jones and Agnes Hunt Orthopaedic Hospital (RJAH) in Oswestry.
The students – Leah Beech, Christopher Owen, Kirsty Morris, Wendy Williams and Codie Griffiths – had all completed a placement at the hospital.
Golden Tickets can be awarded at the discretion of the Trust to students who have been on placement at the hospital.
Being presented with a Golden Ticket means students are offered a job without the need for a formal interview, instead recognising that during placement, the students have demonstrated the required skillset and that they also reflect the Trust's values.
Leah Beech, a final year Nursing student at WGU who was offered a role as a Theatre Scrub Nurse at the hospital, said she feels "extremely excited" to qualify and start working at the Trust.
She said: "My time at WGU has been absolutely wonderful, the support our cohort has received from tutors has been incredible and now to be offered a job ready for when I qualify has been the icing on the cake for me. It rounds off a brilliant three years.
"During my training, I've had a number of placements at RJAH and I'm due to start my longest and final placement there in the coming weeks on their Spinal Injuries Unit, I'm very much looking forward to that – and I'm even more excited to start my role in Theatres once my degree finishes.
"RJAH is a fantastic hospital with so many talented and supportive colleagues who I'm looking forward to learning even more from."
Chris O'Grady, Principal Lecturer and Professional Lead in Nursing at the WGU Wrexham campus, said: "Wrexham Glyndwr University's Nursing team are delighted that five students who are soon to qualify have received Golden Tickets for Staff Nurse posts at RJAH. A huge congratulations to them all.
"The Golden Tickets are a wonderful initiative – not only do they help Trusts to recruit talented Nursing staff but it also alleviates any anxieties students may have about applying for roles and going through the formal recruitment processes. It means that during their final months of study, they are able to fully focus on successfully completing their training, without that added pressure.
"We are immensely proud of the students' achievements, and we would like to thank RJAH for their continued partnership working with the university."
Stacey Keegan, Chief Executive at The Robert Jones and Agnes Hunt Orthopaedic Hospital, said: "I'd like to offer my congratulations to all the students who were presented with Golden Tickets at our recent recruitment event.

"All of them have shone during their placements across our hospital, and I am delighted that we will now be welcoming them back to be permanent members of team RJAH.

"I'm grateful, too, to Wrexham Glyndwr University for their support. We have a long-standing working relationship with them, and it is so important that we continue to encourage and develop the next generation of Nurses."