WGU students given valuable work experience as part of international music showcase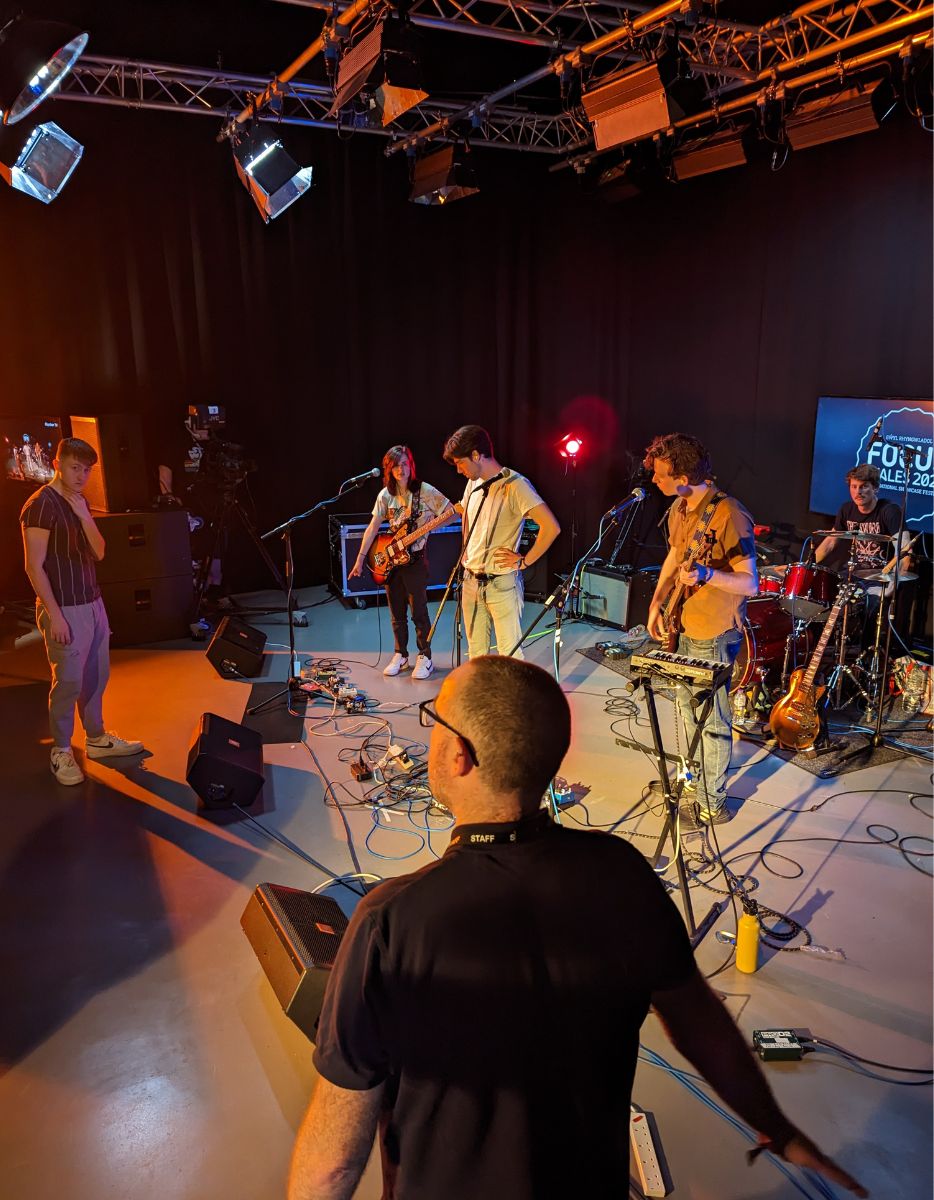 Date: Monday 22nd May, 2023
Students at Wrexham Glyndwr University (WGU) had a taste of working for a major music festival after filming and recording international artists for this year's FOCUS Wales.
The university's state-of-the-art TV studios welcomed artists from around the world to be filmed and recorded as part of the coverage of the annual international showcase event.
Students from the university's Media Production course supported with a range of tasks as part of the event, including camera work, audio recording, live sound and other media deliverables.
The coverage from FOCUS Wales will be shared on Glyndwr TV – the university's Youtube channel.
Students also interviewed bands that took part in the Glyndwr TV shows in the university's podcasting studio – the episodes can be listened to here – the first episode and second episode.
Dr Jason Woolley, Reader in Employability at WGU, said: "We were delighted once again to lend our support to FOCUS Wales. For us it means a great deal to be involved in such a large-scale but also vibrant music festival, particularly as it sees our students gain some extremely valuable work experience and insight.
"Our Media Production students worked extremely hard to ensure that artists looked and sounded their very best on stage, and as part of the recording of their set. Experiences like this are absolutely crucial to our student's learning and development of their employability – on behalf of all of us at WGU, I'd like to thank the team at FOCUS Wales for providing students with such excellent opportunities."
One of the students who supported the event was Sarah Glover, a Master's student on the Creative Media Production course at WGU.
She said: "Getting involved with Glyndwr TV over the FOCUS Wales weekend was a great opportunity to learn more about professional level creative sound and film under the pressures of a live environment, with tight deadlines.
"It was a fantastic experience. The production team were brilliant, the artists were all lovely. I can't wait for next year already!"
Andy Jones, co-founder of FOCUS Wales who graduated from WGU in 2011, said: "This year was a huge step up for the event, with our biggest attendance to date, seeing over 20,000 attendees at the festival.
"It's been overwhelming to see the event come together at the scale it now is, and to receive such positive feedback from the artists, industry, and visitors to Wrexham from across the globe.
"I'd like to say a huge thank you to students and colleagues at Wrexham Glyndwr University for all of their continued support and hard work in helping to ensure the success of FOCUS Wales.
"We're now putting our plans together for next year's edition, which will take place across the 9-11 May 2024."
FOCUS Wales is an international multi-venue showcase festival based in Wrexham, which places the spotlight firmly on the vibrant and emerging talent that Wales has to offer, alongside a variety of new acts from around the world.
This year marked FOCUS Wales' 13th year – and during that time, WGU has forged a strong partnership with the festival.
During the course of the event, artists performed on 20 stages across the city, and a jam-packed schedule of interactive sessions, arts events and film screenings took place throughout.