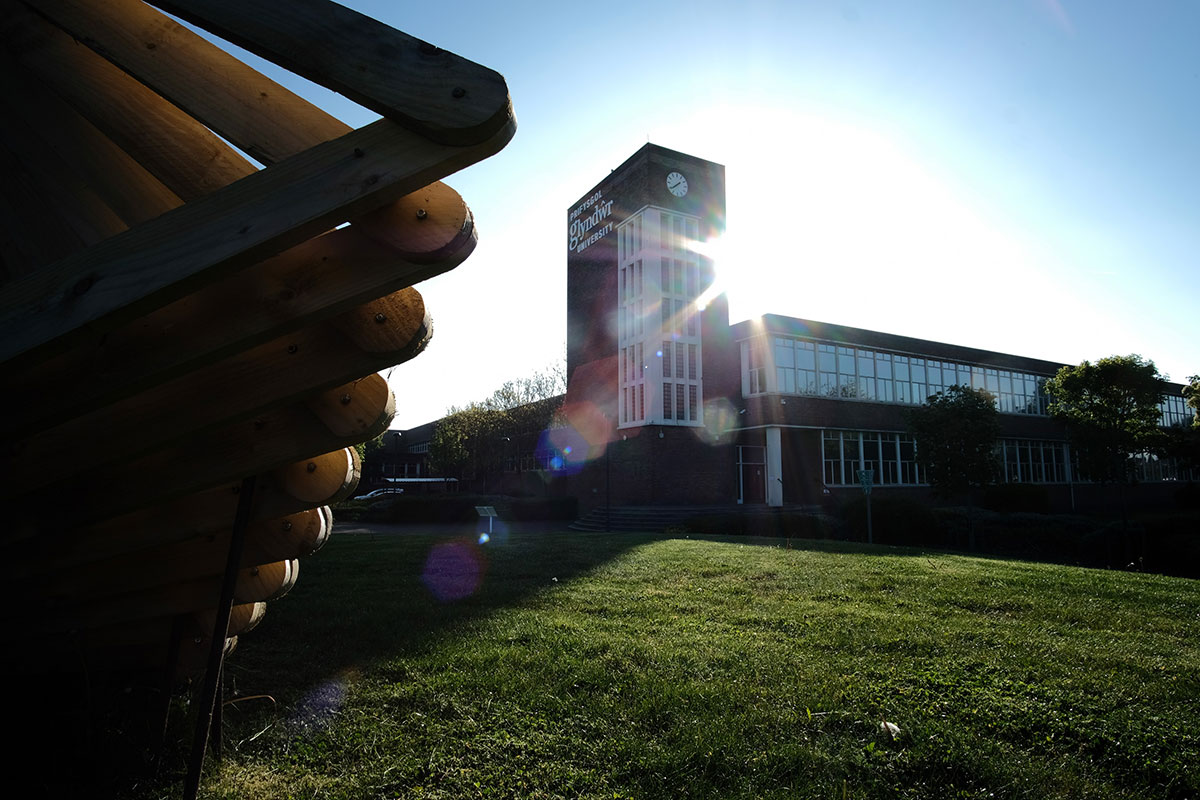 From a rich history to a bright future for education in North Wales - Wrexham University gives each student's learning and future personal attention.
Our history
We've been teaching students at our main Wrexham campus since 1887, when we were known as the Wrexham School of Science and Art. We first started offering degrees in 1924 but we've come a long way since then.
We became the Denbighshire Technical Institute in 1927 and moved to Regent Street, which is now home to our arts and design courses. As the Institute grew, the development of what is now our main Plas Coch campus began, and following the completion of developments in 1939, the Denbighshire Technical College was born.
The internal design of the College was created and executed by Sir Patrick Abercromby, the famous Liverpool-Dublin Architect. Our tiles in the main foyer of our campus were designed by Peggy Angus as a representation of the flow of learning, with a celebration of our Welsh background incorporated. The original tiles remain in our reception to this day.
It soon became necessary to merge the three main colleges of the County of Clwyd: Denbighshire Technical College, Cartrefle Teacher Training College (situated at the other end of Wrexham) and Kelsterton College in Connah's Quay near Chester.
The resulting North East Wales Institute of Higher Education (NEWI) became one of the largest colleges of its kind in Britain, with over 9,000 students and an annual budget in 1975 of £5 million.
In 2008, NEWI gained university status and we decided on the name, Glyndwr University. This name came from Owain Glyndŵr, the last native-born Welshman to hold the title of Prince of Wales.
We wanted our new institution to encapsulate the values of Owain Glyndwr; to be bold, enterprising, and open to all.
Our future
As still one of the youngest universities in the UK, our mission is to inspire and enable; transforming people and places and driving economic, social and cultural success.
Our core values are to be:
Accessible
Supportive
Innovative
Ambitious
Our values are embedded in our Vison and Strategy 2025, preparing the university for future success.
Read more about our values and vision.
Supporting learning
Grounded in our values is our Active Learning Framework (ALF). ALF supports flexible learning that makes best use of spaces on campus together with digitally-enabled learning opportunities designed to be accessed anytime, anywhere as appropriate. Even though things may be different, and we have to re-imagine how we study and how we work - our values and our commitment to our university community, our region and beyond still stand.
Developing our campuses
As we look further ahead to our future as a university, Campus 2025 is Wrexham University's £80m strategy to enhance all of our campuses to ensure our students have the best facilities and learning environment.
We've created a number of social/learning spaces for our students & visitors. The B Hive has been designed with both staff and students in mind to encourage interaction, collaborative working and new campus wide culture. Our new modern and vibrant multipurpose art gallery. Used for showcasing diverse artworks the gallery is a versatile study area. Flexible seating arrangements give the ability to transform the space into a presentation area utilising the newly installed AV equipment. Situated close to the university's catering facilities and only a short walk from coffee shops The Study is conveniently located. Enclosed pods fitted with screens and charging facilities make it an ideal area for solo and group study.
Our Student Centred Active Learning Environment (SCALE-UP) room and the £5m Colliers Park National Football Development Centre.
The longer-term plans include creating a gateway building at the heart of the Plas Coch campus which will become the main entrance to the university and also house the new student union.
Our Regent Street campus will undergo a careful refurbishment programme and improvements to our Northop campus include the refurbishment of the sports hall to provide a brand new teaching and observation space for our veterinary nursing course.
Our ambition is to be the learning gateway into Wrexham – Wrexham University is one of the first places visitors to Wrexham see and our ambitions are in alignment with the overall vision to transform Wrexham. Campus 2025 will result in a better academic delivery, a sustained and increased student population and will benefit the wider community.