Supporting Your Child Through Their University Application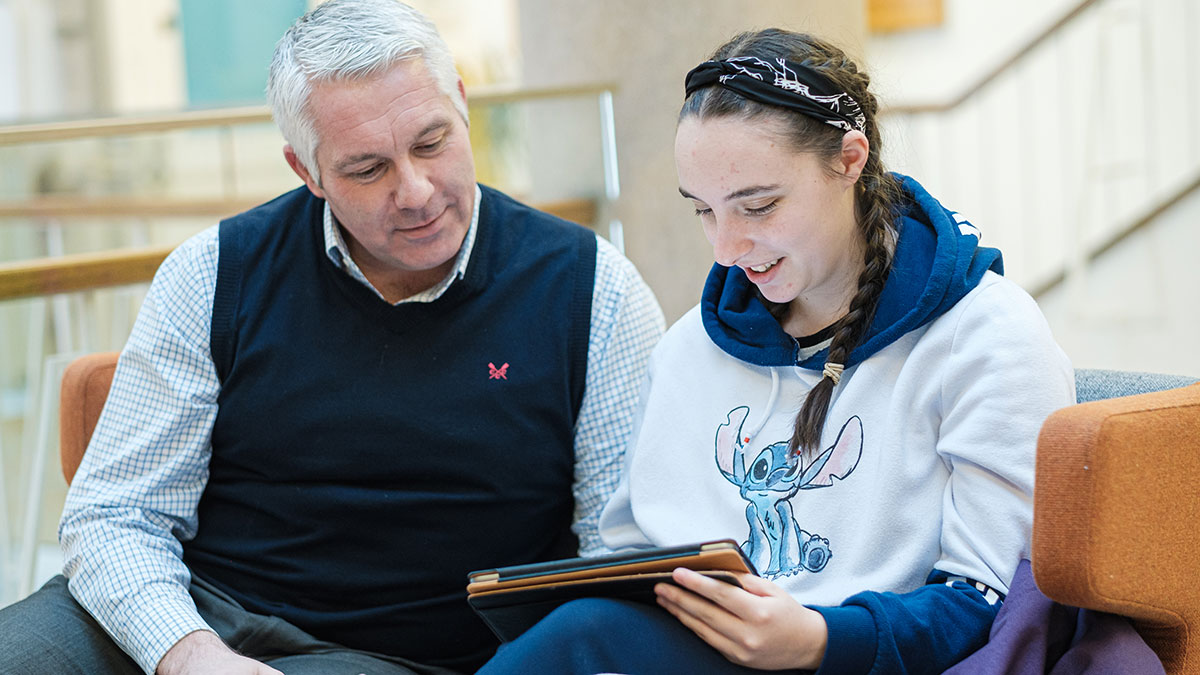 The university application process can be daunting for a teenager – but it can be just as overwhelming for parents who want to be supportive, but aren't entirely sure how the process works.
Where to
start
If your child is applying to university, then the official UCAS application process will begin in the autumn when they are in Year 13. However, it's worth starting to think about things a little earlier than this, as you will need time to discuss their options i.e. what careers are they interested in, what courses are on offer to support this and where they'd like to study.
If your teenager has ambitions of a particular career, then it's likely they'll need to study a specific degree to help them achieve it. You can help them to research which universities offer these courses – search on the UCAS website, view course details on individual websites and request some prospectuses.
Even if they haven't fully decided on a career yet, this shouldn't stop them from pursuing a course that they are passionate about. Parental encouragement is key here – it can be all too easy to dismiss your child's desire to study something that might not lead to an obvious profession. Instead, focus on the knowledge and skills that will be developed and could open up a whole host of opportunities.
Attending an
open day
One of the most vital things you can do as a supportive parent is to attend a university open day together. This will give your teenager the chance to experience a taster of what university life is like and whether it will suit them, and it will also help to put your mind at rest that your child will be in a safe environment when they fly the nest!
Try not to take over the visit yourself – having you there can help with their confidence, but the questions should be asked by your child. Of course, you can prompt them if you think they've forgotten something important, and there's no shame in being the official note taker for the day! Some universities will hold separate sessions for parents, so whilst the teenagers are off on a campus tour and checking out the facilities, you can ask as many questions as you like without embarrassing them!
Helping with the
application
The application process has changed significantly in recent times, so it'll probably bear no resemblance to your own university application all those years ago. These days, it's all done online via UCAS, so it's worth familiarising yourself with their website, and most importantly all the various dates and deadlines, so you can remind your child at the time. The final deadline for the majority of university courses is January 15, but it's worth noting that for some specific courses the deadlines are much earlier than this.
The key section, and perhaps one of the most challenging, is the personal statement. Whilst you can encourage them to discuss their ideas with you, it's important for parents to recognise that the statement should be written independently. Don't be one of those parents who does their kids homework for them – sit back, let them express themselves and let their personality shine through. But DO offer to read it through it and check it before they submit their final draft; passion and determination count for a lot, but so do good spelling and grammar.
Offers
Once the application form has been submitted, then everyone needs to sit tight and wait for the offers to come in. If your child receives any unconditional offers, then they are in a very enviable position of simply choosing their preferred one. If a university offers your child a conditional place, then securing this will usually depend on the outcome of their grades, so offering your support during exam time is crucial.
Clearing
If your child hasn't received any offers, didn't receive the grades they were expecting or were too late to apply through the usual channels, then clearing is their final option. Clearing allows applicants to approach universities directly for a place, on courses that still have availability.
University admissions teams generally prefer to speak to the applicant rather than parents or tutors, so let them make the phone call themselves. It can be a very stressful time, so as a parent the best thing you can do is to encourage your child to remain calm and stay positive. Universities want to fill their places, so there is a very good chance that they may still end up studying their preferred subject, but there may be some small compromises to make.
The most important thing to remember is that as a family, you are all happy with the final decision, and you can support your child as they move onto their next exciting stage of life.
Written by Heather Collin, who works in Digital Communications at Wrexham Glyndŵr University.
---