Course Highlights
Joint first in the UK
for graduate prospects (Complete University Guide 2022)*
1st in Wales
for student satisfaction (Complete University Guide 2022)*
1st out of Welsh universities
for the teaching on my course and overall satisfaction (National Student Survey 2022)*
Why choose? this course?
As the demand for professional counsellors increases, particularly in the private sector, the Diploma in Counselling offers an opportunity to develop professionally and personally through an academic and experiential programme of study.
The course:
is aimed at providing you with a general professional qualification in counselling
will help anyone working in related professions by adding valuable understanding and skills
*is part of a subject area ranked first in Wales for student satisfaction and joint first for graduate prospects, in the Social Work subject league tables, Complete University Guide 2022
will prepare you to work with adult clients
includes clinical placements
is grounded in the person-centred approach allowing you to provide empathic, authentic relationships which will develop effective therapeutic interaction
emphasises the personal development, self-awareness and psychological maturity of the trainee
develops the ability to write and practice reflectively, to apply theory in practice, to understand and apply ethical principles in your work, and professionalism in practice
*is part of a CHA3 subject group ranked 1st out of Welsh universities for the teaching on my course and overall satisfaction in the National Student Survey 2022.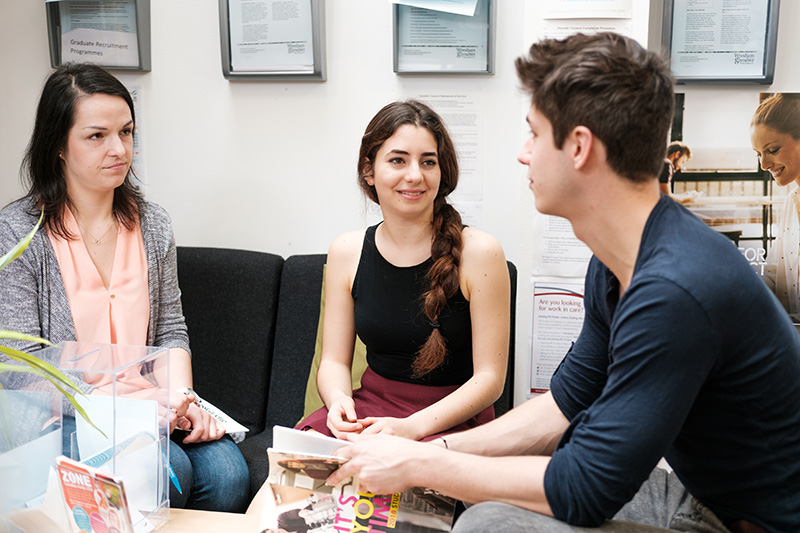 Counselling and Psychotherapy at
Wrexham University
Thinking of a career in Counselling and Psychotherapy? Hear from lecturers and students about our course at Wrexham University.
Key course features
The Diploma will prepare you to work with adult clients.
Clinical placements are an important part of the course and must be completed to qualify for the full diploma
The Diploma provides 450 face-to-face contact hours over 2 years.
Teaching staff are all qualified counsellors and psychotherapists.
The first year of study alone will provide an introduction to counselling skills that can be used within other helping roles. Anyone not seeking full professional training in counselling and psychotherapy has the opportunity to earn a Certificate of Higher Education, which will demonstrate their improved ability to communicate with others. This may be of interest to those already in helping professions, such as nurses, social workers, psychologists, teachers, and other childcare professionals as part of their ongoing CPD requirements.
*This course is part of a subject area ranked first in Wales for student satisfaction and joint first for graduate prospects in the Social Work subject league tables, Complete University Guide 2022.
What you will study
YEAR 1 (LEVEL 4)
Year one introduces the skills necessary to become an effective counsellor. Core theory modules cover the development of the person-centred approach to counselling, and the conditions required practically, personally, professionally and ethically to put these into practice.
The core skills or practice modules aim to enable you to develop effective counselling skills and put these into practice with peers. You will learn to analyse the levels of effectiveness of your own work and reflect on personal strengths and areas for development.
MODULES
Person-Centred Counselling Skills (1)
Introducing Person Centred Counselling Theory
Person-Centred Counselling Skills (2)
Person-Centred Counselling Theory and Self-Development
Skills for Counselling Placement
Contemporary Person-Centred Counselling Theory
YEAR 2 (LEVEL 5)
Year 2 (level 5) builds on and expands your portfolio of skills and knowledge. In year 2 the clinical placement is undertaken, so you will be putting your skills into practice with clients in an agency setting. In year 2 as well as lectures and seminars/workshops you will also attend personal development / self-care groups to enhance your self-awareness.
MODULES
Supervised Trainee Counselling Placement (1)
Understanding Client Issues in Counselling Practice
Evidencing Trainee Practice Effectiveness in Counselling
Supervised Trainee Counselling Practice (2)
The information listed in this section is an overview of the academic content of the programme that will take the form of either core or option modules. Modules are designated as core or option in accordance with professional body requirements and internal academic framework review, so may be subject to change.
Entry requirements & applying
Normally qualifications at level 3 (BTEC, A-Level, Access courses, and Level 3 Counselling course completion) are an expectation. Wrexham University also offers a Level 4 Introduction to Counselling course which you may be interested in.
Applications are always enhanced by relevant experience of working in a helping role – whether paid or voluntary.
Sometimes applicants who do not meet the usual requirements for entry to a degree level programme may be considered. This is where they can demonstrate additional life/work-related experience and an ability to engage with the academic challenges of the programme.
A key requirement for joining the course is the emotional and psychological maturity to work with people in psychological distress and the resilience required to cope with the demands of this work.
In your application you should make clear your reasons for wanting to undertake the programme and what you believe the strengths you would bring to the role are.
Occupational health checks and DBS checks are conditions of a place on this course.
All applicants whose forms indicate that they may be suitable for the programme are invited to an information session, group activity and individual interview.
Teaching & Assessment
The course is assessed in a variety of ways. These assessments may be self, peer or tutor assessed, and include recordings and critiques of transcribed counselling sessions, live practice with peers (Triads), presentations, theory and reflection written assignments, case studies and portfolios of evidence. Clinical supervisor and placement reports all form important parts of the assessment process. There are no exams.
TEACHING AND LEARNING
The programme of study includes one full day per week in term time. Students need to also have the capacity to engage in their chosen placement which can add up to another day of commitment. In order to gain the 100 client contact hours required to complete, some students may find that they continue in placement following completion of the teaching aspect of the programme.
The two-year Diploma includes 450 hours of contact teaching time. Teaching includes lectures/seminars, practical skills workshops, presentations and audiovisual material, experiential and creative tasks and clinical placements.
The programme team provide personal development group facilitators who are all experienced and qualified counsellors/psychotherapists with a particular interest in personal development and group work.
Wrexham University is committed to supporting our students to maximise their academic potential.
We offer workshops and support sessions in areas such as academic writing, effective note-making and preparing for assignments. Students can book appointments with academic skills tutors dedicated to helping deal with the practicalities of university work. Our student support section has more information on the help available.
In terms of particular needs, the University's Inclusion Services can provide appropriate guidance and support should any students require reasonable adjustments to be made because of a recognised prevailing disability, medical condition, or specific learning difference.
Career prospects
Our Careers & Employability service is there to help you make decisions and plan the next steps towards a bright future. From finding work or further study to working out your interests, skills and aspirations, they can provide you with the expert information, advice and guidance you need.
Counselling and psychotherapy are personally and professionally challenging.
Counsellors often find work in charitable organisations, within the NHS such as in GP surgeries, within organisations as part of health and wellbeing initiatives and some choose to work in private practice. Our graduates have secured employment in high schools in Wales, the NHS and within the charitable sector following successful completion of the course.
Wherever you see yourself in the future, if it involves working as a counsellor or psychotherapist, you need sound training, and it is increasingly likely that you will also need a recognised qualification from a university.
The course may also be of interest to those already in helping professions, such as nurses, social workers, psychologists, teachers, and other childcare professionals as part of their ongoing CPD requirements.
Fees & funding
Fees are £4995 per annum for DIP HE Counselling.
This also includes the payment for DBS and Occupational Health Check of approx £90 per student.
Please note this course may also incur costs in addition to the course fee, these include:
Additional time to complete the clinical placement.
Additional costs for clinical supervision.
Additional costs for a residential weekend; This will be at an additional cost which is kept to a minimum.
Further additional costs may include personal therapy.
These costs will be explained further at the interview, and some budgetary figures discussed.
The fees you pay and the support available will depend on a number of different factors. Full information can be found on our fees & finance pages.
Programme specification
Accommodation
If you're looking for a place to stay while you study then take a look at our accommodation pages to get more information on your options, including our on-campus halls of residence Wrexham Village.
International
If you are applying as an European / International Student, and live outside of the UK, you should make your application through our online application system, Centurus.
For information about the university's entry requirements for EU/international students, please visit our international section.