BSc (Hons) Occupational Therapy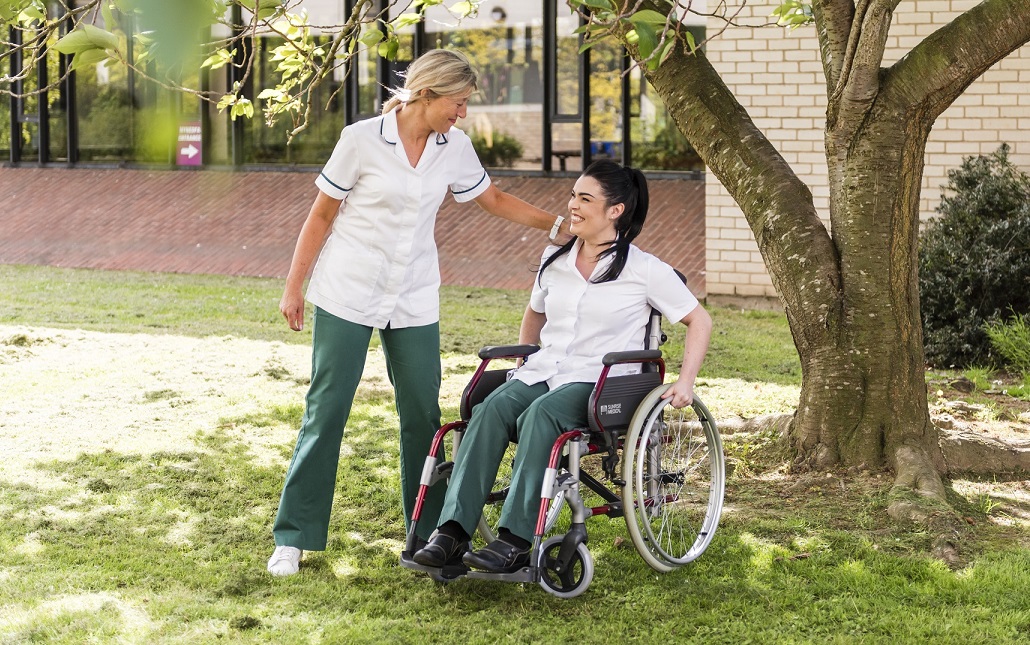 Course details
Duration
3 YRS (FT) 4 YRS (PT)
Course Highlights
Approved
by the Health and Care Professions Council
Subject area rated 3rd
for Student Satisfaction (Complete University Guide, 2024)
Accredited
by the Royal College of Occupational Therapists
Why choose? this course?
Would you like to work with people of all ages in a creative and empowering way to enable them to overcome barriers to everyday living promoting function, health and well-being? Our BSc (Hons) Occupational Therapy degree may be ideal for you.
You will:
Have

the opportunity to

study full or part-time.

Benefit from

a diverse range of employment opportunities across health, social care and the third sector.

Be part of a small cohort of students, studying full or part-time.

B

e part of an interprofessional seminar group, engaging in exciting spotlight sessions with other allied health profession and nursing students.

Develop into being a reflective, autonomous occupational therapist with a wide range of skills including therapeutic interventions, entrepreneurship and research.

Be encouraged to become an independent learner with a variety of teaching methods used including lectures, practical workshops, group work, interactive seminars, online discussions, and practice placements.

Develop professionally and personally over the course of your study, benefiting from the combination of academic and placement experience.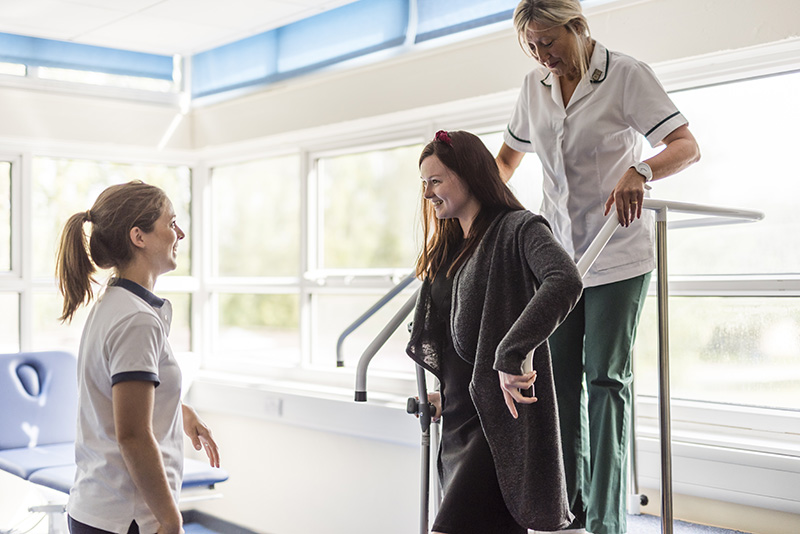 Occupational Therapy
Wrexham University
Thinking of a career in Occupational Therapy? Hear from lecturers and students about studying this degree at Wrexham University.
Key course features
Small intake of students every year.
Inter-professional learning is embedded through the programme with opportunities to learn with other health or related professionals.
Course approved by the Health and Care Professions Council (HCPC) and the Royal College of Occupational Therapists (RCOT).
Excellent opportunities for a wide variety of placements in the local area, further afield and in role emerging settings.
We are a commissioned programme, therefore, your fees can be paid and you can be eligible for a one-off annual payment, financial support to cover placement costs and you can apply for a means-tested bursary. (Conditions apply)
The main delivery site for this course is our Wrexham campus. Occasional interprofessional education sessions may be delivered from our St Asaph campus with students from various nursing and allied health courses.
What you will study
YEAR 1 (LEVEL 4)
Studies provide the foundation for future learning. Here you will be introduced to the main themes, philosophies, roles and responsibilities of the Occupational Therapist. You will develop practical skills as well as generic, transferable and study skills. You will share opportunities with students on other health-related programmes across modules through Interprofessional learning.
MODULES
Foundations in Professional Practice 1: introduction to what it means to be a health and care professional. Investigating the role and responsibilities of being an occupational therapist. You learn about occupational identity and the importance of occupation in everyday life as occupational beings to support health and well-being.
Foundations in Professional Practice 2: focus on core skills of occupational therapists including assessment and goal planning. You learn the underpinning theory and philosophies of occupational therapy to apply in practice.
Foundations in Research: focuses on study skills and an introduction to utilising research evidence in health and social care.
Human Function Through Occupation: using occupational engagement as a focus to study normal human development, including anatomy, physiology and psychology through the life stages.
Practice Placement 1: first clinical placement undertaken in a health or social care setting over a duration of 8 weeks.
YEAR 2 (LEVEL 5)
Building on your Year 1 knowledge, you will be expected to develop your skills as an independent learner. Theoretical material will focus on the themes of dysfunction, therapeutic intervention and the scope of occupational therapy. The application of reflective and analytical skills will be encouraged. You will share opportunities with students on other programmes across modules through Interprofessional learning.
MODULES
Development in Professional Practice: you will examine the theory underpinning occupational therapy practice.
Evidence in Practice: focus on building evaluation and research skills with an introduction to utilising research evidence in health and social care.
Overcoming Occupational Barriers through Intervention: focus on therapeutic skills for a range of conditions/occupational issues across the lifespan.
Complexity in Practice: focus on therapeutic skills for complex conditions/contexts through problem-solving and clinical reasoning. Includes a 3-week elective experience in a community-based setting.
Practice Placement 2: second clinical placement focusing on the occupational therapy role in practice undertaken over the duration of 10 weeks.

YEAR 3 (LEVEL 6)
Level 6 involves the integration of therapeutic processes with skills of critical evaluation. Emphasis is also placed on ethical considerations, management philosophies and legislation. Independent learning and independent reflective practice will be expected. You will share opportunities with students on other programmes across modules through Interprofessional learning.
MODULES
Transition to Professional Practice: pulling together placement and academic experience you will begin to critique practice. You will learn leadership and management skills. You will develop an entrepreneurial mindset to build creativity, problem-solving and clinical reasoning in complex practice
Research for Practice: further consolidation of research skills and completion of your research project.
Evaluating Complex Practice: you will consolidate your therapeutic skills and ability to evaluate and critique practice with complex issues.
Practice Placement 3: third clinical placement focusing on the occupational therapy role in practice undertaken over the duration of 12 weeks.
On successful completion of all levels, you will be awarded a BSc (Hons) in Occupational Therapy and will be eligible to apply for registration as an Occupational Therapist with the Health and Care Professions Council.
Entry requirements & applying
The academic requirements for the course are 80-112 UCAS tariff points at GCE A-level or equivalent. Maths and English/Welsh (First Language) GCSE (at grade C/grade 4 or above) or equivalent are also required.
Applications are welcomed from people who can present evidence of relevant life/work experience. In addition, applicants are expected to demonstrate some insight into the role of occupational therapy.
Applications are considered individually and on merit, however, you must have:
Recent (last 5 years) A Level or equivalent study (BTEC, Access Course in a relevant subject).
If you are a school leaver you need a minimum of 112 UCAS tariff points at GCE A Level or equivalent.
Experience in a range of health/social care/third sector settings whether in a voluntary or paid role.
Preferably experience with an Occupational Therapist either via shadowing or attendance at Trust taster days or similar careers events.
All post-interview offers of a place on this degree, are conditional to the completion of a Disclosure and Barring Service (DBS) clearance. In addition, any acceptance onto the course is subject to Occupational Health Clearance.
Entry onto the programmes falls at different times of the academic year. Entry to the 3-year full-time programme is in September and entry onto the 4-year part-time programme is in January.
Teaching & Assessment
There are a wide variety of assessments including
Essays
Group projects
Viva presentations
Research project
Poster presentations
Practical placements
TEACHING AND LEARNING
Wrexham University is committed to supporting our students to maximise their academic potential.
We offer workshops and support sessions in areas such as academic writing, effective note-making and preparing for assignments. Students can book appointments with academic skills tutors dedicated to helping deal with the practicalities of university work. Our Student Support section has more information on the help available.
In terms of particular needs, the University's Inclusion team can provide appropriate guidance and support should any students require reasonable adjustments to be made because of a recognised prevailing disability, medical condition, or specific learning difference.
The course is either a three-year full-time programme or a four-year part-time programme, commended on the high value it attaches to supporting students in their studies and the quality of clinical placements. You will be part of a small cohort of students. The study is a mix of university-based lectures, group work, self-directed study at home and clinical placements.
The modules are assessed through various methods including essays, practical assessments, case-based viva assessments, portfolio and competencies in practice placements.
Career prospects
Our Careers and Employability service is there to help you make decisions and plan the next steps towards a bright future. From finding work or further study to working out your interests, skills and aspirations, they can provide you with the expert information, advice and guidance you need.
Graduates will be able to register as an Occupational Therapist with the Health and Care Professions Council, entitling them to work in a variety of health and social care settings both in the UK and abroad.
Many graduates find employment in the NHS, social services, third sector and private practice. Students go on to work in a range of areas such as working with people with complex needs, acute health needs, mental health issues or learning disabilities. Occupational Therapists can equally work in social enterprise and health improvement organisations. Our graduates have also taken up opportunities to work overseas.
If you would like to progress your studies further or pursue a research career then you can continue onto Masters and Doctoral level study at Wrexham Glyndŵr University.
Fees & funding
You do not have to pay your tuition fees upfront.
As an occupational therapy student at Wrexham University, provided you agree to work in Wales for 2 years upon completion of your studies, you are entitled to receive the NHS Wales bursary, meaning your fees are paid by the Welsh Government. In addition:
You will receive an annual grant payment
You can apply for a means-tested bursary
You can apply for childcare support, disabled student allowance, dependents allowance, parental learning allowance
Your uniform is provided
If you do not wish to work in Wales upon completion of your studies then the normal fee structure applies.
View more information about funding options for BSc Hons Occupational Therapy.
Programme specification
You can see the full programme specification here.
Accommodation
If you're looking for a place to stay while you study then take a look at our Accommodation to get more information on your options, including our on-campus halls of residence Wrexham Village.
International
If you are applying as an European / International Student, and live outside of the UK, you should make your application through our online application system, Centurus.
For information about the university's entry requirements for EU/international students, please visit our international section.