Course Highlights
National
programme to meet the needs of teachers in Wales.
Supported
by the Welsh government, with funding opportunities for teachers working in Wales.
Tailored
professional learning for teachers in Wales, in line with national priorities.
Why choose? this course?
The National MA Education (Wales) is a truly transformative and sector-leading programme for educational professionals in Wales, from early career teachers to senior leaders.
The educational landscape in Wales is changing rapidly. Teaching not only requires the mastery of a complex set of skills to guide, motivate, and facilitate student learning, but also the ability to enquire into professional practice in order to improve it.
This course, which has been collaboratively developed by seven universities in Wales, through direct engagement with a variety of key stakeholders including the Welsh government, will ensure that all education professionals in Wales have the same high-quality opportunity to enhance their professional knowledge, engage with research, and to improve their professional practice.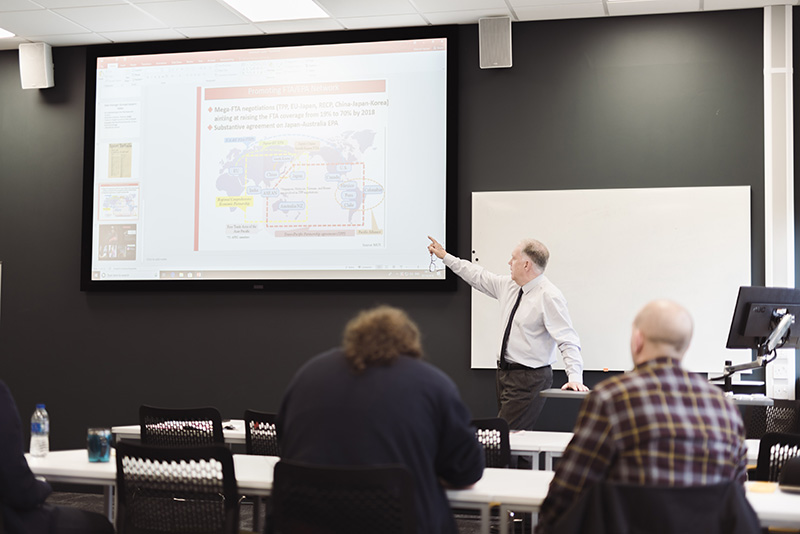 Transforming teaching
in Wales
Key course features
This national programme is delivered across Wales by seven Welsh universities working together to provide the National Master's at local centres across Wales.
The programme reflects the key education priorities in Wales and looks outwards to draw upon the expertise of internationally recognised guest lecturers.
The programme is delivered using a blended approach of online learning and three face-to-face National Saturdays each semester, where teachers can get together to exchange their experiences of best practice.
Teachers with an undergraduate QTS qualification can gain their degree in three years of part-time study.
Teachers who have gained 60 M level credits during their PGCE QTS programme can enter the degree programme in the second year of study and complete it in two years.
The programme is available for delivery and assessment bilingually, in collaboration with university partners with the relevant subject expertise in Welsh and English.
What you will study
MODULES
Pedagogy and Practice (20 credits)
Collaboration and Professional Practice (20 credits)
Evidence-Informed Practice (20 credits)
YEAR 2
MODULES
Advanced Research Skills (core modules, 20 credits)
Plus 2 optional modules (all 20 credits):
Generic pathway
Inclusive Classroom Practice
Leadership and Management of ALN
Leading and Managing Education Professionals
Leading Organisational Change
Curriculum Design and Realisation
Exploring Pedagogies
Emotional and Mental Wellbeing
Equity and Diversity
Additional Learning Needs, Excellence in Practice
Leading within and across Education Systems
Curriculum Leadership and Innovation
Poverty and Disadvantage
ANL pathway
Inclusive Classroom Practice
Leadership and Management of ALN
Additional Learning Needs, Excellence in Practice
Leadership pathway
Leading and Managing Education Professionals
Leading Organisational Change
Leading within and across Education Systems
Curriculum pathway
Exploring Pedagogies
Curriculum Leadership and Innovation
Curriculum Design and Realisation
Equity in education pathway
Poverty and Disadvantage
Emotional and Mental Wellbeing
Equity and Diversity
YEAR 3
MODULES
Dissertation (60 credits)

The information listed in this section is an overview of the academic content of the programme that will take the form of either core or optional modules. Modules are designated as core or optional in accordance with professional body requirements and internal academic framework review, so may be subject to change.
Teaching & Assessment
Assessments are all coursework-based and will be submitted at the end of each module. Wherever possible, assignments have been designed to complement the working contexts and schedules of full-time teachers.
Teaching and Learning
Wrexham University is committed to supporting our students to maximise their academic potential.
We offer workshops and support sessions in areas such as academic writing, effective note-making and preparing for assignments. Students can book appointments with academic skills tutors dedicated to helping deal with the practicalities of university work. Our Student Support section has more information on the help available.
In terms of particular needs, the university Inclusion team can provide appropriate guidance and support should any students require reasonable adjustments to be made because of a recognised prevailing disability, medical condition, or specific learning difference.
The course includes approx 200 hours of study per 20 credit module, of which 22 will be contact hours. Learning will be a blend of online and face-to-face teaching, through a series of lectures, seminars, group activities and individual projects.
Students on this course will join students on the same course at 6 other HEIs. There will be peer-to-peer support hosted on the WG Hwb, alongside all the regular USW support services and mechanisms.
Career prospects
This course is for educational professionals who have already embarked on their career.
Completion of the National MA Education (Wales) offers the following pathways:
Additional Learning Needs 

Leadership

Curriculum

Equity in Education
The degree supports professionals working at all levels within educational contexts to develop their research knowledge, skills, and understanding. This will be so graduates can evaluate, analyse, and reflect on their current educational practice, informed by relevant international research and key theoretical ideas.
This course has been designed to support the retention of all education professionals, especially teachers in Wales. It will also build the capacity for change in terms of the broader aspirations of the sector, during a time of national change in Education. The National programme has also been developed to increase system-wide leadership capacity across educational settings and specialisms.
This degree programme equips students with the knowledge, skills and flexibility needed for the contemporary mental health and wellbeing sector.
Our Careers & Employability service is there to help you make decisions and plan the next steps towards a bright future. From finding work or further study to working out your interests, skills and aspirations, they can provide you with the expert information, advice and guidance you need.
Fees & funding
Wrexham University's funded tuition fees for 2023/24 for MA Education (Wales) are £6,500.
Self-funded fees for 3 years are £9,750.
Funding for this programme is limited to 50 places per HEI and will be allocated by the Funding Award Panel. Funding allocations will be made on a priority basis, so please ensure that you apply as soon as possible to have the greatest change of being successful.
Programme specification
You can see the full programme specification here.