BEng (Hons) Automotive Engineering (with industrial placement)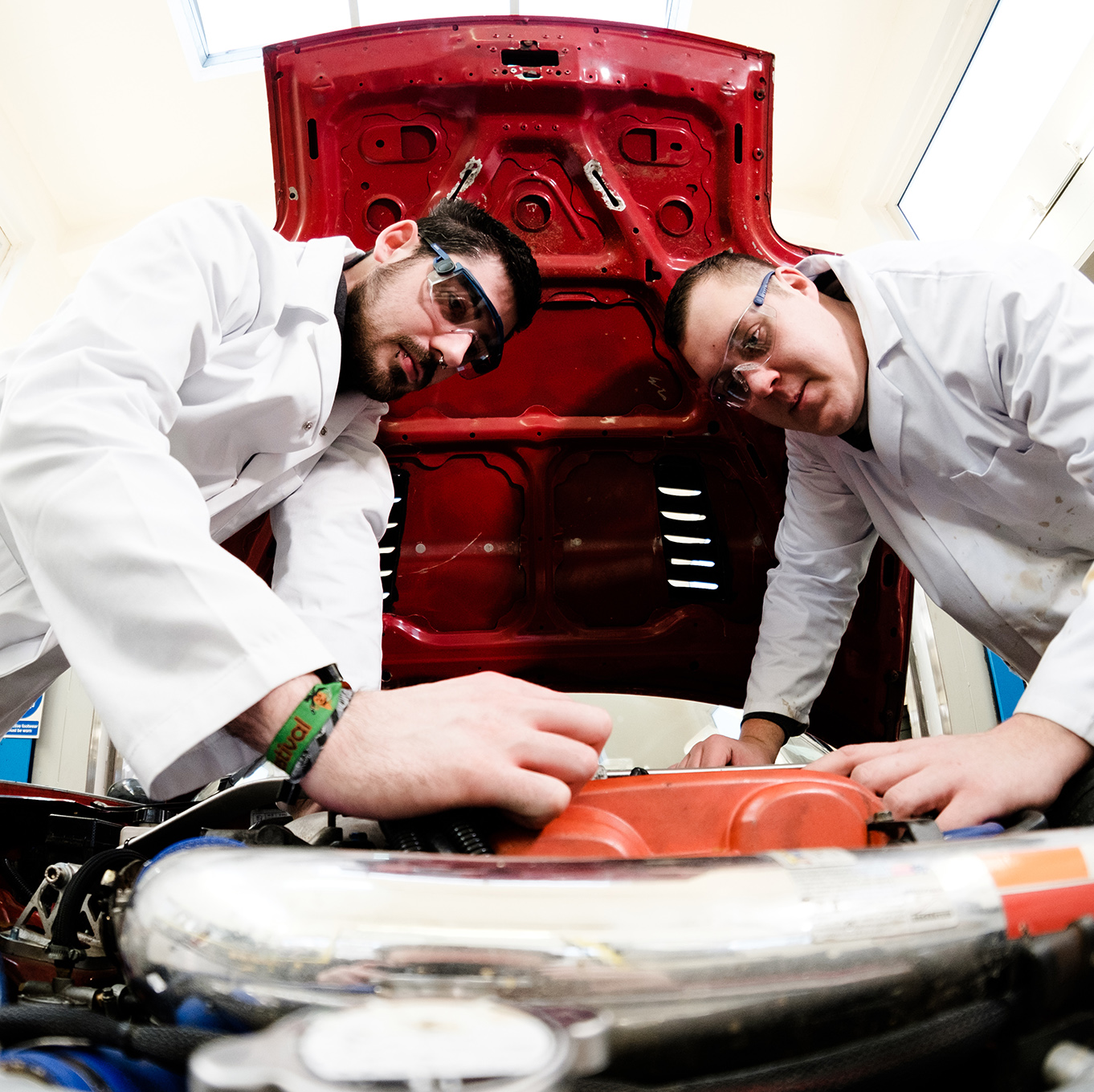 Course Highlights
Industry Relevant
teaching.
Access
to a specialist motorsport workshop.
Career-driven
degree with opportunity for Catia Certification* .
Why choose? this course?
This honours degree has been designed for the automotive industry in response to the shortfall of mechanical engineers. It is for those who have a strong interest in mechanical engineering and a clear desire to develop their knowledge and skills in automotive engineering.
The course fully explores the engineering, design, analysis and development of modern cars using various race cars as support for teaching. It also puts emphasis on learning transferable skills applicable to many other industries.
You can also choose to study this course with a foundation year BEng Hons Automotive Engineering (with foundation year) UCAS Code: H331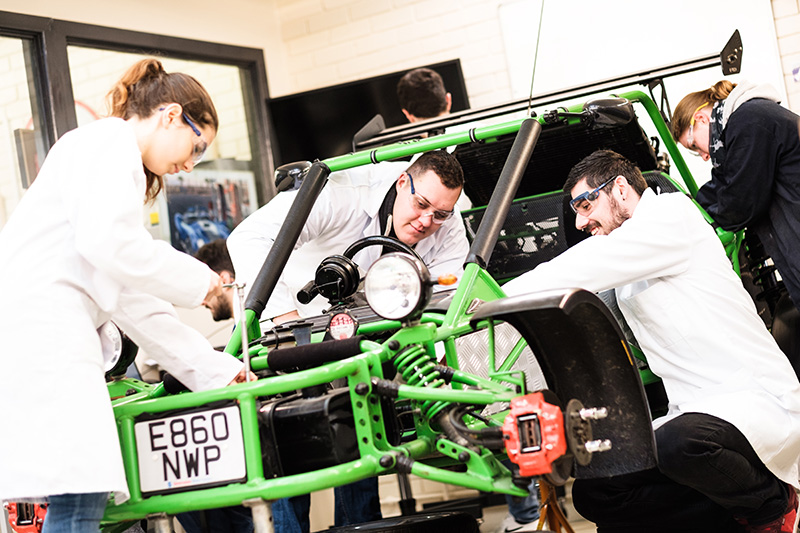 Engineering at
Wrexham University
Thinking of a career in Engineering? Hear from lecturers and students about our Engineering degrees at Wrexham University.
Key course features
You will:
have access to a specialist motorsport workshop as well as an industry-standard production workshop to gain experience in using machinery.

 

have the opportunity to work on various continuously evolving projects. Current projects involve: single seater bike powered race car, Westfield SEi, Renault 5 RWD Electric, Toyota Auris hybrid amongst many others) * subject to change. Students are also currently running a Formula Student team.

 

be studying at one of two education providers in the UK that are official Catia Certification centres, meaning that students are able to gain Catia Certification in addition to their degree studies.

 (*Students are required to pay a Certification fee of £50).

 
What you will study
YEAR 1 (LEVEL 4)
The vast majority of the key knowledge is reviewed and expanded at this stage. All lectures are followed by tutorials and practicals/demonstrations to ensure that you have fully assimilated the information.
MODULES
Mechanical Science
Electrical Science
Materials and Manufacturing
Engineering Mathematics
Engineering Design and Practice
Automotive Systems
Electrical & Mechanical Science*

CAD, Production Science*
Professional Development*
Materials, Environment, Mathematics* 

Automotive Systems*
YEAR 2 (LEVEL 5)
At this level, the teaching team starts to encourage the students to work and learn by themselves. We are not only preparing you to be a knowledgeable practitioner, but we are also preparing you to become a reliable and independent problem solver.
MODULES
Business, Research & Professional Development
Automotive Design
Further Engineering Mathematics
Engineering Mechanics & Design
Structures Analysis
Internal Combustion Engine Systems
Research, Ethics, and Sustainability*

Mechanics, Structures & FEA*
Computer Aided Manufacturing *
Automotive Design*
Powertrains & Fluids *

Analytical Techniques *
YEAR 3 (Industry Placement)
This module aims to provide you with the opportunity to gain valuable experience of the engineering-related workplace via first-hand experience. It will allow you to undertake a sustained period, embedded with a host employer, to work on one or more defined projects or goals. You will be expected to find and secure a suitable placement opportunity. The Industrial Placement will normally take place during the normal academic year, as if over the two normal University semesters. As such its duration should normally be in the region of 20-40 weeks dependent on working hours.
YEAR 4 (LEVEL 6)
This is the final year of the bachelor degree. The first semester is generally focussing on developing specific automotive knowledge. Your individual project will allow you to specialise further into a field of your choice. At the end of this, you will be a graduate engineer ready for the industry!
MODULES
Dissertation (Honours)
Engineering Modelling and Simulation
Aerodynamics
Automotive Dynamics & Powertrain Analysis
Optional
Structural Vibration Analysis
Composite Materials
Engineering Modelling and Simulation*

Automotive Dynamics*
Modern Automotive Powertrains*

Project*
Optional
Professional Engineering*

Motorsport Practice *
*from September 2024
The information listed in this section is an overview of the academic content of the programme that will take the form of either core or option modules. Modules are designated as core or option in accordance with professional body requirements and internal academic framework review, so may be subject to change.
Entry requirements & applying
UCAS code: H431
The academic requirements for the course are 80-112 UCAS tariff points at GCE A-level or equivalent, including Maths or Physics.
Teaching & Assessment
A broad range of assessment methods are used; these include task-based exercises, oral and poster presentations, essays and laboratory reports, and written exams. Each module is assessed by a variety of methods, enabling students to display their full potential. A project dissertation will form one of the final parts of your assessment.
TEACHING AND LEARNING
Teaching methods include lectures, laboratory sessions, student-led seminars and guided research.
Independent learning is an important aspect of all modules, as it enables students to develop both their subject-specific and key skills. Independent learning is promoted through guided study or feedback given to students.
Wrexham University is committed to supporting our students to maximise their academic potential.
We offer workshops and support sessions in areas such as academic writing, effective note-making and preparing for assignments. Students can book appointments with academic skills tutors dedicated to helping deal with the practicalities of university work. Our student support section has more information on the help available.
In terms of particular needs, the University's Inclusion Services can provide appropriate guidance and support should any students require reasonable adjustments to be made because of a recognised prevailing disability, medical condition, or specific learning difference.
Career prospects
Our Careers & Employability service is there to help you make decisions and plan the next steps towards a bright future. From finding work or further study to working out your interests, skills and aspirations, they can provide you with the expert information, advice and guidance you need.
The exciting range of career options open to you when you graduate includes working with car manufacturers and their supply network, in automotive research and development, in consultancy, engineering management, automotive design and in the motorsport industry.
There's a national shortage of fully-qualified engineers in the automotive industry; with a degree in automotive technology, you'll stand out from the crowd when it comes to finding employment.
Opportunities include (but are not limited to):
Race car dynamics
Motorsport electronics
Chassis engineering
Performance car structures
Electronic technologies
Performance engines
Fees & funding
You do not have to pay your tuition fees upfront.
Wrexham University's tuition fees for 2024/25 for a full-time undergraduate degree course are £9000 per year.
The fees you pay and the support available will depend on a number of different factors. Full information can be found on our fees & finance pages. You will also find information about what your fees include in the FAQs.
Programme specification
Accommodation
If you're looking for a place to stay while you study then take a look at our accommodation pages to get more information on your options, including our on-campus halls of residence Wrexham Village.
Subject to re-accreditation
External accreditation/recognition by Professional, Statutory and Regulatory Bodies (PSRBs) has to be renewed periodically for existing courses. The details on the website are based on the accreditation of the previous or current version of the course, and the anticipated updates are made as soon as they are known. The majority of courses that are still 'subject to re-accreditation' are approved as expected however, this is not guaranteed and should the accreditation not be approved as planned, or be significantly amended or delayed, you will be informed by the University.
International
If you are applying as an European / International Student, and live outside of the UK, you should make your application through our online application system, Centurus.
For information about the university's entry requirements for EU/international students, please visit our international section.