BSc (Hons) Cyber Security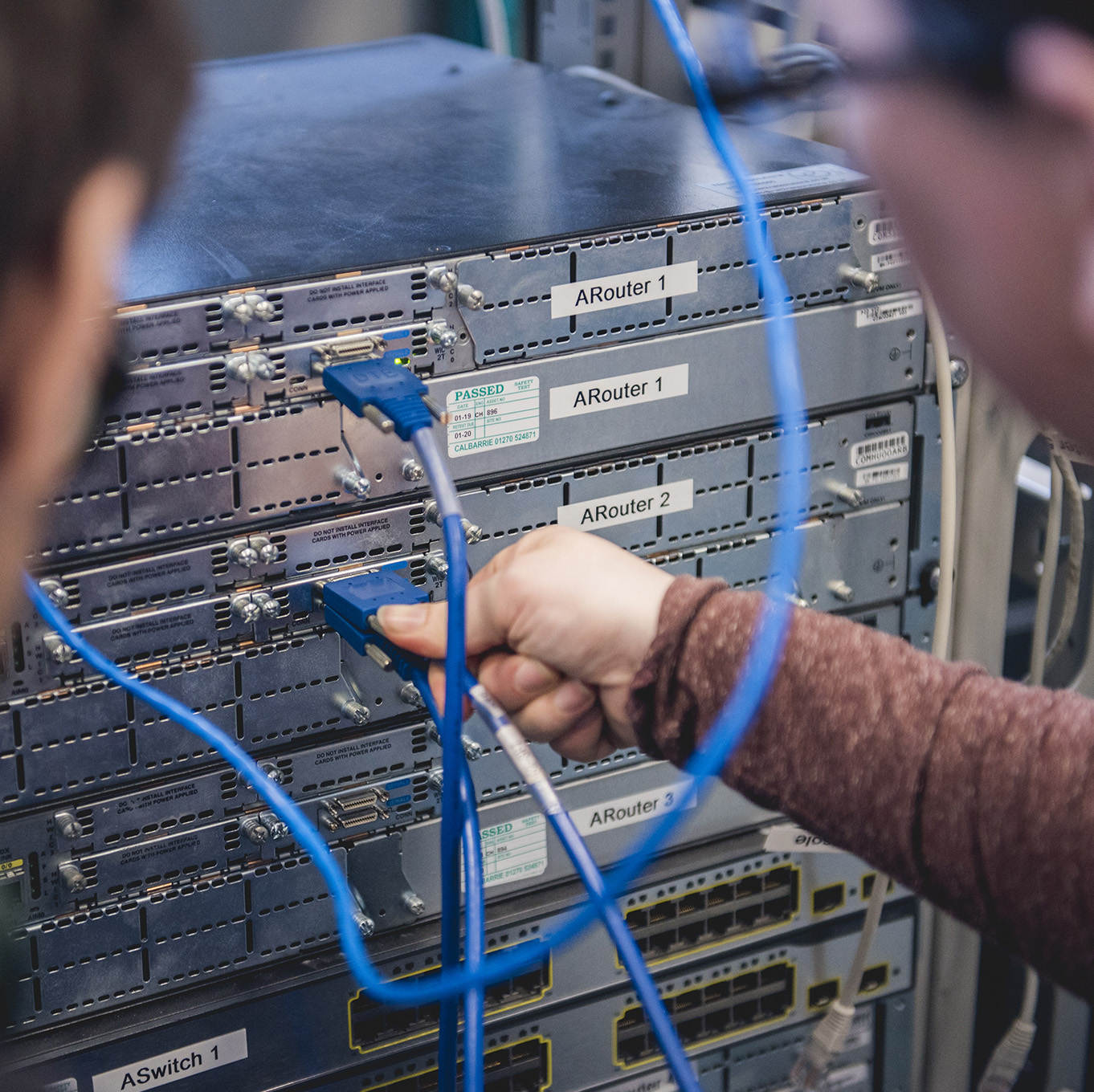 Course details
Duration
3 YRS (FT) 6 YRS (PT)
Location
Blended Learning, Wrexham
Course Highlights
Access
to a wide range of hardware and software.
Research Active
department in future and emerging technologies.
Opportunity
to qualify for CISCO accreditation.
Why choose? this course?
Our Cyber Security degree is industry-focused, ensuring you have the tools and techniques needed to meet the growing national skills gap in this sector. You will acquire the practical skillsets to counter emerging threats, and to maintain the overall security of a system whilst learning through immersive and gamified environments.
You will:
Benefit from an inclusive and friendly environment
Have the opportunity to undertake placements.
Benefit from guest speakers due to strong industrial links that support the degree.
Be studying a degree that is mapped to the CyBok Framework (Cyber Security Body of Knowledge) to ensure that you cover the variety of topics that underpin the Cyber Security profession aligned with best practice and industry needs.

obtain the skills and knowledge across a range of security domains and skills including but not limited to design, policy, compliance and risk.

All these aspects underpin the knowledge and skills to help protect us all from cyber threats.

gain experience by working with a variety of teams both within cyber security and across the wider computing subject area, all whilst having an opportunity to network with peers and following your chosen Learning pathway

study a degree that is part of a subject area rated 3rd in the UK and 1st in Wales for satisfaction with teaching, and 2nd in the UK and 1st in Wales for satisfaction with the course in the Computer Science and Information Systems subject league tables, The Guardian University Guide 2022.*
study a degree that is part of a subject area rated joint 2nd in Wales for teaching quality and 4th in the UK for student experience in the Computer Science subject league tables,

Times and Sunday Times Good University Guide 2022.*
You can also choose to study this course with foundation year, UCAS code: H098 - or an industrial placement year, UCAS code: AFIP
Computing at
Wrexham University
Thinking of a career in Computing? Hear from lecturers and students about our Computing course at Wrexham University.
Key course features
This course is accredited by the British Computer Society.
Hands-on teaching of a range of cybersecurity skills, techniques and tools, such as cryptography, authentication, access control, viruses and malware, penetration testing, risk management and forensic investigation.
Extensive PC and networked computer facilities with internet access.
The course team have strong links to the North Wales Cyber Security Cluster, an industry-led forum for cybersecurity practitioners and employers, and students on the programme have opportunities to attend and be involved with their meetings and events.

We offer a wide range of services to help you find the right placement, including work-based learning support and career advice and fairs. But it's also up to you – the more proactive you are about applying for placements, the better.

This degree will provide an opportunity to participate in the CISCO Academy Programmes and qualify for CISCO accreditation.
What you will study
YEAR 1 (LEVEL 4)
Level 4 contains essential fundamental material which is relevant in all of our computing programmes. You will learn both subject-specific skills along with transferable skills which will increase your employability prospects.
With the support of your tutors, you will learn about some of the essential facts, concepts, principles and theories relating to computing and computer applications. You will be able to demonstrate skills that underpin good practice in the field of computers and computational methods, e.g. laboratory tasks involving the creation of simple programs and the use of operating systems.
This will help develop your understanding of hardware issues, including interfacing and data communications, and their impact on the overall design and performance of computer-based systems.
MODULES
Computer Systems
Managing Data
Problem Solving with Programming
Information and Systems Engineering
Discrete Computational Methods
Fundamentals of Networks and Security
Cyber Security Specialist*
Networking Fundamentals*
Information Security and Governance*
Quantitated Methods*
Programming Fundamentals*
Computer Systems and Architecture*
YEAR 2 (LEVEL 5)
Level 5 continues teaching you the fundamentals of the discipline, and more specialist modules start to be introduced. You will also undertake a group project where you will gain important skills in project management techniques and the professional and ethical issues of project management.
You will also deepen your knowledge and understanding of computing concepts and approaches for complex problems through the application of several existing artificial intelligence techniques for learning and optimisation targeting real-world problems.
MODULES
Server Technology
Networking: Scaling Networks
Data Structures and Algorithms
Responsible Computing
Cybersecurity and Forensics
Group Project
Cyber Operations and Cyber Physical Systems*
Ethical Hacking*
Secure Software Development*
Systems Engineering and Project Management*
Cloud, Distributed Architecture and Security*
Group Project*
YEAR 3 (LEVEL 6)
Once you reach your final year, you will further develop your skills through taught modules and research, with a focus on the latest developments in your chosen discipline.
You will also undertake an individual final year project, which will help prepare you for the kind of tasks and situations you may encounter in the workplace. The final year practical and project work will further develop your analytical skills through the analysis and appraisal of current and emerging technologies, taking into account their impact on society.
MODULES
IT Project Management
Network Security
Ethical Hacking
Future Technologies
Project
Cryptographic Techniques*
Digital Forensics and Analytics*
Defensive Security*
Network Security and System Monitoring*
Project*
Part-time students will cover the same modules, but their diet will vary depending upon their availability to attend the scheduled classes.
*from September 2024
The information listed in this section is an overview of the academic content of the programme that will take the form of either core or option modules. Modules are designated as core or option in accordance with professional body requirements and internal academic framework review, so may be subject to change.
Entry requirements & applying
The academic requirements for the course are 80-112 UCAS tariff points at GCE A-level or equivalent, including IT, computing, maths or physics.
Applicants who do not meet the criteria above will be assessed on an individual basis by interview.
Teaching & Assessment
Teaching

The computing programme suite utilises a variety of industry standard tools and software in combination with a number of teaching methods designed to deliver industry relevant skills and empower students to take their work further where applicable. All Staff members have embraced the active learning framework (ALF) and there have been a number of enhancements to teaching and learning.
Assessment

The programme team take a balanced approach to assessment strategy with respect to group work and individual development opportunities. Extensive use of the JIRA project management cloud platform is used to track student progress towards goals and milestones. This has proven to be a beneficial tool with respect to personal development and critical time management skills.
Where applicable, assessments are linked to real-world projects or based on current industry trends and issues. In addition, project modules serve as a platform for enterprise activities.
Personalised Support

The Computing department at the university employs a long-standing open-door policy, and activate engage with students, alumni and industry using our online Discord community. Additional tools such as Teams and Moodle provide core information and methods of contact. All students are also allocated a personal tutor who are encouraged to meet on a regular basis and extra personalised support is provided for all part time students on VLE.
We offer workshops and support sessions in areas such as academic writing, effective note-making and preparing for assignments. Students can book appointments with academic skills tutors dedicated to helping deal with the practicalities of university work. Our student support section has more information on the help available.
In terms of particular needs, the University's Inclusion Services can provide appropriate guidance and support should any students require reasonable adjustments to be made because of a recognised prevailing disability, medical condition, or specific learning difference.
Career prospects
On successful completion of the degree, graduates can gain employment in jobs such as, but not limited to:
Cyber Security Engineer
Penetration Tester
Security Analyst
Security Engineer
Our Careers & Employability service is there to help you make decisions and plan the next steps towards a bright future. From finding work or further study to working out your interests, skills and aspirations, they can provide you with the expert information, advice and guidance you need.
Cyber Security is a great career to enter right now, as there is a high demand for professionals with these skills. Employment of information security analysts is projected to grow more than 30 percent from 2020 to 2030, which is much faster than the average for other occupations. Most recruitment managers emphasise graduate skills for entry-level candidates where the more technical skills are typically learned on the job.
Is programming required for cyber security? While many entry-level cyber security positions do not require programming skills, it is considered an essential skill for some mid-level and upper-level cybersecurity jobs.
Along with the technical skills, you will also develop your transferable and employability skills including:
Adaptability - cyber security trends are constantly evolving, and one of the biggest challenges is dealing with the unknown;

Interpersonal and communication skills

- It's important to remember that cyber security does not exist in isolation. Your team working and project management skills will develop through your taught programme and also through extra curriculum engagement

.
Fees & funding
You do not have to pay your tuition fees upfront.
Wrexham University's tuition fees for 2024/25 for a full-time undergraduate degree course are £9000 per year.
The fees you pay and the support available will depend on a number of different factors. Full information can be found on our fees & finance pages. You will also find information about what your fees include in the FAQs.
Programme specification
Accommodation
If you're looking for a place to stay while you study then take a look at our accommodation pages to get more information on your options, including our on-campus halls of residence Wrexham Village.
International
If you are applying as an European / International Student, and live outside of the UK, you should make your application through our online application system, Centurus.
For information about the university's entry requirements for EU/international students, please visit our international section.