Course details
Duration
3 YRS (FT) 6 YRS (PT)
Course Highlights
Accredited
by the British Psychological Society (BPS)
Top 3 in the UK
and 1st out of Welsh universities for the teaching on my course & top 10 in the UK for overall satisfaction (National Student Survey 2022)*
1st in the UK
for Teaching Quality and 3rd in the UK, 1st in Wales for Student experience (The Times & The Sunday Times Good University Guide 2023)*
Why choose? this course?
If you are fascinated with behaviour and wonder why people do what they do, then our psychology course – which is accredited by the British Psychological Society (BPS) – will be ideal for your questioning mind.
On this course you will:
have the opportunity to research a topic of your own choosing for your

dissertation

in the final year

have access to support throughout your degree from award-winning personal

tutors, fantastic psychology technicians and module leaders who are happy to arrange additional module tutorials on request

complete assessments that measure your understanding and critical thinking about psychology, as well as encourage the application of theory to 'real world' problems

have access to a diverse range of facilities including our psychometric lab, flight simulator, high-tech sports performance lab, experimental cubicles and simulation lab

study core modules relating to social psychology, individual differences, cognitive psychology and psychobiology, which will enable you to gain a greater understanding of social interaction, individual development, and the way in which the brain interprets information

over the course of the degree be taught the skills needed to conduct both qualitative and quantitative research; with a module solely dedicated to qualitative research

gain transferrable skills that are desirable by employers

have the opportunity to research a topic of your own choosing for your dissertation in the final year

be part of small yet diverse class size

*This course has been rated as part of the CHA3 subject group ranked 10th in the UK and 1st out of Welsh universities for teaching on my course in the National Student Survey 2022.
*This course has been rated as part of the CHA3 subject group ranked joint 3rd in the UK and 1st out of Welsh universities for overall satisfaction in the National Student Survey 2022.
*This course has been ranked 1st in the UK as part of the Psychology subject league table for Teaching Quality as well as 3rd in the UK and 1st in Wales for Student experience in The Times and The Sunday Times Good University Guide 2023.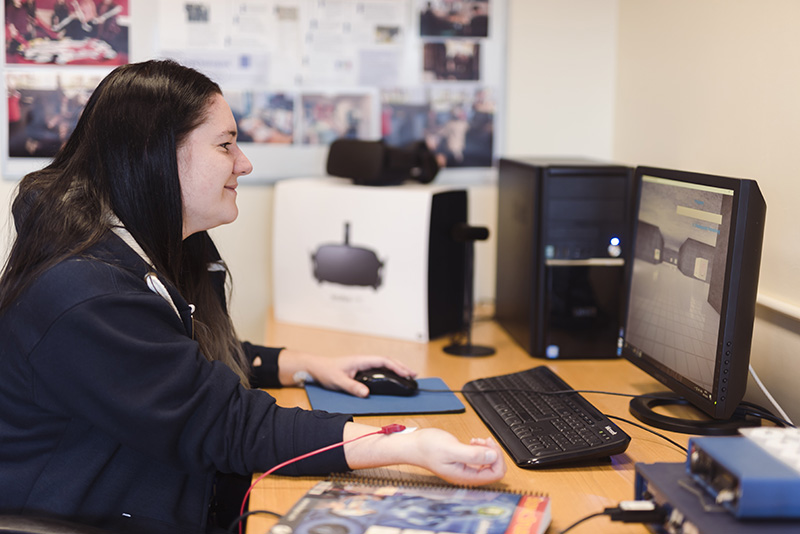 Psychology
at Wrexham University
Discover more about studying Psychology at Wrexham University from our staff and students.
Key course features
Accredited by the British Psychological Society (BPS) – you will also have the opportunity to attend and present at the BPS conference in your final year

Small and friendly department with a research-active academic team; who are fully supportive of student research interests. This includes supporting students in their final year

to pursue their own research ideas in the form of an individual research project, which is supported and guided by their supervisor; this forms the final year dissertation.

Opportunities within each module for students to gain hands-on experience of the applicability of theory and/or develop student research skills. We believe that psychology is about real life and formal lectures should be enhanced by experiential learning. Psychology is an applied science, and we believe that it is important that students can apply theory in a practical way.

Take part in our Annual Psychology Enrichment Week, which was commended by the BPS: "The enrichment week is an opportunity for students and staff to provide approachable networking opportunities and assists to develop a broad range of skills including presentation skills which is fundamental in developing psychological literacy. These skills are essential transferable skills that students were able to use reflecting upon their academic and personal experiences."

Dedicated qualitative research methods module, which provides you with the knowledge and understanding needed to conduct a qualitative research project.

Be given the opportunity to take part in our annual real-time Crime Scene Day learning simulation – where students from different departments come together to act out, witness, investigate and report on a high-profile crime that has taken place on campus.
What you will study
YEAR 1 (LEVEL 4)
Over the course of your first year, you will develop study and research methods skills that are key to the Psychology degree, whilst also learning and developing your understanding of key psychological theories and concepts.
MODULES
Fundamental Psychology: This module aims to provide you with an outline of traditional and contemporary psychological theories through the examination of its historical development and key theoretical perspectives.
Introduction to Research Design: This module introduces you to the nature, philosophy and scope of research methods in psychology. It aims to enable you to acquire a basic level of knowledge and understanding of the research process and research methods. As well as providing you with an introduction to statistics and qualitative data analysis.
Essential Psychology: This module builds on the knowledge acquired within Fundamental Psychology; it enables you to provide an outline of traditional and contemporary psychological theories through the examination of its historical development and key theoretical perspectives.
Introduction to Data Analysis: Within this module, you will further your understanding of the nature and scope of research methods in psychology. This module will build on your knowledge of data collection and analysis within psychology that was introduced in An Introduction to Research Design.
Study Skills for Psychology: This module encourages you to develop the necessary skills for studying psychology at HE level and the study of selected key research. This will include generic and subject-specific skills.
Scientific Writing and Communication: This module builds on the Study Skills for Psychology module. It supports you to develop your academic writing and presentation skills, whilst consolidating skills such as referencing and learning from feedback.
YEAR 2 (LEVEL 5)
In your second year, you will continue to develop your research method skills and apply them in different areas of Psychology. During this year you will complete some core modules that will build on the knowledge gained in the first year.
MODULES
Developmental Psychology: This module introduces you to the discipline of developmental psychology across the lifespan. You will be introduced to traditional and contemporary psychological theories within developmental psychology.
Advanced Research Design: To provide you with advanced knowledge and understanding of research methodology and research methods in order for you to go forward to conduct an independent piece of research. This module builds on the knowledge acquired within the Intermediate Research Methods.
Biological Psychology: To acquaint you with current theories, models and explanations of biological psychology and to explore the relationship between biology, psychology and mental activity.
Cognitive Psychology: During this module, you will explore the physiology of the central nervous system. This module aims to help develop your ability to identify and evaluate current psychological theories of learning, attention and memory, and thinking and problem-solving; as well as increase your ability to evaluate current knowledge of the process of information input to humans and animals.
Intermediate Research Methods: This module builds on your knowledge of research methodologies acquired in the first year, whilst developing your understanding of these and new methods introduced in this module at a much deeper level. The module aims to equip you with the ability to appraise research findings and develop an understanding of research design and analysis, as well as develop your ability to analyse data from both quantitative and qualitative research.
Individual Differences: This module encourages you to examine the concepts of personality, intelligence, and motivation. It will enable you to develop an appreciation of the ways in which these concepts influence the behaviour of the individual; as well as gaining an understanding of psychometric tests employed in this field.
YEAR 3 (LEVEL 6)
In your final year, you will design your own research project with supervision from the Academic team. This year will see you complete the final core module, Social Psychology, and also allow you to choose optional modules to study based on your own preferences and interests.
MODULES
Research Project (core): Within this module, you will conduct an independent piece of research with support from the programme team. This module aims to stimulate your critical evaluation and judgment formation skills through the consolidation of the research knowledge and skills acquired at levels 4 and 5.
Social Psychology (core): Develop a critical understanding of the psychological concepts, theories and methods that are relevant to the study of social interactions, attitudes and behaviours within society. Learn how to identify and explore the interface between individual, interpersonal, and group behaviour in a variety of social contexts.
Clinical Psychology (optional): Within this module, you will become acquainted with the main aspects of the discipline of Clinical Psychology, including the historical concepts; Clinical psychology as a profession; concepts of normality/abnormality; anxiety; schizophrenia; mood disorders; and dementia.
Negotiated Learning (optional): This module enables you to negotiate learning, which is essential for your personal and professional development and for future employer requirements. Within this module, you will gain knowledge and understanding of the well-established principles and research in areas of psychology and of the way in which those principles and research have developed and are applied in a practical way.
Forensic Psychology (optional): This module will acquaint you with the main areas of the discipline of Forensic Psychology, including forensic psychology as a profession; theories of crime; violent offenders; terrorism; mental health and crime; fear of crime; offender profiling; eyewitness testimony; lie detection; and children as witnesses.
Counselling Psychology (optional): Learn the main aspects of the discipline of Counselling Psychology, including what is Counselling psychology?; theories of the self; theoretical models and approaches (Psychoanalytic, Humanistic, Cognitive behavioural, family system therapies); cultural differences; critiques of Counselling psychology; and future trends in Counselling psychology.
Work-Based Learning (optional): Within this module, you are offered the opportunity to critically investigate and apply psychological knowledge to a work environment. The module aims to give you an insight and direct experience of professional psychology, as well as prepare you for work within professional contexts in psychological settings.
Cyberpsychology (optional): Gain an understanding of the psychological processes, motivations, intentions, behavioural outcomes, and consequences of any form of technology use. It encourages you to develop a critical understanding of the relevant psychological theories associated with positive and negative aspects of online behaviour. Topics covered within the module may include Digital technology as an everyday experience; The 'self' online, social media, and networking; Online friendships/relationships; Negative consequences of digital technology; Differing psychological approaches to the digital world.

Health Psychology (optional):

This module will equip

you

with knowledge and understanding of the role of social,

psychological

and biological factors on health, illness and well-being within the context of the individual and contemporary society. It encourages

you

to develop a critical understanding of the relevant theories and models of behavioural change. Topics covered in the module may include Health Promotion and Behaviour change; Addition,

nutrition

and exercise; psychology of pain and pain management; development and maintenance of stress.
The information listed in this section is an overview of the academic content of the programme that will take the form of either core or option modules. Modules are designated as core or option in accordance with professional body requirements and internal academic framework review, so may be subject to change.
Entry requirements & applying
The academic requirements for the course are 80-112 UCAS tariff points at GCE A-level or equivalent and a GCSE at grade C/4 or equivalent in Maths and English/Welsh (First Language). Appropriate AS-Level and Level 3 Key Skills qualifications will also be taken into account. A science would be an advantage but is not essential.
Applications are welcome from anyone who exhibits the ability and experience to cope with the demands of the programme. There are arrangements in place for accrediting prior experience: entry to the degree is possible under the accreditation of prior and/or experiential learning.
A Disclosure and Barring Service (DBS) clearance (previously known as CRB) may be required for placement activity on optional Work-Based Learning modules.
Teaching & Assessment
You will be assessed via a variety of different assessment methods, including a combination of coursework, essays, portfolios, practical reports, presentations and in-class tests. The course does not currently assess you via exams. You will be required to do a dissertation as part of your final year assessment. 
Teaching and learning
Wrexham University is committed to supporting our students to maximise their academic potential.
We offer workshops and support sessions in areas such as academic writing, effective note-making and preparing for assignments. Students can book appointments with academic skills tutors dedicated to helping deal with the practicalities of university work. Our student support section has more information on the help available.
In terms of particular needs, the University's Inclusion team can provide appropriate guidance and support should any students require reasonable adjustments to be made because of a recognised prevailing disability, medical condition, or specific learning difference.
The degree will be taught through a combination of lectures, seminars, tutorials, practical classes, project work and computer-based exercises (e.g. in research methods and statistics). Teaching currently takes place over the course of 3 days a week and contact hours vary year to year, as you become an independent learner (Foundation year 40 hours; Year 1 36 hours; Year 2 30 hours; Year 3 24 hours).
Career prospects
As a BPS accredited degree, this course will help to acquire transferrable skills including critical reasoning, quantitative and qualitative competency, and a deep understanding of scientific practice. Alongside developing both essential and more specialist psychological knowledge across a broad range of disciplines, this degree can also lead to a variety of career opportunities including:
Academic teaching and research

Forensic psychologist

Educational psychologist

Clinical psychologist

Sports psychologist

Human resources

Counselling

Teaching

Occupational psychologist
Our graduates have previously secured employment and successful careers as an assistant psychologist (CAPs), drug and alcohol practitioner, mental health and wellbeing transition officer, residential support worker, project worker (Barnardo's), and with the police force.
Our optional work-based Learning module provides students with an opportunity to build on their practical experience and gain vocational employability skills.
Our Careers and Employability Service is there to help you make decisions and plan the next steps towards a bright future. From finding work or further study to working out your interests, skills and aspirations, they can provide you with the expert information, advice and guidance you need.
Fees & funding
You do not have to pay your tuition fees upfront.
Wrexham University's tuition fees for 2024/25 for a full-time undergraduate degree course are £9000 per year.
The fees you pay and the support available will depend on a number of different factors. Full information can be found on our fees and funding pages.
Accommodation
If you're looking for a place to stay while you study then take a look at our accommodation pages to get more information on your options, including our on-campus halls of residence Wrexham Village.
International
If you are applying as an European / International Student, and live outside of the UK, you should make your application through our online application system, Centurus.
For information about the university's entry requirements for EU/international students, please visit our international section.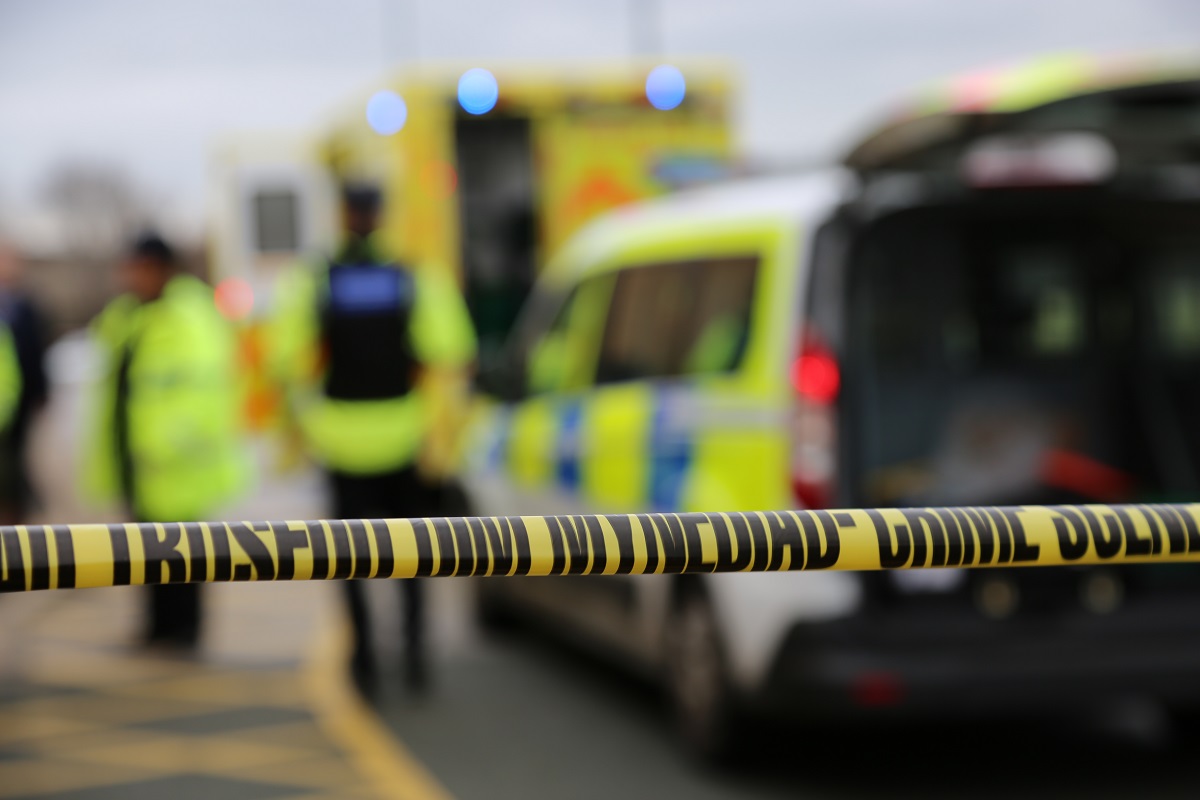 Take part in our annual real-time training exercise
A high-profile Crime Scene Day learning simulation is held each year, with students from a range of courses acting out, witnessing, investigating and reporting on a high-profile crime on campus