MSc Psychology (Conversion)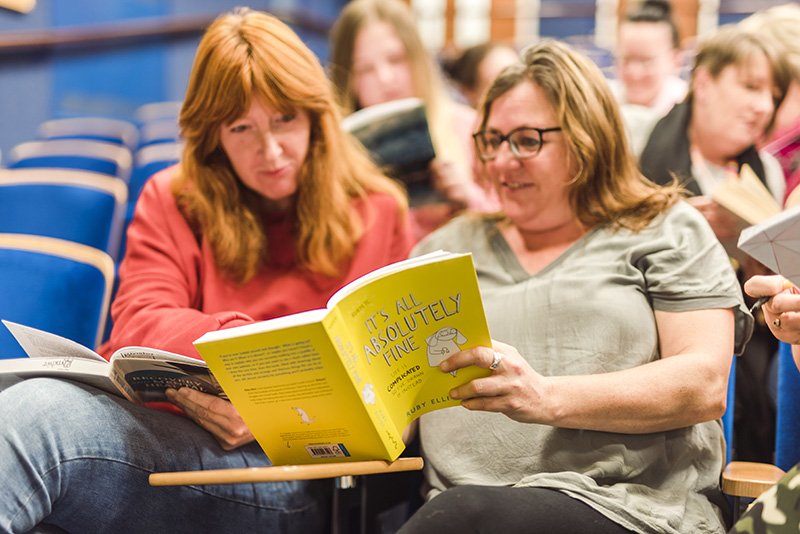 Course Highlights
Accredited
by the British Psychological Society.
Blended
learning with a mix of flexible self-directed study at home, with rich face-to-face teaching experiences.
Access
to state-of-the-art facilities.
Why choose? this course?
This programme has been designed for those who hold an undergraduate degree that is not in psychology, but who wish to change direction and study or pursue a career in psychology.
To embark on formal training as a psychologist, you will need to hold a BPS accredited undergraduate degree in psychology. However, choosing to complete a second degree can be costly for many people, both financially and in terms of time. This programme offers you an alternative, providing you with the opportunity to receive a master's qualification whilst studying all the core areas that would be covered in a usual psychology undergraduate degree.
This is a blended learning programme, meaning that some teaching will be face-to-face in a classroom, but the majority of learning will take place via online tutorials.
The programme will include three 'on campus' days per academic year at the university's Plas Coch campus in Wrexham.
Key course features
Accredited by the British Psychological Society.
Become part of a diverse community of students.
A perfect mix of online learning with face-to-face teaching.
Take part in our engaging residential weekends and 'on campus' days.
Achieve a recognised masters qualification to help start your career in psychology.
What you will study
As a student of this programme, you will study 6 core taught modules advised by the British Psychological Society, focusing on a range of key areas which are normally covered in undergraduate psychology degrees.
MODULES
Research Methods
Cognitive Psychology
Developmental Psychology
Social Psychology
Individual Differences
Biological Psychology
Alongside the above modules, you will also complete an academic research project with the support of a supervisor, and explore conceptual and historical issues in psychology.
The order of the modules you study is dependent on the year you start your course. Students will study three modules per academic year, and complete their research project alongside their second-year modules.
The information listed in this section is an overview of the academic content of the programme that will take the form of either core or option modules. Modules are designated as core or option in accordance with professional body requirements and internal academic framework review, so may be subject to change.
Entry requirements & applying
The application deadline for the 2023 intake is 7th August 2023.
Applicants will need to have completed and passed a bachelor's degree in any subject prior to enrolling on the programme. Ideally, applicants will have at least a 2:1, although students with a 2:2 will also be considered.
Applicants will need to demonstrate a keen interest in learning about key psychological theories and possess the ability to undertake a piece of research.
We welcome people from a range of different subject backgrounds to apply. Successful applicants will be invited for an interview, which can also take place via an online video conferencing platform such as Skype if you do not live locally to the university.
Successful applicants will need to complete 3 free short courses which run in July and August for entry to the programme (in limited cases there may be an exemption from one of them, this will be determined at interview).
Teaching & Assessment
Students will be expected to attend three campus teaching days. During this contact time, students can meet each other to build a student community, interact with lecturer's and receive face-to-face tuition and tutorials and gain experience of formal lectures and seminars.
Study at home will include reading, the completion of set assignments, the viewing of webinar material and engagement in online forum discussions.
Assignments include the completion of essays, reports, poster presentations, oral presentations and coursework.
Teaching & Learning
Wrexham University is committed to supporting our students to maximise their academic potential. We offer workshops and support sessions in areas such as academic writing, effective note-making and preparing for assignments. Students can book appointments with academic skills tutors dedicated to helping deal with the practicalities of university work. Our student support section has more information on the help available.
Career prospects
Our Careers & Employability service is there to help you make decisions and plan the next steps towards a bright future. From finding work or further study to working out your interests, skills and aspirations, they can provide you with the expert information, advice and guidance you need.
This course would be ideal for those who wish to progress onto formal training to become a psychologist, or who wish to pursue a career in academia in psychology.
Fees & funding
You do not have to pay your tuition fees upfront.
Wrexham University's tuition fees for 2023/24 for MSc Psychology (Conversion) are £3,975 (billed annually for 2 years).
The fees you pay and the support available will depend on a number of different factors. Full information can be found on our fees & funding pages.
Programme specification
You can see the full programme specification here.