MEng Renewable & Sustainable Engineering (MEng)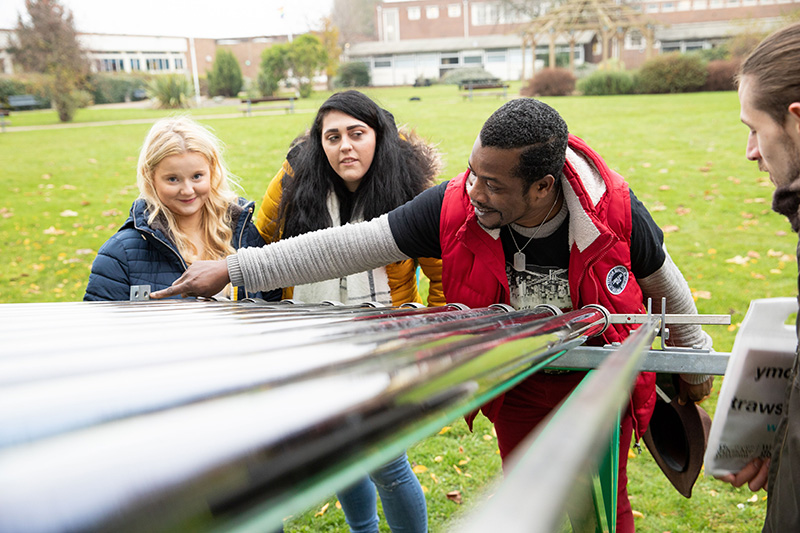 Course details
Duration
4 YRS (FT) 5 YS (With placement)
Course Highlights
Industry experienced
lecturers active in sustainability research.
Visits
to local industrial companies including solar, hydro and wind energy sites.
Industry links
Clwyd Alan housing, Dragon drilling, Scottish power energy.
Why choose? this course?
This course equips you with the thorough knowledge and skills at the forefront of renewable energy engineering. Graduates will be well placed to become subject specialists within the renewable energy and net zero industry, or to pursue research careers within academia.
Students who wish to become part of the solution to climate change will find this programme beneficial as it covers multiple parts of the net zero revolution.
The MEng contains an Industrial Placement and Project which aims to:
Provide students with the opportunity to practice the task management and problem-solving activities of a professional engineer and to explore original ideas.
To exercise the student in applying and extending the methods, skills, information, knowledge and understanding obtained during the various parts of the programme to developing and evaluating an original design of an engineering product or system.
To develop the knowledge and skills, through involvement and experience, to determine solutions to real engineering problems whilst working as a member of a team in industry.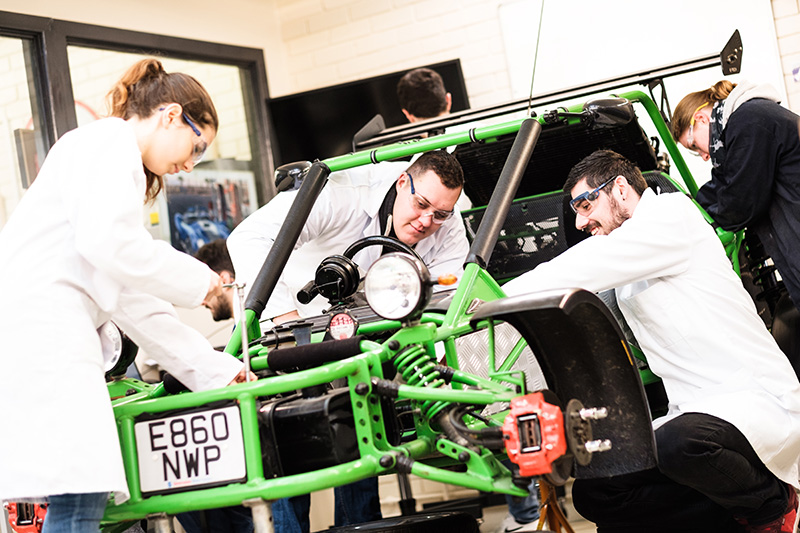 Engineering at
Wrexham University
Thinking of a career in Engineering? Hear from lecturers and students about our Engineering degrees at Wrexham University.
Key course features
Specialist modules in:
Wind and Hydro Energy Engineering
Solar, biomass, and energy storage engineering
Smart grids, energy storage and energy mix
Rapid Prototyping facility (fused deposition method)
Laboratory experiments in wind, solar and hydro renewable energy.
You will have access to industry standard software packages such as RetScreen, Altium Designer, Multisim, HP VEE, MATLAB & Simulink, Abaqus, AutoCAD, Fluent, Pro Engineer, SolidWorks.
What you will study
Year 1 (Level 4)
Gives the student a good grounding and knowledge with the big picture of energy production, mathematics, and engineering skills. Includes the modules:
Future Energy Systems & Sustainability
Engineering Mathematics
Introduction to Electrical & Mechanical Engineering Science
CAD and Production Science
Engineering Professional Development
Materials and Environment
Year 2 (Level 5)
More specialised modules for wind, solar, hydro and biomass engineering and introduction to research.
Wind and Hydro Energy Engineering
Solar and Biomass Energy Engineering
Engineering Futures – Research, Ethics, and Sustainability
Further Engineering Mathematics
Mechanics, Structures & FEA
Electrical Power Engineering
Year 3 (Level 6)
Optional Industrial placement
Industrial Placement and Project
Year 4 (Level 6)
The student can specialise in their own preferred discipline with the project together with specialist modules in electronics and energy saving and recycling.
Project
Smart Grids, Storage, and Energy Mix
Mechanical Engineering Modelling & Simulation (option)
Electrical and Electronic Engineering Modelling & Simulation (option)
Energy Saving, Low Carbon, and Recycling Systems (option)
Power Electronics and Electrical Machines (option)
Year 5 Level 7
Final year where the student undertakes research and self-directed study of their own.
Climate Change, Consequences, Solution & Policies
Energy Reduction & Sustainability
Group Design Project
Mechanical Engineering Systems Modelling & Simulation (option)
Electrical and Electronic Engineering Systems Modelling & Simulation (option)
Renewable Technology & Storage Integration Engineering (option)
E Intelligent System Design & Control Engineering (option)
Design with Composites-Theory & Practice (option)
Entry requirements & applying
For direct entry to the Level 6 of the programme, applicants must have achieved a qualification at Level 5 or better in a relevant discipline. Entry to the programme may be gained by students who can present one of the pieces of evidence listed below:
a) Have passed a Dip HE in a relevant discipline.
b) Have passed a French DUT.
c) Have achieved a minimum of 120 ECTS credits in a relevant discipline.
d) Have passed a Foundation Degree or HND in a cognate discipline.
e) Have passed a qualification from an EU or other overseas country equivalent, as defined as equivalent NARIC, to a DipHE or better in a relevant discipline.
Applicants may enter the programme at various levels with Recognition of Prior Learning (RPL) or Recognition of Prior Experiential learning (RPEL) in accordance with the University General Regulations.
Teaching & Assessment
Wrexham University is committed to supporting our students to maximise their academic potential.
We offer workshops and support sessions in areas such as academic writing, effective note-making and preparing for assignments. Students can book appointments with academic skills tutors dedicated to helping deal with the practicalities of university work. Our student support section has more information on the help available.
In terms of particular needs, the University's Inclusion Services can provide appropriate guidance and support should any students require reasonable adjustments to be made because of a recognised prevailing disability, medical condition, or specific learning difference.
Career prospects
This programme prepares students for a career in Renewable Energy and Sustainability related work such as:
Energy officers
Electrical grid engineers
Wind turbine engineers
Hydro engineers
Sustainability officers/ engineers
Low carbon / carbon reduction consultants
Fees & funding
You do not have to pay your tuition fees upfront.
Wrexham University's tuition fees for 2023/24 for MEng Mechanical Engineering are £9000.
The fees you pay and the support available will depend on a number of different factors. Full information can be found on our Fees and Funding section.
Programme specification
Accommodation
If you're looking for a place to stay while you study then take a look at our accommodation pages to get more information on your options, including our on-campus halls of residence Wrexham Village.
International
If you are applying as an European / International Student, and live outside of the UK, you should make your application through our online application system, Centurus.
For information about the university's entry requirements for EU/international students, please visit our international section.