BEng (Hons) Renewable & Sustainable Engineering (with industrial placement)
Course Highlights
Industry experienced
lecturers active in sustainability research
Top 10
in the UK for Teaching Quality (The Times Good University Guide 2024)
Visits
to local industrial companies including solar, hydro and wind energy sites
Why choose? this course?
This degree tackles some of the biggest challenges facing mankind today - affordable energy, climate change, global warming and pollution control. For students wanting to be at the forefront of new engineering and cost effective solutions that will help satisfy the need for renewable energy, this degree could be your next step.
This degree is at the forefront of this new engineering and touches on the finance and politics of the coming model shift into clean energy and sustainability.
On this degree you will:
Learn how we can help to fix climate change.

Explore renewable energy and learn about sustainability.

Learn about green and renewable energy.

Gain the tools to make an impact and protect the planet.

Explore both electrical and mechanical engineering, as well as all types of renewable energy.

Study a course that boasts high relevant employment success after graduation.

Start your journey on a path growing in future opportunities.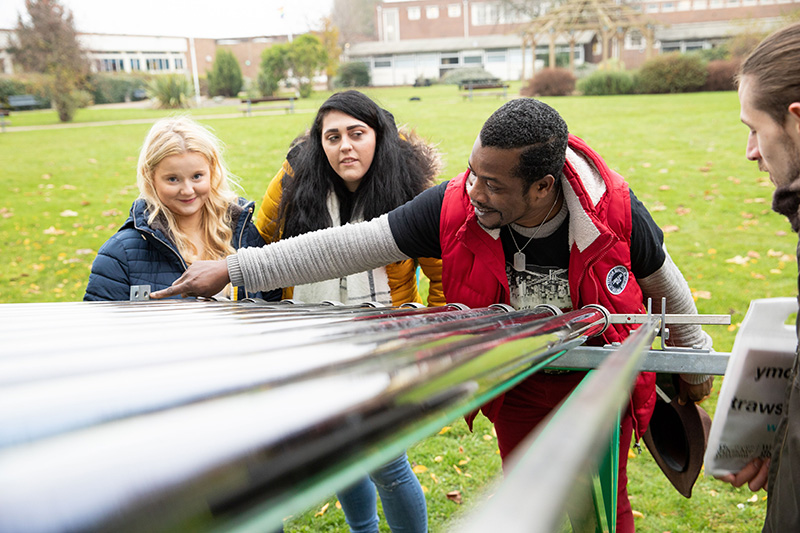 Engineering at
Wrexham University
Thinking of a career in Engineering? Hear from lecturers and students about our Engineering degrees at Wrexham University.
Key course features
Industry placement year provides students with a more diverse range of skills and experiences in a workplace setting.

Industry-experienced lectures active in sustainability research.

Taught by lecturers with 10 years' experience teaching this degree.

Includes field visits to interesting renewable energy projects (Wind, Solar, Hydro, Biomass plants).

Excellent facilities that include well-equipped computer-aided design laboratories, modern electronics laboratories, specialist manufacturing systems, simulation software, industry-standard instrumentation laboratories, and industry specification.
Rapid Prototyping facility (fused deposition method).
Subsonic wind tunnel laboratory and well-equipped thermo-fluid dynamics lab, including a fully operational Pelton wheel and Francis turbine.
Small class sizes allow for strong tutorial and laboratory experiment support and advice.
Dedicated maths support for students.
There are opportunities for industrial visits to local companies, wind farms, biomass plants, hydro plants and the centre for alternative technology.
You will have access to industry standard software packages such as Altium Designer, Multisim, HP VEE, MATLAB & Simulink, Abaqus, AutoCAD, Fluent, Pro Engineer, SolidWorks.
What you will study
Our course has a broad base in order to allow you to develop skills and the ability to contribute to the design of renewable energy systems and progress to meet future requirements, both within the UK and worldwide markets.
YEAR 1 (LEVEL 4)
In year 1 students will develop an understanding of the fundamental concepts, principles and theories in engineering. You will acquire basic mathematic skills related to engineering and design problems, and use CAD for engineering design. You will also gain competence of working safely in engineering laboratories and workshops, and be able to conduct laboratory procedures, measurement and workshop practices under the guidance of a tutor.
MODULES
CAD and production Science: Basic of Computer aided design (CAD) skills. Experience in the use of up-to-date commercial computer software for 3D design, assembly and presentation.
Introduction to Electrical and Mechanical Engineering Science: Apply engineering mechanics principals; solve mechanical problems, to apply analysis techniques to design problems. Understand and predict electrical circuits.
Engineering Mathematics: Gain a foundation of mathematical knowledge covering a wide range of basic topics and calculus.
Engineering professional development: Evaluate business practices within a company and the roles of engineers as team members contributing to the success and further development of that company.
Future Energy Systems and Sustainability: Gain fundamental knowledge of modern energy systems and technologies, considering the merits of energy sustainability, renewable technologies, economic and environmental impacts. A comparison of fossil fuels to renewable energy sources.
Materials and the Environment: Different types of materials, their properties and failure types. Materials selection by underpinning the key properties of a range of materials. Manufacturing and fabrication methods for different materials. Environmental and sustainability concerns.
YEAR 2 (LEVEL 5)
Level 5 (year 2) will build on the knowledge, concepts and skills acquired at Level 4 in addition to more specialist knowledge, skills in engineering design and analysis. More in-depth in theories in electrical power engineering, renewable energies, structures and finite element analysis, etc will be explored. You will also develop an understanding of business and research methods.
MODULES
From September 2023
Further Engineering Maths: Further develop knowledge of functions suitable for solving a range of mathematical and engineering problems.
Structures Analysis: To develop an understanding and an overall appreciation of design considerations including the assessment of bucking of struts in structures with various end conditions; of beams deriving equations relating to the Engineer's Theory of Bending and also bending in symmetric and asymmetric structures; leading on to the consideration of shear stress distributions in beams and introducing the concept of shear flows.
Engineering Futures: Foster reflection on the wider context of contemporary engineering and personal development. Build awareness of how ethics and sustainability drives engineering and its approach to tackling global problems.
Wind and Hydro Engineering: Provide an up-to-date overview of wind and hydro (wave, Tidal and river) renewable sources and the engineering skills associated with selecting, designing and installing the apparatus to capture its energy and convert it into useful forms. The aim is to provide an overview of the methods used to predict energy production and the basic economic value of that energy. Develop techniques to allow a student to apply this knowledge in real-world situations.
Electrical Power Engineering: The module aims to provide students with an understanding of the operation of electrical power systems and devices and with the appropriate engineering techniques to undertake the analysis, design, implementation and optimisation of power systems.
Solar, Biomass and Storage Engineering: Provide an up-to-date overview of Solar and biomass energy production and the engineering skills associated with selecting, designing and installing the apparatus to capture its energy and convert it into useful forms. The aim is to provide an overview of the methods used to predict energy production and the basic economic value of that energy. Develop techniques to allow a student to apply this knowledge in real-world situations. Develop an understanding of energy storage and how it can be used in combination with variable renewable energy.
YEAR 3 (Industry Placement)
This module aims to provide you with the opportunity to gain valuable experience of the engineering-related workplace via first-hand experience. It will allow you to undertake a sustained period, embedded with a host employer, to work on one or more defined projects or goals. You will be expected to find and secure a suitable placement opportunity. The Industrial Placement will normally take place during the normal academic year, as if over the two normal University semesters. As such its duration should normally be in the region of 20-40 weeks dependent on working hours.
YEAR 3 (LEVEL 6)
At Level 6, students will acquire a critical understanding and application of the higher level concepts, principles and theories in engineering, as well as a critical understanding and explanation of advanced topics in composite materials, design, modelling/simulation, and advanced renewable technologies. You will use the knowledge and skills you have acquired to do an individual project.
MODULES
Option 1 Mechanical Engineering Modelling and simulation / Option 2 Electrical and electronic engineering modelling and simulation: To develop an understanding of the analytical skills and knowledge required in the engineering design process and how it can be improved through the use of engineering modelling and simulations. This module develops industry-standard software techniques to model and solve specific engineering problems. Typical software examples might be CATIA V5 and ANSYS for Mechanically related programmes, and MATLAB, SIMULINK and VEE for Electrically related programmes.
Smart Grids, storage and energy mix: To develop a comprehensive depth of knowledge and clear understanding of major theories and principles of domestic, industrial, and business energy demand and low carbon supply. To model, analyse and assess smart grids, energy storage with several low carbon energy supply mixes to satisfy a range of criterion.
Option A Energy saving, Low carbon and recycling systems: To develop the skills and knowledge to engage critically with climate change problems and challenges for a transition toward a resilient, low-carbon future with a focus on energy saving and recycling. To develop a comprehensive depth of knowledge and clear understanding of major and complex theories, principles of energy saving and recycling systems.
Option B Power Electronics and Electrical Machines: To provide students with an understanding of the operation of power electronic systems/devices and electrical machinery including the appropriate analytical techniques to undertake the design and evaluation of power electronics and electrical machines applications.
Professional Engineering: To provide an environment in which students can develop and understand professional attitudes and attributes and react confidently to changing situations. To prepare students for professional roles in professional environment, and to provide an understanding of professional codes of conduct and appropriate roles in meetings. To acquire knowledge of the design process, the legal constraints and design parameters relating to major forms of development, market trends, methods of procurement and procedures available for dispute resolution. To develop an understanding of the importance of engineering standard and Health and Safety aspects of the Engineering profession.
Project: To provide students with the opportunity to practice the task management and problem- solving activities of a professional engineer and to explore original ideas. To exercise the student in applying and extending the methods, skills, information, knowledge and understanding obtained during the various parts of the programme to developing and evaluating an original design of an engineering product or system.
The information listed in this section is an overview of the academic content of the programme that will take the form of either core or option modules. Modules are designated as core or option in accordance with professional body requirements and internal academic framework review, so may be subject to change.
Entry requirements & applying
The academic requirements for the course are 80-112 UCAS tariff points at GCE A-level or equivalent. In addition, passes at GCSE in Maths and English/Welsh (First Language) at grade C/4 or above are normally expected.
Teaching & Assessment
A broad range of assessment methods are used. These include task-based exercises, oral and poster presentations, essays and laboratory reports, and written exams. Each module is assessed by a variety of methods, enabling students to display their full potential. A project dissertation will form one of the final parts of your assessment.
Teaching and Learning
Wrexham University is committed to supporting our students to maximise their academic potential.
We offer workshops and support sessions in areas such as academic writing, effective note-making and preparing for assignments. Students can book appointments with academic skills tutors dedicated to helping deal with the practicalities of university work. Our student support section has more information on the help available.
In terms of particular needs, the University's Inclusion Services can provide appropriate guidance and support should any students require reasonable adjustments to be made because of a recognised prevailing disability, medical condition, or specific learning difference.
Teaching methods include lectures, laboratory sessions, student-led seminars, field trips and guided research.
Independent learning is an important aspect of all modules, as it enables students to develop both their subject specific and key skills. Independent learning is promoted through guided study or feedbacks given to students.
Career prospects
The career prospects of low carbon and renewable energy students are one of the brightest in this expanding, under skilled area. Upon completion, you can go on to do an MSc in renewable engineering and related PhD.
Previous students are working in sustainability related jobs in government and industry (Renewables and low carbon business). There is also considerable scope for entrepreneurial students to start their own business in this expanding sector.
Our Careers & Employability service is there to help you make decisions and plan the next steps towards a bright future. From finding work or further study to working out your interests, skills and aspirations, they can provide you with the expert information, advice and guidance you need.
The course equips you with a thorough knowledge and skills in engineering at the forefront of new and emerging technologies. Graduates will be well placed to become subject specialists within the industry or to pursue research careers within academia.
This programme prepares students for a career in Renewable Energy and Sustainability related work. Please see indeed.co.uk/Renewable-Energy-jobs to get an idea of the current opportunities available.
Fees & funding
You do not have to pay your tuition fees upfront.
Wrexham University's tuition fees for 2024/25 for a full-time undergraduate degree course are £9000 per year.
The fees you pay and the support available will depend on a number of different factors. Full information can be found on our fees & finance pages.
Programme specification
You can see the full programme specification here.
Accommodation
If you're looking for a place to stay while you study then take a look at our accommodation pages to get more information on your options, including our on-campus halls of residence Wrexham Village.
Subject to re-accreditation
External accreditation/recognition by Professional, Statutory and Regulatory Bodies (PSRBs) has to be renewed periodically for existing courses. The details on the website are based on the accreditation of the previous or current version of the course, and the anticipated updates are made as soon as they are known. The majority of courses that are still 'subject to re-accreditation' are approved as expected however, this is not guaranteed and should the accreditation not be approved as planned, or be significantly amended or delayed, you will be informed by the University.
International
If you are applying as an European / International Student, and live outside of the UK, you should make your application through our online application system, Centurus.
For information about the university's entry requirements for EU/international students, please visit our international section.