Course Highlights
Accredited
by the British Association of Sport Rehabilitators (BASRaT).
Practical
experience in a range of sporting and health-related settings.
Develop
a skillset in assessment, management and prevention of sports related injuries.
Why choose? this course?
This Sports Injury Rehabilitation degree will prepare you for the integrated sports and injury rehabilitation field, and more focused environments such as sports teams and health promotion. You'll focus on the wider variables and impact of sports injuries, and the importance of having a person-centred approach to care/treatment modalities.
You will:
Gain an introductory understanding to the sports and injury rehabilitation industry.
Gain practical experience in assessment and exercise based rehabilitation.
Develop the foundations in sports science, biomechanics and anatomy.
Develop the skills they will need for a successful university experience.
Explore the physiological, psychological, cultural and social factors that impact on the health and wellbeing of individuals.
Consider the importance of motivational interviewing/communication.
Develop skills in workload management and professionalism to optimise client care.
Be able to practice safely, competently and confidently to ensure that they meet the exacting standards of becoming a Graduate Sports Rehabilitator (BASRaT).
Be adaptable and responsive to the changing climate of sports rehabilitation.
Consider the wider holistic elements of health and wellbeing and how they affect recovery from injury.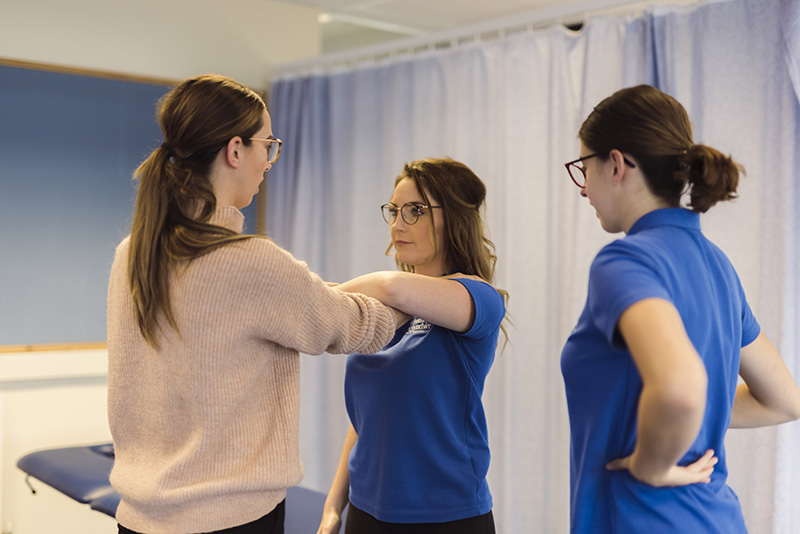 Sports Injury Rehabilitation
at Wrexham University
Interested in Sports Injury Rehabilitation? Hear from lecturers and students to learn more about this degree.
Key course features
Discover introductory skills required by a practitioner working within the areas of health and fitness on this inspiring foundation year.
Students will be introduced to the concepts of assessment and management of musculoskeletal injuries.
Students will be provided the academic support you require in order to develop the skills you need to succeed in our BSc Sports Injury rehabilitation Degree.
Study in a British Association of Sports and Exercise Sciences (BASES) accredited laboratory.
Accredited by the British Association of Sport Rehabilitators (BASRaT).
The course places emphasis on gaining practical experience. It draws on existing and exciting partnerships with professional sports personnel, health partner organisations and appropriate professional bodies.
You'll develop a clinical approach to therapeutic methods to treat musculoskeletal injuries. The course considers injury and rehabilitation, from injury prevention to rehabilitation.
What you will study
YEAR 1 (FOUNDATION YEAR)
The Foundation Year is an integrated year where you will study core modules with a broad range of students from across the Faculty of Social and Life Sciences, giving you access to different perspectives and networking opportunities.
The modules will equip you with key skills needed for Higher Education and beyond. They will give you the chance to explore your subject area and available careers, allowing you to adapt your reading and assessments to be relevant to your degree pathway.
Alongside teaching from the broader faculty staff, you will be able to meet with staff and other students from your main degree pathway and get involved with events and opportunities that they are running.
Study Skills for Success (core)

will give you a solid foundation in academic conventions and time management skills to help you to progress through your degree.

Resilience in Higher Education and Beyond (Core)

Personal development and resilience are as important as academic skills in the accomplishment on your journey towards graduation, and this exciting new module will equip you with the attributes needed for this.

A Day in the Life (core)

This module allows you to explore the potential career options open to you on completion of you chosen degree. You will be exploring the professions linked to your degree and start preparing your graduate portfolio for employers.

Life and Work in the Welsh Context (core)

will give you the opportunity to explore your subject area and/or desired career in relation to living and working in today's Wales.
The suite of optional modules are designed to enhance your skills base in relation to your career development. Your personal tutor from your degree will meet with you to help you decide which one of the available optional modules would be most suitable for you. The optional modules are:
Welsh for First Time Learners

provides an introduction to the Welsh language for those taking their first steps Numeracy where your degree requires a competent level of numeracy, you may be advised to choose this option.

Professional Communication in the Workplace

in this module, you will begin to develop the skills and aptitude necessary to communicate effectively in a professional context.

Maths and Experimental Design

if your degree pathway requires an understanding of numeracy and sciences, then this module is designed to provide the opportunity to achieve that.
There are a variety of assessments across the foundation year – presentations, portfolios, electronic scrapbooking, and learning logs are just some.
YEAR 2 (LEVEL 4)
MODULES
Sports Injury & MSK Assessment
Introduction to Anatomy & Physiology
Introduction to Research Skills
Sports Massage
Common Neuromusculoskeletal Injuries and Conditions
Professional Practise and Communications
Level 4 has a minimum of 50 hours (observational) practice allocated.
YEAR 3 (LEVEL 5)
MODULES
Functional Rehabilitation 1
Injury Treatment Modalities
Functional Rehabilitation 2
Psychology: Enhancing Performance
Applied Exercise Physiology
Academic Discovery – Building Strong Research Ideas
Level 5 has a minimum of 110 hours of practice/placement allocated.
YEAR 4 (LEVEL 6)
MODULES
Advanced Rehabilitation & Management
Integrated Clinical Practice in Sports
Clinical Reasoning
Integrated Sport and Clinical Practice
Independent Discovery
Level 6 has a minimum of 240 hours of practice/placement allocated.
The information listed in this section is an overview of the academic content of the programme that will take the form of either core or option modules. Modules are designated as core or option in accordance with professional body requirements and internal academic framework review, so may be subject to change.
Entry requirements & applying
For entry onto our foundation year programme, we require the following:
At least 48-72 UCAS points at A2 level or equivalent.
A background in science, maths or sport are an advantage, but not essential. If students have been out of education for > 5 years or do not have a science, maths or sport background, they must submit a personal statement to the programme team, even if they have the required UCAS points.
Applicants may enter the programme at various levels with Recognition of Prior Learning (RPL) or Recognition of Prior Experiential learning (RPEL) in accordance with the University General Regulations.
Occupational Health Clearance
All applicants successful in being offered a place on the programme will be subject to a satisfactory occupational health clearance, due to the nature of clinical work and potential placements in the NHS or another healthcare setting. This also includes a requirement for relevant immunisations prior to securing a place. This is carried out between an occupational health provider through a service level agreement between the University and provider.
It may be beneficial, and it is recommended, that students hold a full UK driving licence and have the use of a car, as this will maximise practice placement opportunities throughout the duration of the course.
Before you are offered an unconditional place on this degree, you will be required to complete a Disclosure and Barring Service (DBS) clearance (previously known as CRB), so that a check can be made on your suitability for working with children and vulnerable adults.
Teaching & Assessment
The assessment methods encompass the skills required for a Sports Injury Rehabilitation graduate. They include:
Written assignments
Practical examination
Critical reflection
Presentations
Laboratory reports
OSCE (an observed structured clinical examination)
Clinical placements
Teaching and Learning
Wrexham University is committed to supporting our students to maximise their academic potential.
We offer workshops and support sessions in areas such as academic writing, effective note-making and preparing for assignments. Students can book appointments with academic skills tutors, dedicated to helping them deal with the practicalities of university work. Our Student Support section has more information on the help which is available.
In terms of particular needs, the University's Inclusion team can provide appropriate guidance and support should any students require reasonable adjustments to be made because of a recognised prevailing disability, medical condition, or specific learning difference.
Career prospects
Our careers and employability service is there to help you make decisions and plan the next steps towards a bright future. From finding work or further study to working out your interests, skills and aspirations, they can provide you with the expert information, advice and guidance you need.
Following completion of this course, graduates may go on to pursue a career in the following areas:
Professional sports clubs
Self-employment in the private sector
Partnership in a clinic or practice that offers physiotherapy, sports rehab/sport therapy services
Working as a healthcare or wellbeing practitioner
Exercise rehabilitation roles in the Armed Forces
Teaching
Studying a PhD or master's degree
Fees & funding
You do not have to pay your tuition fees upfront.
Wrexham University's tuition fees for 2024/25 for a full-time undergraduate degree course are £9000 per year.
The fees you pay and the support available will depend on a number of different factors. Full information can be found on our Fees and Funding section.
Programme specification
You can see the full programme specification here.
Accommodation
If you're looking for a place to stay while you study, then take a look at our Accommodation section to get more information on your options, including our on-campus halls of residence Wrexham Village.
International
If you are applying as an European / International Student, and live outside of the UK, you should make your application through our online application system, Centurus.
For information about the university's entry requirements for EU/international students, please visit our international section.