Students celebrate success at Wrexham Glyndwr University's 2022 Graduation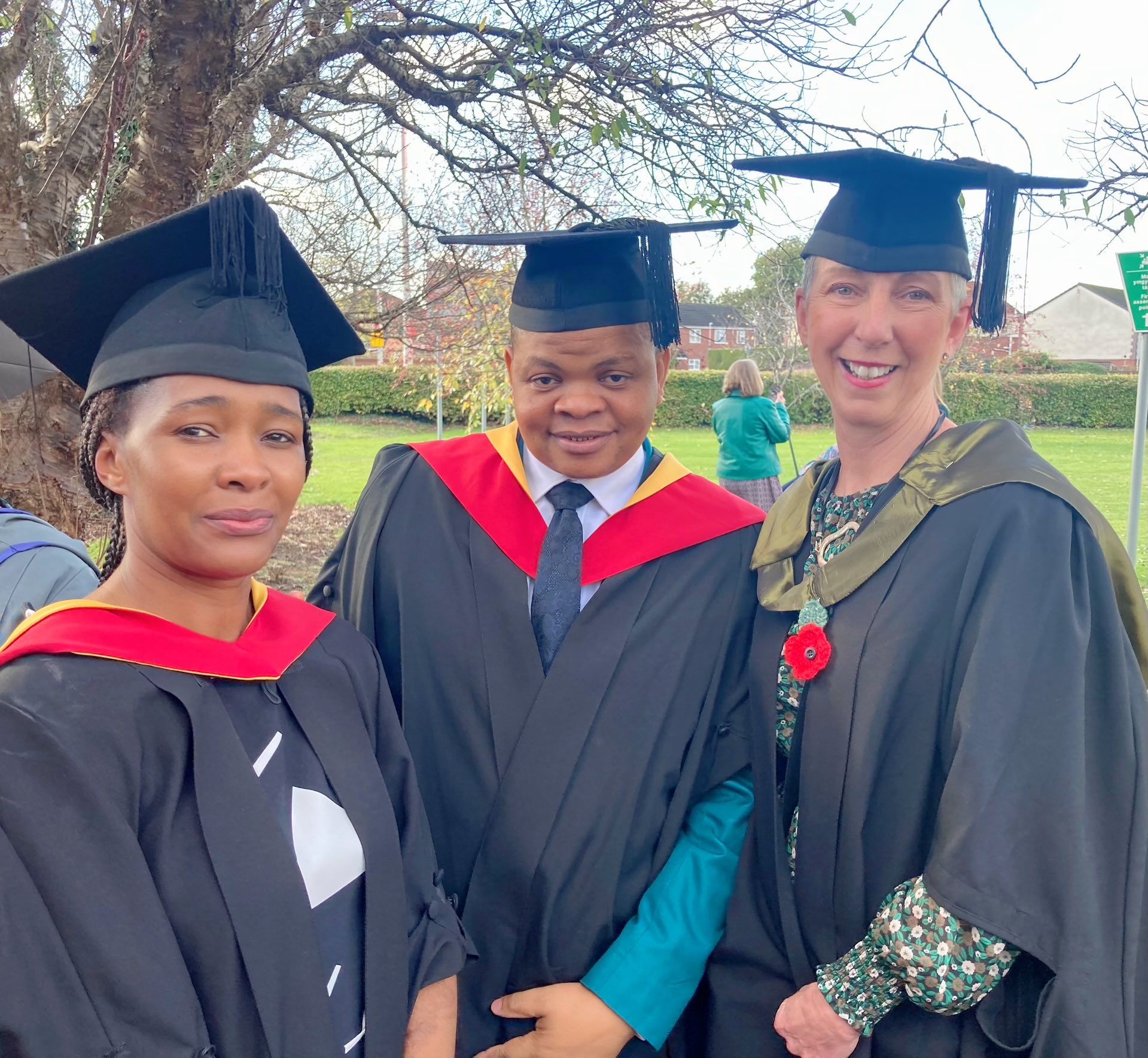 Date: November 2022
The 2022 cohort of graduates donned their caps and gowns last week as we hosted our first formal graduation ceremony in three years, in the William Aston Hall.
Having their well deserved moment in the spotlight in front of their lecturers, friends and family, students received the ceremonial handshake as they crossed the stage indicating the moment graduands become graduates and new members of Glyndwr's Alumni.
In her ceremony speech, Vice Chancellor, Professor Maria Hinfelaar, spoke of the impact COVID-19 had on the delivery of programmes and referenced how much there was to catch up on. She spoke of key developments within the University including "fantastic" National Student Survey results and being "delighted and really proud to be consistently in the top 10 of all 130 UK universities for teaching quality."
She continued: "The biggest news we received in the past year was that we had been successful in our bid for a 10-year contract with the Welsh Government to deliver a raft of Allied Health and Nursing courses for the whole of North Wales. With brand new facilities at our campuses here in Wrexham and in St Asaph, we will be training the future nurses, physiotherapists, occupational therapists, paramedics, dieticians, operating department practitioners and speech and language therapists.
"We have not stopped investing as we roll out our £80m Campus 2025 Masterplan. We have delivered refurbishments and upgrades across all our campuses. These projects have added state-of-the-art specialist facilities such as the healthcare simulation suites, new science labs and a moot room."
Among those receiving honorary fellowships was Welsh singer Sir Bryn Terfel. Addressing the crowd of graduands, he said: "Your overture is over but, now you have your first act, your second act, your third act and sometimes even your 5th act so, work hard, be dedicated and enjoy. I think by the end of that 5th act, you'll be very proud of what you've achieved"
Receiving an honorary fellowship on day one, Uzo Iwobi CBE delivered an inspirational speech talking of the importance of rising above and forgiveness. Some members of the crowd say they "moved to tears" as she shared her family's story of racism within the UK. On receiving the honour she said: "What an honour to be here. I'm truly humbled"
Success stories were never far away throughout the week. Nursing graduate Pretty Ndholvu attended an Open Day three years ago whilst choosing a university for her nursing degree. She attended the event with husband, Iton Nyilikia. He was asked by Adult Nursing Senior Lecturer, Angela Williams, if he would also be interested in joining the programme. Fast forward three years and they both graduated together. Pretty, Iton and Angela can be seen pictured together above to mark the ocassion.
Sarah Morris who studied BSc Mental Health and Wellbeing said: "At the age of 43, embarking on an academic journey was scary but with support and guidance I now have a degree! I've made some lifelong friends and learnt valuable lessons about myself."
Chancellor, Colin Jackson, closed the final ceremony by saying "For your hard work and diligence, you have joined a distinguished society of scholars. I'd like to add my personal congratulations to those."